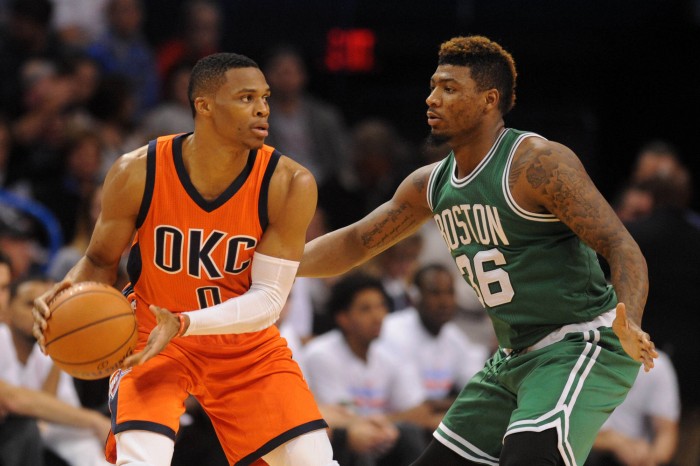 The Oklahoma City Thunder put on a scoring frenzy on their way to a 130-109 beat down of the Boston Celtics. This victory moved the Thunder to a 46-22 record keeping them in a comfortable position at the third seed of the Western conference. For the Celtics, this loss put them down to a 39-29 record moving them two spots down to the fifth seed in a tight Eastern conference.
Booming Start
In the first quarter, the Thunder came out quick on offense as Kevin Durant was able to convert on the team's first three possessions. OKC would push the lead to 18-6 forcing the Celtics to take a timeout at the seven minute mark of the first quarter.
The Celtics made some adjustments and rallied back to trail just 35-30 after the first quarter. However, once the Thunder were able to get comfortable on defense, it was all OKC.
The Thunder put on an offensive display scoring 31 second quarter points. OKC would continue its barrage with 42 third quarter points, the most points the Celtics have allowed in the third quarter all season. The Celtics tried to come back with an 18- 4 run in the fourth quarter, but it would only cut the deficit to 20 points as the Thunder cruised to a 21-point win.
OKC Owned The Box Score
Russell Westbrook and Kevin Durant were the leading scorers for the Thunder tonight combining for 52 points. Durant put up 28, giving him his 53rd game in a row with at least 20 points. Durant proved to be the answer for OKC tonight. He missed the team's 100-85 loss back in November, but he redeemed it tonight. For the Celtics, Isaiah Thomas put up 29 points and Tyler Zeller added 16.
The Thunder shot 49 percent from the field, to the Celtics 43 percent. OKC stood out even more tonight with their 3 point shooting as they shot 41.4 percent as opposed to the Celtics' 26.3 percent. The Thunder also out rebounded the Celtics (53-42) and put up more assists (23-17) making it a dominant night in every way for OKC.
Looking Ahead
The Thunder played their first of a three game road trip tonight. OKC will be traveling to Philadelphia to take on the 76ers Friday. It will be the second and last meeting between the two teams this season. The Thunder took the previous game against the 76ers 103-91.
The Celtics will be going on a two game road trip beginning with a tough match up against the Toronto Raptors. This will be the third out of four games between these division rivals. The Celtics lost the previous game against Toronto 115-109.