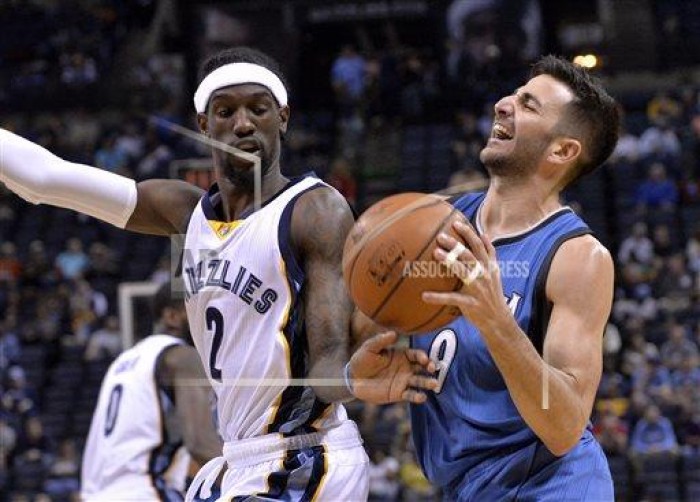 What a sad, sad sight it is in Memphis, Tennessee. A team that once was a top squad in the West has seen the ultimate meltdown of all meltdowns; undone by injuries.
Yes, the Memphis Grizzlies are the team this year to have been dealt the nastiest injury card in the league. With their best three players, Mike Conley, Marc Gasol, and Zach Randolph, out due to health issues and having traded two of their other key contributors -- Courtney Lee and Jeff Green to Charlotte and Los Angeles, respectively -- you won't be surprised to see a roster in shambles, struggling to find enough healthy bodies to play.
The Grizzlies that are left, however, have to fight as much as they can. While they are not nearly as skilled as most teams, side from the Sixers and Nets, they do play with heart.
But you can only go so far without sufficient skill. On Wednesday night, Memphis fell at home to the lowly Minnesota Timberwolves, a bottomfeeding Western Conference team.
Unfortunately, this has been the trend recently. Losing five of their last season, it looks as though they'll fall a few spots lower than the five seed they reside in now. And it's not unlikely to see a first round sweep for them, either.
​Zach LaVine leads the Charge
​In what was a pretty ugly game for both sides, there was some good for the Wolves. Sophomore guard Zach LaVine dominated from both outside and in, leading all scorers with 28 points. Karl Towns, Andrew Wiggins, and Gorgui Dieng also contributed double digit points.
The game was won in the first quarter, where Minnesota was able to score forty-two points en route to an early seventeen point lead. Memphis would claw their way back, and trim the Wolves' lead to four in the late fourth quarter, but their efforts were just not enough.
Lance Stephenson didn't have a great second half after leading the Grizzlies in points in the first pair of quarters. He finished with a team high 24 points. Memphis were able to score a fair amount of points in transition off of forced turnovers, but they really couldn't generate much offense at any other time. Of course, with Stephenson leading the halfcourt offense, it didn't look pretty, and it didn't run well, either.
​Up next for both teams
​The Timberwolves will host the Housto Rockets on Friday at 8:00 PM EST. Meanwhile, Memphis will play the Los Angeles Clippers at home on Saturday night at 8:00 PM EST.