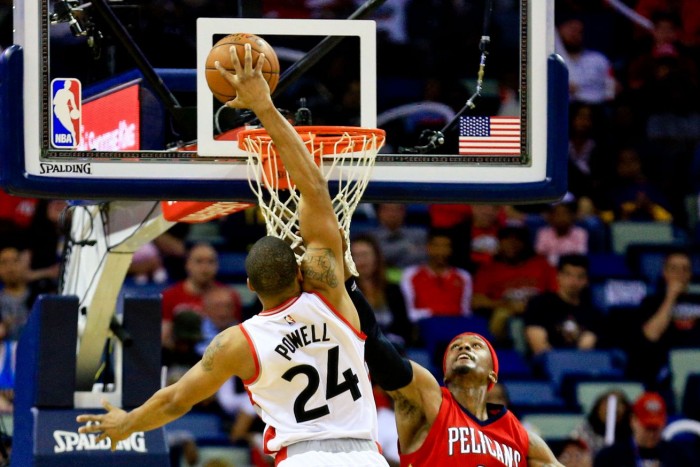 On June 25, 2015, the Milwaukee Bucks drafted guard Norman Powell with the 46th pick in the NBA Draft. The four-year UCLA-product would immediately be traded to the Toronto Raptors as part of a deal that would send Greivis Vasquez to Milwaukee for Powell and a 2017 first-round pick. At the time, a 46th overall draft pick seemed to be a throw-in as part of a deal centered around a first round pick and a proven, veteran, backup point guard in Vasquez. Nobody questioned the pick or had any problems with Powell like other Raptor draft selections have been in the past, but nothing was certain, and no mid-second rounder should be. It was known that Powell had incredible athletic ability and made a name for himself on defense, but that was about it. He put in the full four years in college which can be looked at a couple of different ways; one can see it as Powell wasn't good enough for the NBA as a younger player or they can see it as extra experience that he can bring to his new team and the NBA. At the end of the day, this was just a safe, second-round pick; nothing to get overly excited about, right?
Fast forward nine months and 76 regular season games later, Powell has played in 43 games and started 18 putting up a stat line of 4.2 points, 1.9 rebounds, and 0.8 assists per game (as of April 3). Now these stats are far from impressive at first glance, but Powell was only playing garbage minutes early in the season bringing his averages down dramatically. His per 36 minutes stats of 12.2 points, 5.5 rebounds, and 2.3 assists per game look much better, but these numbers still don't do justice to what Powell has brought to the Raptors.
NBA Summer League
Powell's journey to success in the NBA started at NBA Summer League this past July. At this point in his development, Powell was truly starting from the bottom as a mid-second rounder just looking to get a roster spot with an NBA team. He saw Summer League as an opportunity to prove himself, and he took advantage. In four games, Powell led his team in scoring with more than 18 points per game and shot the ball over 50 percent from the field and a surprising 44.4 percent from deep. In these few games, Powell showed some incredible athletic ability and excited Raptor fans with some impressive highlights. Powell was selected to the 2015 All-NBA Summer League First Team for his efforts. Raptor fans were beginning to like the kid, but it was just Summer League, and there was still a lot of work to do.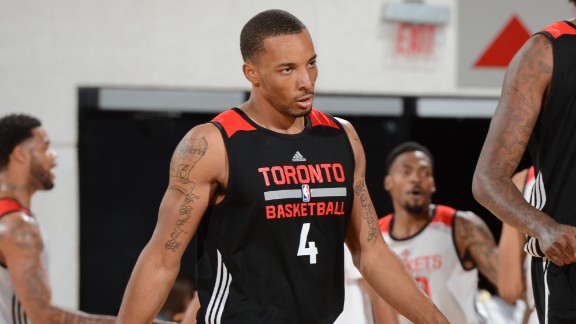 Pre-Season
Then came the NBA Pre-Season; another opportunity. This time around, Powell struggled a bit with his shooting. In six pre-season games, Powell played 16 minutes per game averaging 6.7 points on 39 percent shooting including a combined zero-for-nine from three-point range. Offensively, Powell had a tough pre-season, but the Raptor coaching staff could not overlook his relentless fight on defense and never-give-up attitude. Powell's efforts earned himself a roster spot on the 2015-16 Toronto Raptors.
Rookie Season
Early in the season, Powell barely saw the floor. He would get some odd minutes here and there at the end of games and in the few minutes he did get, his offensive struggles were seemingly carrying over from the pre-season. In his first four appearances, Powell scored just one basket on seven shots before a game in Philadelphia on November 11th. Powell was given the chance to play 25 minutes in this game where he scored eight points and grabbed four rebounds giving fans a little taste of what was to come. One constant that Powell always provided, however, was lock-down defense no matter the circumstances.
The D-League
With the Raptors having so much regular-season success, Powell continued to watch from the sidelines for the majority of games, and eventually the Raptors decided to utilize their brand new NBA Development-League team; the Raptors 905. Again, Powell recognized another opportunity and made the most of it. In his very first game with the 905 at home in Mississauga, Ontario, Powell dropped 23 points, and then another 30 the following night. He would go back-and-forth between Toronto and Mississauga throughout the D-League season and he had much success when he did get sent down. Powell played eight total games with the 905 and averaged 24.9 points, 5.1 rebounds, and 4.6 assists on 50 percent shooting in 40 minutes of action per game. The D-League was crucial for Powell as it allowed him to get some run as well as be a go-to player against legitimate competition. It was another opportunity that Powell did not shy away from, but rather excelled in.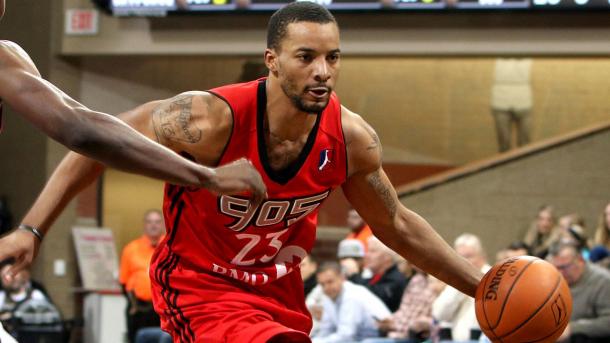 Opportunity
In early January, the news broke out that Raptors small forward DeMarre Carroll underwent knee surgery and would be out until late in the season. The news left a huge gap in the Raptors starting lineup at the three spot. Raptors head coach Dwane Casey did not want to break up the chemistry his bench had developed, but he needed someone who could step in at the small forward position and make an impact. Early on he went with last year's starting three-man Terrence Ross, who did well, but this move seemed to take too much scoring punch away from the bench. Then Casey went with James Johnson, who still struggles with his decision-making which makes it hard for Casey to trust him.
After mixing and matching with his starting lineups according to matchups for a few months, Casey decided to hand the keys to Powell in mid-March. Powell had started a couple of times throughout Carroll's absence, but now the undersized shooting guard was the guy going forward. This was a very interesting move by the Raptors; their rookie second round pick and 6'4" shooting guard was starting at small forward over players like Ross and Johnson, who have been around for a few years and played that position many times before. Starting at the three was a huge opportunity for Powell and, not surprisingly, he ran with it. Powell was more than ready to take on a bigger role.
Defensive Impact
When a young player is put into a situation like Powell was, the hope is that he can hold his own out there and not look out of place and from the moment Powell stepped foot on the court, he fit right in. Powell's mentality on the basketball court is exactly what any coach would ask for. He plays with a chip on his shoulder and goes out there with a mindset to prioritize and focus on the defensive end. He works extremely hard and with Powell being the athlete that he is, focus, hard work, and determination can only translate to positive results on the defensive end of the floor. Powell doesn't just fit in defensively, though, he has developed into one of Toronto's best stoppers. He does a fantastic job of using his strength and quickness to cut off the offensive player on drives and does a great job of staying grounded to avoid fouling; something many young players struggle with. The Raptor coaching staff has recognized Powell's unprecedented defensive style out of a rookie, and they are not shy to use it to their advantage. Powell is often assigned to guard the opposing team's star player; his defense is that good. On this side of the basketball court, Powell has fit in and then some.
Offensive Improvement
Offense was always more of a concern with Powell's game but, with many other offensive weapons like Kyle Lowry and DeMar DeRozan, the Raptors don't need a lot of help scoring the basketball, but he decided to help out anyhow. Early in the season, Powell had issues with his shooting in the limited minutes that he played, but it turns out that he just needed to get into some rhythm. Now that he has a place in the regular rotation, Powell has settled in offensively and shined. In his first five games as the solidified starter, Powell was a little inconsistent. He had one 17-point game and a two-point game as well, but his mindset was there all the way through and, of course, he never failed to contribute on defense. Keep in mind; this is the Raptors; they never did need his scoring. His offense comes a bonus to his much-needed defense. Since his two-point game, conversely, Powell has been nothing short of magnificent on the offensive end. In six games since, the 22-year-old has averaged 14.5 points, 2.2 assists, and 4.3 rebounds and he has been very efficient shooting 52.6 percent from the floor, and a remarkable 53.8 percent from deep - good for 2.3 makes per game. He has even gotten to the free throw line a couple of times per game and made 92.9 percent of his free throw attempts during the stretch. The rookie's sensational play has earned him some serious playing time averaging 31.5 minutes of action per contest in his last six games. The amount of confidence Powell plays with is eye-opening, especially for a rookie second-round pick.
"Steal of the Draft"
Each and every game Powell is showing tremendous growth as a basketball player, and it has been special to witness for the fans. The UCLA-product has come up with some very impressive highlight plays in recent games, many of which are thunderous jams that make fans jump out of their seats. He is quickly becoming a fan-favorite, and one can only imagine the basketball player this kid can and will become; the sky is the limit for this young man. People around the Raptors organization insist that Powell is a gym-rat and works just as harder, or harder than anyone on the team. His hard work has done wonders for him so far and will continue to do so if he keeps it up. Picked at 46th in last year's draft, Powell is unquestionably the steal of the 2015 draft and at the rate he is improving this season; he has become one of the franchise's most coveted players moving forward.