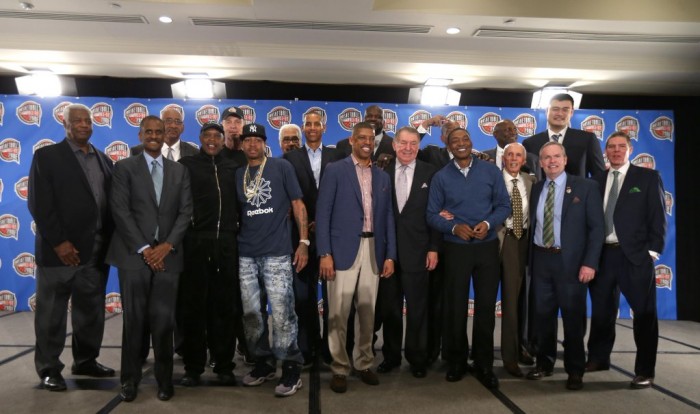 This year's Basketball Hall of Fame class was announced Monday, headlined by the likes of Shaquille O'Neal, Allen Iverson, and Yao Ming. They were joined by a total of seven other inductees, four of whom will be honored posthumously.
The ten new members will be honored at the Naismith Memorial Basketball Hall of Fame on September 9th in Springfield, Massachusetts, the birthplace of basketball.
"The Class of 2016 is big in stature, personality and impact," Jerry Colangelo, Chairman of the Naismith Memorial Basketball Hall of Fame Board, said. "These ten inductees have each contributed to the game in their own meaningful way and we are very pleased to honor them in Springfield."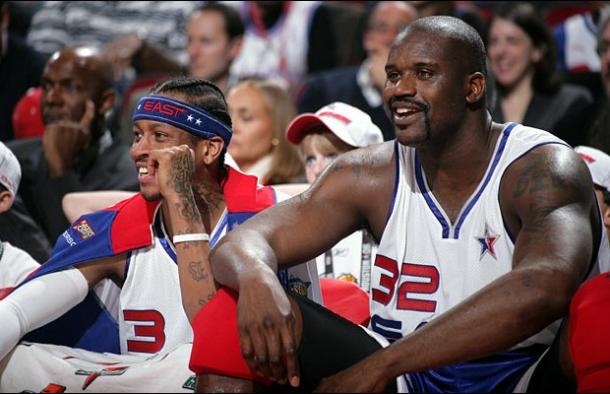 The Inductees
Darell Garretson (Referee) - Garretson was a monumental figure for basketball referees, serving in the NBA for 27 years. He played a big role in the founding of the first referees union, the National Association of Basketball Referees, and additionally led the way in officiating with a three-man crew and "refereeing the defense". Garretson was NBA Chief of Officiating Staff from 1981-1998 and was the only Chief of Staff to simultaneously officiate games.
Allen Iverson (Player) - The 1997 NBA Rookie of the Year and 2001 NBA MVP played 14 NBA seasons, averaging 26.7 points and 6.2 assists per game over his career. Iverson made 11 All-Star appearances and was named to the All-NBA First Team three times, and led the league numerous times in scoring, steals, and minutes per game. He set the career points per game record at Georgetown and was a consensus First-Team All-American.
Tom Izzo (Coach) - As the head man at Michigan State, Izzo has made 18 straight NCAA Tournaments, with a national championship in 2000 and seven total Final Four appearances. He is a three-time Big Ten Coach of the Year, a two-time NABC Coach of the Year, was named Clair Bee Coach of the Year in 2005, and in 1998 was voted Associated Press National Coach of the Year.
John McLendon (Coach) - Already in the Hall of Fame as a 'contributor', McLendon was the first coach to win three consecutive national championships, winning NAIA National Championships in 1957, 1958, and 1959. He was named NAIA Coach of the Year in 1958. McLendon was also the first African-American coach to accomplish numerous feats across the basketball world, including coaching in a professional league, the ABL, and winning a plethora of major tournaments.
Shaquille O'Neal (Player) - In 19 years in the NBA, the 7-foot-1 center with nicknames such as "Diesel" and "Shaq" compiled four NBA Championships and averaged 23.7 points, 10.9 rebounds and 2.3 blocks per game. After dominating at LSU, O'Neal won 1993 NBA Rookie of the Year honors and went on to become a 15-time All-Star, the 2000 NBA MVP, and a three-time NBA Finals MVP. Shaq is currently seated at seventh all-time on the NBA's scoring list, and led the league ten times in field goal percentage, truly one of the best big men ever.
Sheryl Swoopes (Player) - A star in 12 WNBA seasons, Swoopes averaged 15 points, 4.9 rebounds and 3.2 assists per game. She was named to the WNBA All-Stars six times, First Team All-WNBA five times, Defensive Player of the Year three times, and WNBA MVP three times. She won four championships with the Houston Comets and one national championship with Texas Tech in 1993. Swoopes additionally has three Olympic gold medals and was named to the WNBA All-Decade Team.
Jerry Reinsdorf (Contributor) - The successful businessman and lawyer purchased the Chicago Bulls in 1985 and saw his team become one of sports' most iconic franchises ever. Under Reinsdorf, the Bulls have won six NBA titles. Reinsdorf has also done extensive work benefitting the Chicago Public Schools and the Chicago Park District, being awarded the Jefferson Award for Public Service for philanthropic outreach.
Cumberland Posey (Player) - Posey, a sensational athlete of multiple sports already inducted into the Baseball Hall of Fame in 2006, was the greatest basketball player of his era. Playing from the 1900s through the mid 1920s, he led Duquesne three times in scoring and afterwards pioneered the legendary "Loendi Big Five", with whom he won four straight Colored Basketball World Championships and cemented his team as the most dominant of the black fives period.
Yao Ming (Player) - Ming is a respected player and ambassador of basketball. He was drafted first overall in the 2002 NBA Draft after leading his hometown Shanghai Sharks to a CBA Championship that year. With the Houston Rockets, Yao earned All-Rookie honors and later was voted an eight-time All-Star and five-time All-NBAer. He broke Michael Jordan's record for most All-Star votes in 2005 and also was named the FIBA Asian Championship MVP three times as the star of the Chinese National Team before injuries cut his career short.
Zelmo Beaty (Player) - 'Big Z' was a force for Prairie View A&M from 1958-1962, averaging 25 points and 20 rebounds per game en route to a 1962 NAIA Championship, for which he won the Chuck Taylor MVP Award. He played well professionally for the St. Louis Hawks and the ABA's Utah Stars, being named a two-time NBA All-Star and a three-time ABA All-Star. He won the 1971 ABA Championship with Utah and was named ABA Playoffs Most Valuable Player Award. Beaty was later named to the ABA All-Time Team and in 2014 was inducted into the National Collegiate Basketball Hall of Fame.