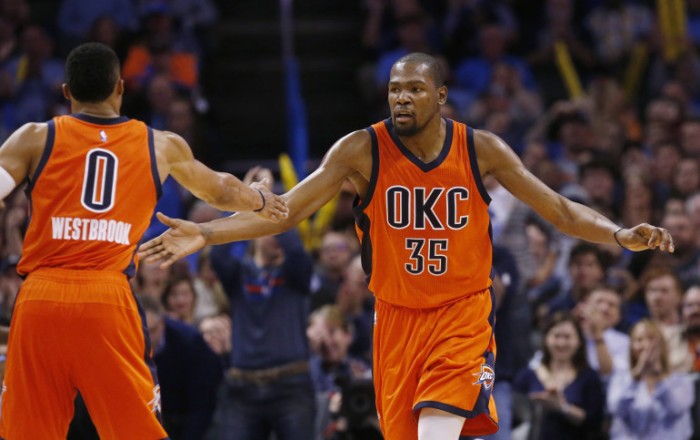 Whilst it looks like Stephen Curry is the shoe-in for this season's MVP award, there's no denying that the NBA has been filled with magnificent talent this season. Kevin Durant of the Oklahoma City Thunder has been one of these standout players, and he reached an impressive scoring milestone on Tuesday, when he made it 63 consecutive games having scored 20 or more points.
Durant This Season
The 27-year old's record-tying scoring run began in November, and features impressive returns of the likes of 34 points against the Detroit Pistons in November, 44 points against the New York Knicks in January and two 37 plus point games against the Golden State Warriors in February.
Alongside Russell Westbrook, Durant has carried the Thunder to third spot in the Western Conference. The small forward has averaged 28.1 points per game on average in the process, as well as grabbing a team-high 8.3 rebounds a game.
Durant was rested for the OKC's last game against the Portland Trail Blazers, but prior to that has been the Thunder's top scorer in 13 out of the last 15 games.
Kobe's Record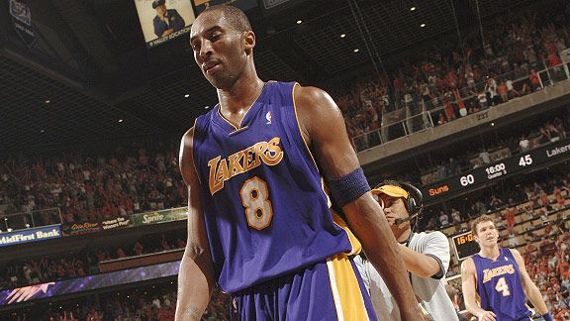 The record Durant has tied was indeed set by none other than the soon-to-retire Kobe Bryant back between December 2005 and November 2006, which saw his run spread over two seasons.
The legendary shooting guard enjoyed some incredible returns over this run, including 62 points against the Dallas Mavericks at the start of the scoring binge, his career-high 81 against the Toronto Raptors, and a run of five straight games with 40 plus points.
The now 37-year old saw his Los Angeles Lakers side end with a record of 45-37 for the 2005/2006 season, a significantly worse record than Durant's with the Thunder (54-25), making Kobe's record that much more impressive. The Lakers went on to finish seventh in the Western Conference that year.
Durant will have the opportunity to break Kobe's record when the Thunder tip-off against the Sacremento Kings this weekend, with one more return of 20 points needed.