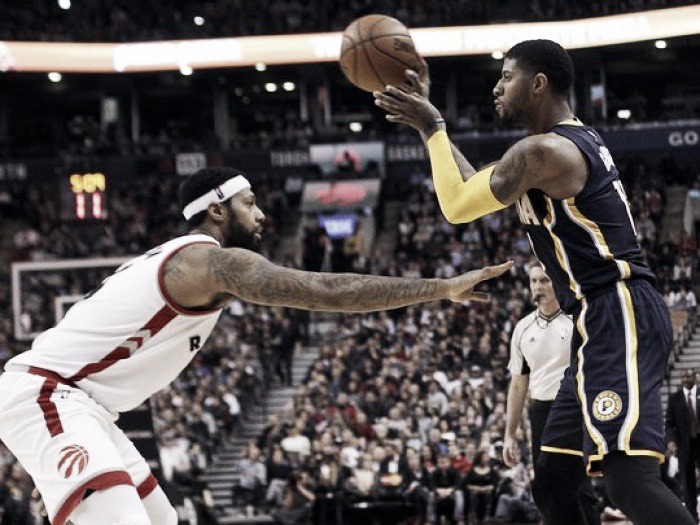 The Indiana Pacers will start their quest to get their first ever NBA title on Saturday afternoon as they travel to Toronto to face the Toronto Raptors.
This game marks the first of two in Toronto and is scheduled to start at around 12:30 PM EST. The game will be televised across the country on ESPN. The Pacers and Raptors are going to be playing the first game of what should be a very interesting 2016 NBA Playoffs
Indiana Pacers look for huge win to start series
Coming into the series, the Indiana Pacers are huge underdogs to advance. They clearly have the talent to win and potentially make a deep run in the playoffs. The Pacers are going to need their role players to step up in a big way to take some pressure off of Paul George.
A win to start the series on Saturday would be huge for the Pacers, especially with game one and two being on the road. Coming home to Bankers Life Fieldhouse with either a 1-1 tie or 2-0 lead for the Pacers would be huge. Most Pacers fans don't really know what to expect out of the team to start the series.
The Pacers are ready for a fresh start and not worry about the season series with the Raptors and hope to have that mindset at gametime on Saturday.
Keeping The Raptors Off The Foul Line
One of the things the Raptors succeed at the most is being able to draw fouls. The Raptors duo of Kyle Lowry and Demar DeRozan are two of the best in the game at getting to the foul line. Frank Vogel and the Indiana Pacers have been preparing to try to limit how often the Raptors get to the line in the series, and we will see if the preparation pays off.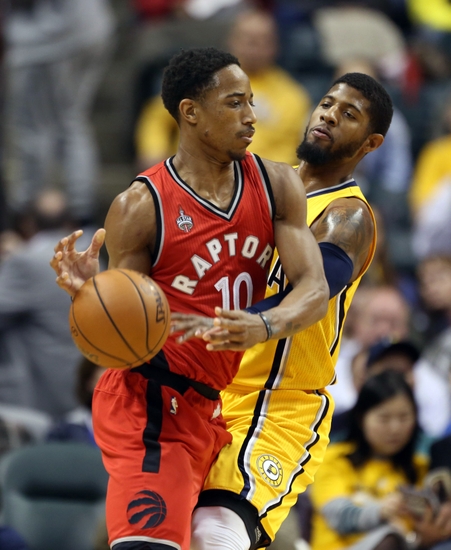 Probable Starters:
Raptors: PG: Kyle Lowry, SG: Demar DeRozan, SF: Norman Powell, PF: Luis Scola, C: Jonas Valanciunas.
Pacers: PG: George Hill, SG: Monta Ellis, SF: Paul George, PF: Lavoy Allen, C: Ian Mahinmi.
Last Matchup
The last time the Pacers and Raptors met, Lowry and DeRozan rested which most thought would help the the Pacers. Well it was about the exact opposite as the Raptors were still able to beat the Pacers with relative ease.
It might've gave them the wake up that they needed coming into this series. It might help with the mindset of the team because of the fact that they know the Raptors can put up points in a hurry. The Raptors won the season series 3-1.