 CLEVELAND, Ohio -- The Cleveland Cavaliers avoided a major upset in Game 1 on Sunday afternoon with a 106-101 win over the Detroit Pistons at Quicken Loans Arena. With the win, Cleveland owns a 1-0 series lead over Detroit in the Eastern Conference first round.
Detroit went 6-of-9 from the field to start the game, but were playing like a young team, which they are, with three turnovers with 6:37 left in the first quarter. LeBron James gave the Cavaliers the lead, 27-25, at the buzzer with a layup.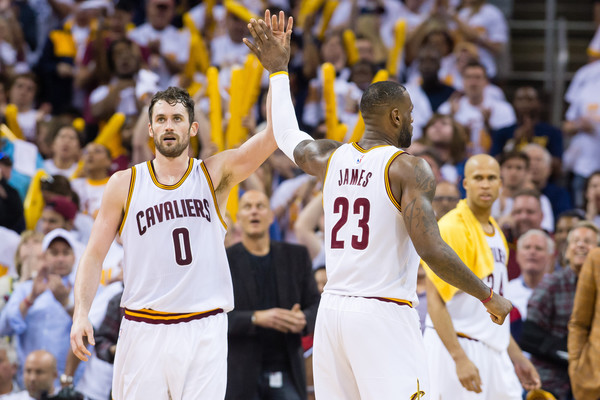 "They didn't catch us off guard," James said. "We did it to ourselves. We were a step slow on some of our coverages and they made us pay for it. In the second half we knew we had to play a little bit more close attention, a little bit more close to our details that our coaching staff told us to do."
During the first four minutes of the second quarter, the Pistons jumped out to a 12-3 run against the Cavaliers. As expected, Cleveland responded with an 8-0 run on five points from Kevin Love and three points from Kyrie Irving.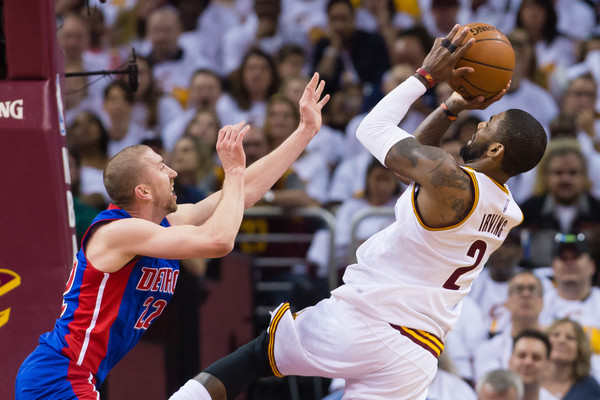 The Pistons owned a 58-53 lead at halftime on a huge performance from Marcus Morris. The forward scored 19 points, while adding one rebound and three assists. Meanwhile, James, Irving and Love combined for 44 first half points. The rest of the Cavaliers scored just nine. Detroit entered the halftime locker room shooting 10-of-16 (61.8 percent) from the three-point line.
Irving got the third quarter started with an 8-0 run of his own to put Cleveland ahead by three points, but Detroit finally started to get Andre Drummond involved. On back-to-back possessions, Drummond tipped in a missed floater by Kentavious Caldwell-Pope and then threw down an ally-oop from Reggie Jackson with 6:51 left in the quarter.
After Cleveland snagged a five point lead, their biggest at that point in the game, the Pistons responded with a 7-2 run. The run included a huge three-pointer from Stanley Johnson to knot the game again with 2:40 to play in the third.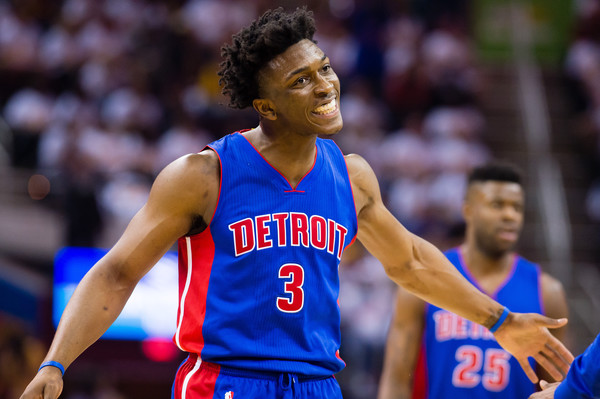 The Cavaliers and Pistons traded run for run and it was tied with 6:28 left after Jackson knocked down a deep triple to tie the contest, 88-88. The Cavaliers began to pull away as Love cashed in on back-to-back three-point jumpers.
"My mentality was to be aggressive all night," said Love, who added 13 rebounds. "We have to do that the entire series."
Detroit cut the deficit to five points with 2:58 remaining, but Cleveland shut the door and secured the 106-101 victory on their home floor.
While James tallied 22 points, 11 assists and six rebounds, Irving added 31 points and Love chipped in 28 points. The trio totaled 81 points, 18 assists and 24 rebounds.
"For these two guys, they were just excited to get back to this moment," James said. "These guys have been working hard, Kyrie on his knee, Kevin on his shoulder just to get back to this moment. It was great to be out on the floor with them and for them to put together the performance that they did."
Caldwell-Pope led the way for Detroit with 21 points. Drummond got into the action late, but managed to score 13 points and add 11 rebounds. Morris scored 19 of his 20 points in the first half, while Jackson chipped in 17 points and seven assists.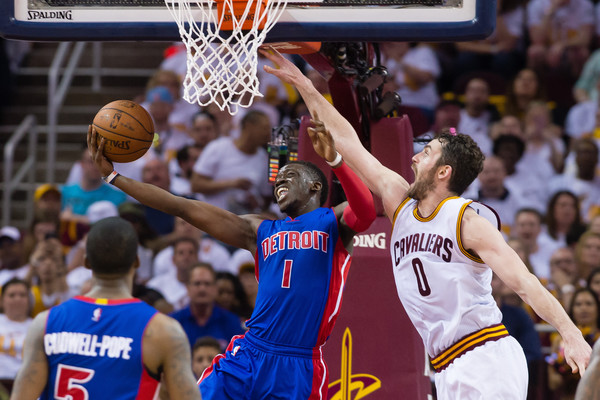 The Pistons, even tough the team lost Game 1, still believe that an upset is possible against the Cavaliers. While making 10 three-pointers in the first half, Detroit only scored two from beyond the arc in the second half.
"We don't care who you put in front of us," said Jackson, slapped with a technical with 3:24 left. "We fear nobody and experience is going to be our best teacher. We're going to learn on the fly. We think we have a chance."
Up Next
Game 2 of the series will be played on Wednesday at 8:00 PM ET Quicken Loans Arena.