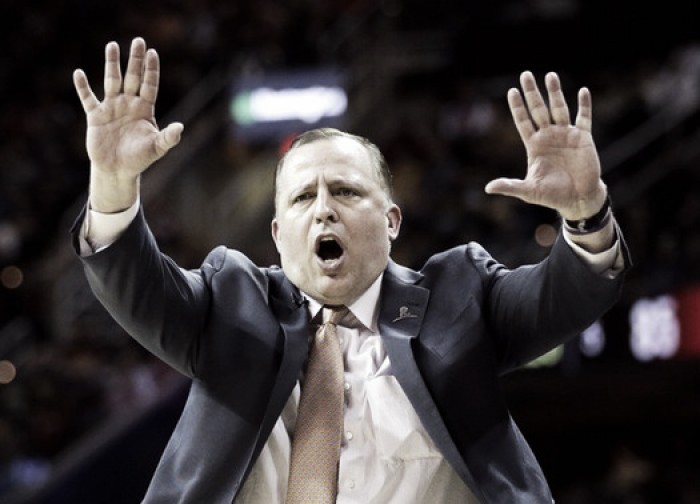 The Minnesota Timberwolves announced on Wednesday that they had agreed to a contract with former Chicago Bulls coach Tom Thibodeau as the new head coach and president of basketball operations. They also agreed to terms with Scott Layden to be the new general manager.
Minnesota looks for permanent head coach after death of Flip Saunders
After longtime coach Flip Saunders passed away in November, the Timberwolves appointed longtime assistant Sam Mitchell to fill his shoes on an interim basis. Mitchell led the team to a 29-53 record in 2015-16, but was not retained at the end of the season. ESPN is reporting that he is scheduled to interview with the Sacramento Kings for their vacant head coaching position.
Thibodeau has history in Minnesota
Thibodeau, the former Chicago Bulls coach, got his coaching start in Minnesota, as in the 1989-90 season, the team's inagural season, he was an assistant for then head coach Bill Musselman. Thibodeau is more commonly known as the head coach of the Bulls, where over a five year period, he won 65% of his games.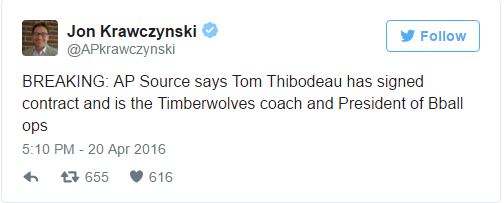 He was fired last season after clashing with management over his hard-driving style. In his 25 year career, he has taken teams to the playoffs 19 times, with three trips to the NBA Finals, most recently in 2010.
Layden brings experience to the front office
Layden, who was most recently the assistant general manager for the San Antonio Spurs, has been in the NBA since 1981, including stints with the Utah Jazz and New York Knicks.
"Scott Layden brings over 30 years of experience in the NBA to his new role within our organization, including several years in basketball operations leadership positions with Utah, New York and most recently San Antonio." Timberwolves owner Glen Taylor said in a statement.
"His decades of front office experience will be integral as we head into an extremely exciting time for our organization. In getting to know Scott, he has impressed me with his not only his basketball acumen, but also his character and integrity. Tom and Scott will work in concert together in shaping our roster moving forward. We are confident this partnership gives us the best chance possible of winning an NBA title."