 Kevin Durant didn't miss 26 shots in Game 3. He scored 34 points on 25 field goal attempts and secured seven rebounds to drive the Oklahoma City Thunder to a 131-102 victory in Game 3.
After a miserable Game 2 loss at home, the Thunder recovered to throttle the Dallas Mavericks on Thursday night to take a 2-1 lead reclaim home-court advantage in the Western Conference first-round series.
Oklahoma City shot 57.7 percent from the field, returning to the thunderous form that brought them a blowout victory in Game 1 on Saturday night. Durant starred and threw down a ferocious reverse slam in the opening quarter while accomplice Russell Westbrook added a massive 26 points and 15 assists from the point.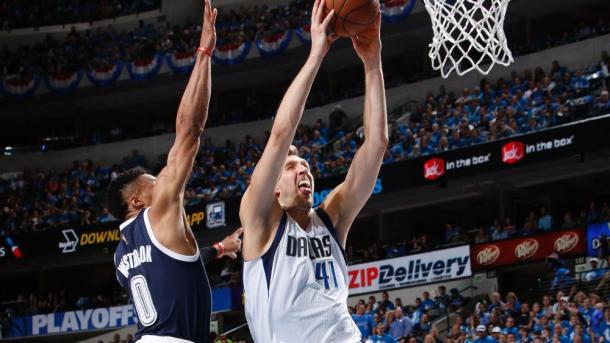 Enes Kanter (8 rebounds) and Dion Waiters combined for 40 points off the bench and Serge Ibaka contributed a solid 16 points and six boards in OKC's frontcourt. The Thunder won the rebounding battle by a 42-30 margin and never trailed from the opening tip.
For Dallas, it was a blown opportunity after stealing a win in Oklahoma City. Wesley Matthews led the Mavs in scoring with 22 points while Raymond Felton followed up his big Game 2 with 18 points. Dirk Nowitzki had a solid 16-point, six-rebound, five-assist performance on 7-12 shooting and Justin Anderson scored 12 off the bench.
Game 4 is Saturday night at Dallas. The Thunder hold a 2-1 series lead and could potentially lock up the series with a second away victory.
How the game transpired
Things were pretty tight through the first eight minutes, but Oklahoma City broke out to an 11-point lead with an 8-0 run over a two-minute span; Waiters scored an and-one and a three-ball to score six of the run's eight points, and by quarter's end, the Thunder's lead stood at 27-21.
The Thunder mounted an 11-1 run midway through the second to stretch the lead out to 16 and eventually 19. Dallas was able to limit the damage and shorten the deficit to ten at 58-48 going into halftime.
OKC strung together another run straight out of the locker room, outscoring Dallas 11-2 not even through three minutes of the second half. The lead got as large as 20 and never sunk below double digits, the Thunder cruising into the fourth with a 97-78 advantage.
After the first six minutes of the final period saw the scoreboard maintain a similar winning margin for Oklahoma City, coach Billy Donovan removed his starters and the rest of the game was basically garbage time. The lead peaked at 31 with 17 seconds remaining and the Thunder took home the 29-point win by a score of 131-102.