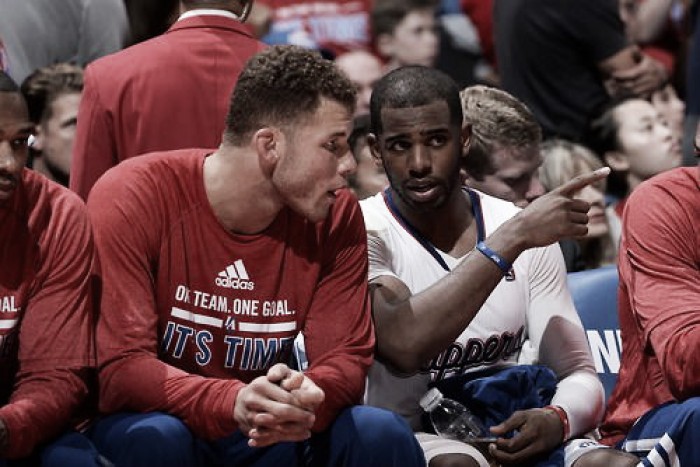 News just went from bad to worse for the Los Angeles Clippers. Chris Paul broke his third metacarpal in his shooting hand yesterday after trying to go after Portland Trail Blazers guard Gerald Henderson. His right hand got caught in the back of Henderson's jersey, breaking that third metacarpal. Today it was announced that the Clippers point guard had surgery in the morning and will miss the rest of the playoffs. Recovery time after his surgery will be 4-6 weeks
It was obvious that Paul was going to get surgery and miss the rest of the NBA Playoffs.
But now, it was announced that Blake Griffin will be missing the rest of the playoffs as well. Griffin will miss the rest of the playoffs due to a left quad injury. This is the same left quad that Griffin tore earlier in the season and then lingering quad problems also continued to keep him out. MRIs showed that Griffin had no additional structural damage and will be ready for the start of training camp.
Doc River Speaks
After finding the news that both Griffin and Paul were going to be out, Clippers head coach Doc Rivers spoke to the press about his team's situation in regards to Game 5 against the Trail Blazers, "We don't have to be the best team. We just have to be the best team tomorrow. And then we have to figure out how to do it one more time." The Clippers and Trail Blazers are tied in their series 2-2 and the winner of their series will meet the winner of the Golden State Warriors-Houston Rockets series.
Major Losses
It's quite known that Paul and Griffin are the two most important players to this Clippers team. Chris Paul averaged around 24 points and 7 assists this postseason. He also averaged around two steals as well. Griffin averaged around 16 points and 8 rebounds. This picture below shows how important these two players are to the team because of the significant point differential to when neither of them are on the floor to when at least one or both of them are on the floor.