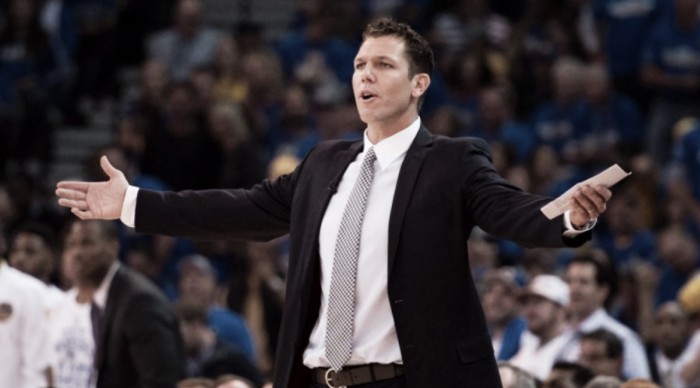 Well, that was quick.
Five days after announcing that Byron Scott would not be retained as head coach of the Los Angeles Lakers, the team has announced his replacement. Golden State Warriors assistant coach Luke Walton has agreed to terms to become the 22nd Lakers head coach since the team's move to Los Angeles in 1960. Walton will not take over immediately; instead he will coach out the Warriors' playoff run and begin his Lakers duties once the season has ended.
Luke Walton Was Always the Lakers' Top Choice
The move hardly comes as a surprise. Walton has been rumored as a frontrunner for the Lakers' coaching job since the All-Star break. He topped a shortlist of candidates that included University of Connecticut's Kevin Ollie, San Antonio Spurs assistant Ettore Messina, former coach and current NBA broadcaster Jeff Van Gundy, and recently fired New York Knicks head coach Derek Fisher.
Earlier this month, the Lakers were widely castigated in the media and in league circles for dragging their feet on a Scott decision and missing out on highly regarded former Chicago Bulls head coach Tom Thibodeau. But Thibodeau coveted the personnel control of a general manager, and the Lakers front office was never likely to cede him the power he got from the Minnesota Timberwolves. Midweek, reports surfaced that Walton's father, Hall of Famer Bill Walton, was encouraging his son to pass on the Lakers job for one with more front office stability. In the end, the Lakers got their man.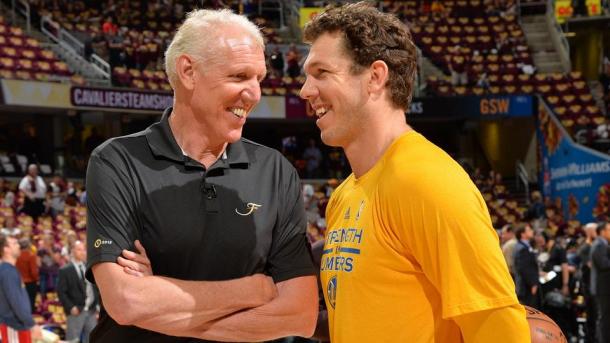 Walton Built His Coaching Resume Quickly
Luke Walton started his coaching career as an assistant at the University of Memphis during the 2011 NBA lockout. The Lakers hired him as a player development coach for their NBA Developmental League team the Los Angeles D-Fenders in 2013, and from there he joined Steve Kerr's Golden State staff in July, 2014.
After participating in the team's 2015 NBA championship run, Walton opened a lot of eyes around the league when he stepped in for an ailing Steve Kerr to begin their 2015-16 title defense. As interim head coach, Walton guided his star-laden squad to a 39-4 record, winning Western Conference Coach of the Month awards for October and November.
Lakers General Manager Mitch Kupchak offered this statement upon announcing the hire:
"We're excited to bring Luke back to Los Angeles, where we feel he's going to start an outstanding coaching career. He's one of the brightest young coaching minds in the game and we feel fortunate that he'll be leading the on-court future of our team."
Lessons Learned from the Lakers and the Warriors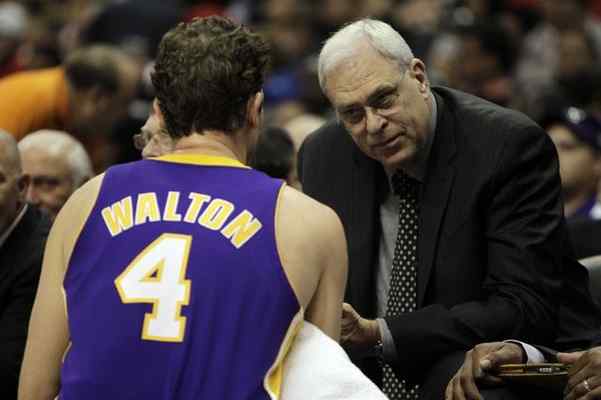 Though he trained at the knee of the great Phil Jackson through much of the 2000s, much of Walton's appeal as a head coach in 2016 stems from his time with Steve Kerr.
Under Steve Kerr he's been able to learn the system that produced the best team ever in NBA history," said "Access Lakers" commentator and co-host (and former NBA assistant coach) Dave Miller. "Small ball is the future of the NBA."
Walton's first priority will be recruiting big-name veteran talent during the free-agency period this summer to augment the Lakers' young, emerging core. Then he will be tasked with leading the franchise that drafted him out of the University of Arizona with the 32nd pick in 2003, back to its former glory. Establishing a solid defense will be a big part of the equation.
Walton history with the Lakers goes way back. A small forward and fan favorite for nine years, he was a key reserve on Los Angeles' NBA championship teams in 2009 and 2010. He played one year for the Cleveland Cavaliers before retiring. In all, Walton owns three rings, two with the Lakers and one with Golden State. He could wind up being fitted for a fourth before moving back to Staples Center in June.