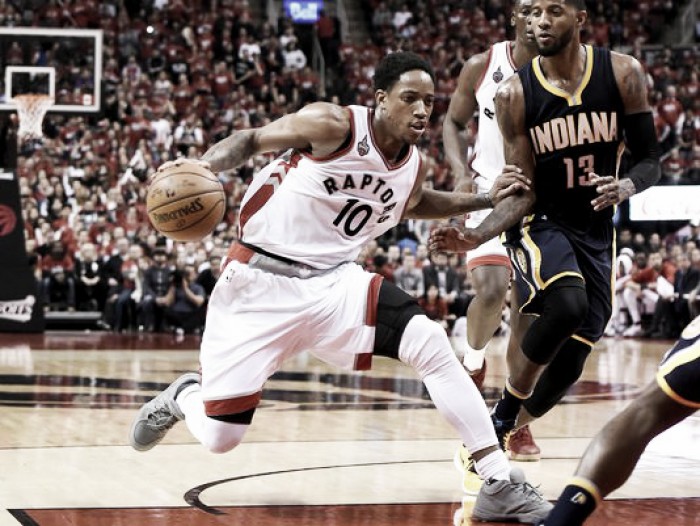 Sunday evening was certainly one to remember for the entire country of Canada as the Toronto Raptors came out in full form, beating the Indiana Pacers by a final score of 89-84 to advance to the second round of the 2016 NBA Playoffs.
This marks the first time in 15 years (2001) that the franchise has gotten past round one as it last happened on Friday May 4 against the New York Knicks at Madison Square Garden. The final score was 94-89, however, they would end up falling to the Philadelphia 76ers in seven games.
Toronto now gets ready for their next challenge which will be that of the Miami Heat as they have moved on as well following a seven-game series against the Charlotte Hornets which had came to an end earlier in the day.
Things got started early as the game was tied at 13 with five minutes left to play in the first quarter when DeMar DeRozan went for the three-pointer to give them a 16-13 lead. At the three-minute mark, Indiana had come back leading 21-20 when DeMarre Carroll sank a two-pointer to put them back on top 22-21.
Into the second quarter, the Raptors held a 28-25 lead at the 11-minute mark when Paul George sunk a three-pointer from the right side for the Pacers to tie the game.
With 10 minutes left to go tied at 28, Bismack Biyombo dunked a two-pointer giving them a 30-28 lead, however, Indiana quickly came back on top 31-30.
Norman Powell got his night started at the 10:16 mark when he shot a two-pointer from the right side to put Toronto up 33-32. He very quickly did the same thing again when Kyle Lowry passed to Cory Joseph who got himself tied up urging the need to toss it towards Powell who shot another three, this time from the left side to give the Raptors a 36-32 lead.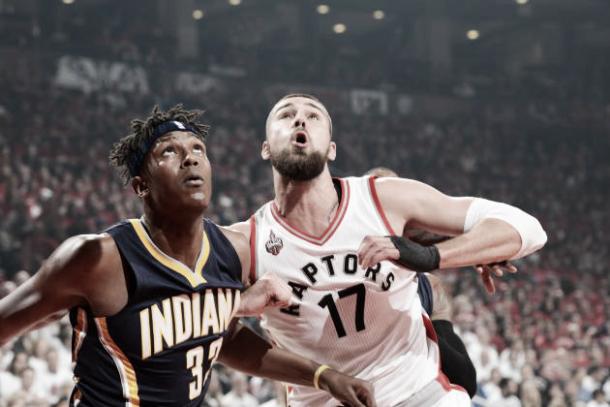 Into the third quarter now up 55-46 with 8:22 left to play, Carroll was right back at it as he shot himself a three to put Toronto up 58-46. At the four-minute mark leading the Pacers 63-57, Patrick Patterson took it from the left side for three which put a 66 on the board, however, things weren't finished there. DeRozan got himself right back into things as he took a dunk directly to the net, giving them 67 which then turned into a 73 by the two-minute mark with another of the same.
Could things remain stable as the game neared its conclusion?
With 11 minutes left in the game, Indiana was looking to get right back into it which started with a solid effort from Solomon Hill, however, he was denied by DeRozan, keeping the score stable for a minute more until Joe Young shot a two-pointer to move the Pacers closer up at 67. This would remain until the eight-minute mark when Toronto led them at 78 when Powell came again from the left side for a three pointer which gave Toronto the 81-67 lead.
With the game closing in on its final minutes, the raptors led 83-73, however, Lowry felt it just was not enough as he was looking to give them some more when placed back in the game and certainly took matters into his own hands as he took a dunk straight up, giving them the 85-73 lead. Indiana then scored a two-pointer and things stuck until the three-minute mark hit which had Hill back at it again for a two-pointer to give Toronto a tighter match to go up against.
With two minutes now, things looked as if they were getting ugly when Monta Ellis scored one of his own, a three-pointer which was followed up by a single dunk as Toronto then led 85-82. With just 18 seconds to go in the game, Lowry put one in for the Raptors, a two-pointer giving Toronto an 87-84 lead after Indiana was given a two-point call following a brief review.
DeRozan tried to end it with a show as he took an alley-oop which bounced off the backboard and into Carroll's hands, so he looked to put in one of his own from the end of the court and missed, however, the clock ran out and the buzzer sounded, wrapping up the very competitive series and moving the team on towards round 2.
DeRozan ended the game with a high in points with 30 in 40 minutes of play to go alongside five rebounds, two assists, three steals and two blocked shots. As noted by NBA.com, he also had finished with a perfect 9-for-9 record from the free throw line.
Toronto is right back at it on Tuesday night at the Air Canada Centre when they take on the Heat at 8:00 PM ET. The game will be available for viewing on all Sportsnet channels while it can be heard on Sportsnet 590 The Fan.