 The San Antonio Spurs lost just one home game in the 2015-16 regular season. They've now lost twice that over a span of three AT&T Center playoff games versus the Oklahoma City Thunder.
Russell Westbrook and company have San Antonio facing elimination following a stellar Game 5 victory on the road in which Westbrook put up 35 points, 11 rebounds, and 9 assists and Oklahoma City outrebounded the Spurs by 18. The Thunder squeaked out the 'W' with great fourth-quarter poise and calmness down the stretch. Kevin Durant added 23 points, six rebounds, and five assists in the win.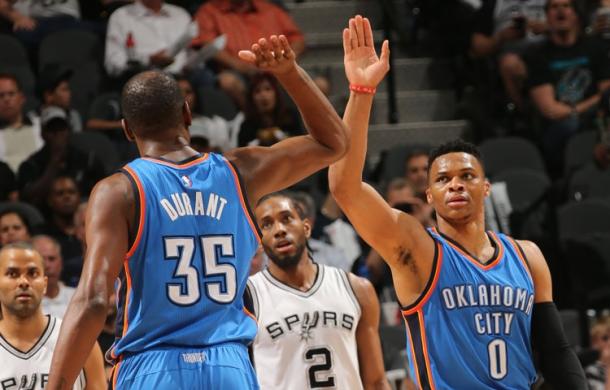 Tipping the advantage under the glass so heavily to Oklahoma City, Enes Kanter added eight points and 13 boards in his sixth-man role and Steven Adams recorded a double-double of 12 points and 11 rebounds starting at the five on top of Westbrook's 11 boards from the point.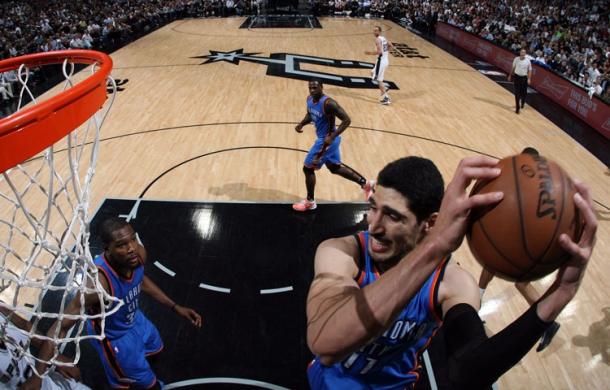 San Antonio's Kawhi Leonard led the stunned home side with 26 points, six rebounds, four assists, and five steals the same day it was announced he had finished second in the league MVP race. LaMarcus Aldridge put up 20 points and nine boards while Danny Green knocked down six of his nine three-point attempts en route to a 20-point showing.
The bench production was especially low from both sides in this one. Kanter and Dion Waiters supplied 17 of OKC's 20 reserve points while the Spurs had no bench player surpass Patty Mills' four points.
Oklahoma City managed to survive despite turning the ball over 20 times. Both Russell Westbrook and the entire Spurs team recorded eight giveaways. Evidently, the Thunder found other ways to separate themselves in such a physical and intense affair.
Quarter-by-quarter
First quarter
Oklahoma City started out strongly, going up 9-2 thanks to five Westbrook points and buckets from Durant and Adams. The Spurs did quickly bring it back to a one-point, 11-10 game and after the Thunder lengthened it back out to 15-10, San Antonio went on a 6-0 run to claim its first lead of the contest. KD and Waiters finished the quarter with seven unanswered of their own to put OKC up 22-16 going into period two.
Second quarter
Twice did the Thunder's lead hit eight points early on in the second before San Antonio pulled it back to 29-28 halfway through the quarter. Oklahoma City's lead stayed under four up until Kawhi Leonard scored two straight buckets with a minute to go, giving the Spurs a 45-43 lead. Danny Green knocked down a three to give his team a five-point halftime lead.
Third quarter
Green scored eight points in the first four minutes and change of the second half, extending San Antonio's lead to double digits and a high of 13 points at 62-49. The lead stuck around the seven-to-twelve range for the majority of the period. However, the Thunder pulled off an 8-2 quarter-ending run to close the gap to just three heading into the fourth.
Fourth quarter
KD and Westbrook hit back-to-back threes to tie everything up at 78 with just about eight minutes to go. Then San Antonio regained a two-possession advantage, yet Oklahoma City tied back up at 88 six minutes later.
Enes Kanter put the Thunder up 90-88 for the first time in multiple quarters with a tip-in inside two minutes. Tony Parker answered him with a jumper. Durant went to the line on the next series and buried a pair of free throws. So Parker strutted to the stripe on his end but missed the second charity basket with 43 seconds to go.
Oklahoma City worryingly turned the ball over to a Danny Green steal with under half a minute remaining, giving the Spurs a chance to take a lead with little to no time left for their opponents. But Parker's jumper didn't fall and the Thunder regained possession with nine seconds to go and called a timeout.
Westbrook sealed the result just three seconds after the break, driving and converting an and-one on a continuation play, increasing the lead by three to 95-91, out of reach of San Antonio, barring some sort of miracle. Whatever that miracle could have been didn't manifest at the AT&T Center on Tuesday, and so OKC danced out of their dreaded Game 5 on the road with a 3-2 series lead.
And that could have been Tim Duncan's last game in San Antonio. That and much more rides on Thursday night's Game 6 bout at Chesapeake Energy Arena in Oklahoma City.