 The Chesapeake Energy Arena will play host to the San Antonio Spurs for the third time this playoff series, as the Oklahoma City Thunder will look to make to the Western Conference final for the third time since 2011.
The Spurs, however, will be hoping to make it to game seven in order to prevent an upset, with many people suggesting prior to the playoffs that Gregg Popovich's side could challenge for the Championship.
The series so far
Despite both dominating their first round matchups, the Spurs were odds-on favorites for the victory over the Thunder and were helped further by starting the series at home. Over the course of the regular season, Kawhi Leonard and company lost just one of their 41 games at the AT&T Center, a dominance which was personified through a 124-92 victory in game one on April 30th.
The Thunder then drew the series level, joining the Golden State Warriors as the only team to beat the Spurs at home this season. Despite some stellar basketball from Russell Westbrook, Oklahoma City were defeated in game three but returned with a bang in game four. Kevin Durant scored over a third of the Thunder's 111 points, as the defensively-strong San Antonio scored just 97.
Game five saw the Thunder defy the odds to win at the AT&T Center again, taking the win with a final score of 95-91.
Players to watch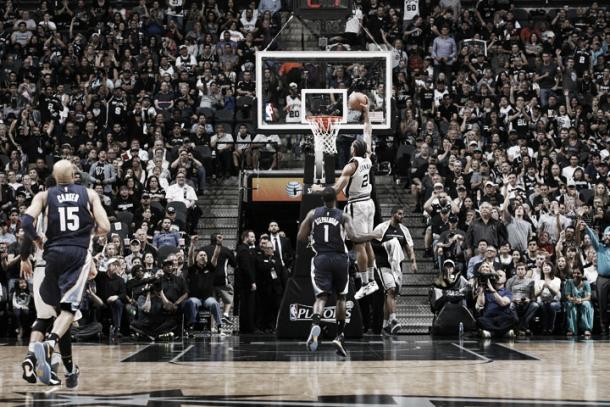 The Spurs will need to be at their defensively-brilliant best tomorrow night in order to stop the attacking Oklahoma City, meaning they will likely play through Kawhi Leonard. The 24-year-old Kia Defensive Player of the Year has averaged 26 points through the last three games, whilst LaMarcus Aldridge has scored 20 or more points in all five matchups against the Thunder this round. The power forward grabbed returns of 41 and 38 points in game one and two respectively, meaning he could be the key to success again in game six.
Meanwhile, Kevin Durant continued to prove his status as one of the best players in the NBA when he grabbed a huge 41 points in the aforementioned game four, whilst averaging 6.2 rebounds a game over the course of the series. Russell Westbrook has grabbed three double-doubles in the five games against San Antonio, featuring an impressive 35 points, 11 rebounds and nine assists in their third win of the semi-finals. Despite this, the point guard has been inconsistent with his point-grabbing, hitting an average of around 30 in three games, whilst achieving just 14 in the other two.
Injuries
Both sides will be able to field their strongest starting five's on Thursday, with only reserve forward Kyle Singler of the Thunder a doubt for the crucial matchup. The 28-year-old featured in three games against the Dallas Mavericks in round one, as he averaged two points a game off roughly 10 minutes of play.