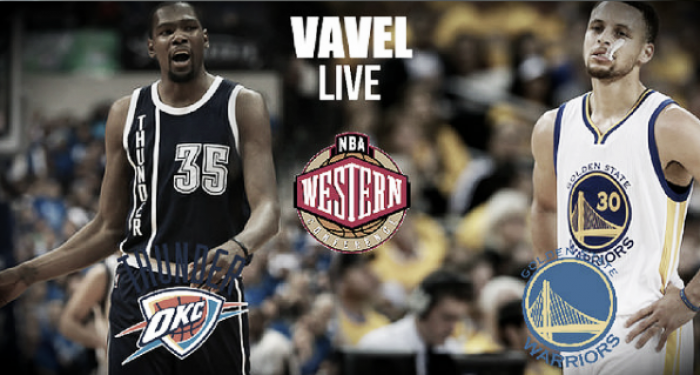 FINAL- Nazr Muhammed came in to let a three fly in "postponed garbage time." The only thing surprising about it was most of us thought he already retired. Kevin Durant's 40 and Westbrook's 31 were just not enough. Waiters laid an egg, and Kanter was not any better. The comments earlier this series about the Thunder needing a legit "third wheel" remain valid. This was Brett Roberts and thanks for following all the live commentary here at VAVEL!—GSW 120, OKC 111
4th (15.4)- There was no way Golden State was going to let Durant get a clean look at a three, no matter how deep the look. Durant has 40 on the night, but it does not look like it will be enough. —GSW 118, OKC 108
4th (33.5)- Just when it seemed like Curry could do no wrong, he turns it over leading to a Westbrook score in transition (and one!). But then OKC could not capitalize with a three and time is running out. —GSW 114, OKC 108
4th (50.0)- Harrison Barnes fouled Durant on a three from about seven feet behind the line. The only thing that can be said there is, "WHY?!" Durant of course hit bottoms on all of them. —GSW 114, OKC 106
4th (55.7)- Klay Thompson hit both his free throws to push the lead back over double-digits. —GSW 114, OKC 103
4th (1:02): Billy Donovan thought he would make it more challenging on his team by picking up a technical foul. Curry canned the T (surprised?). —GSW 112, OKC 103
4th (1:02): Steph Curry stripped Kevin Durant, coming up with his biggest play of the game. Oh, until he followed that defensive play up with a bucket right after it. Timeout OKC. —GSW 111, OKC 101
4th (Under 2 minutes): The Thunder are pressing hard to get back in this game, and Andre Roberson just fouled out. The Warriors have been draining the 24-second clock, which is unusual for them even though it is common strategy while ahead. Steph Curry steps up to the line for two. —GSW 107, OKC 101
4th (2:35)- The Warriors could have put this out of reach, or close, but Steph Curry misfired on his three over Kevin Durant. Then, Russell Westbrook found a way to draw contact and get back to the line on the other end. He hit 1 of 2. —GSW 107, OKC 101
4th (3:51)- The Thunder have taken to intentionally hacking Andrew Bogut, and he knocked down 1 of 2. —GSW 107, OKC 100
4th (4:30)- An 8-0 Thunder run keeps this game interesting. Kevin Durant drilled another triple to cap it. —GSW 103, OKC 98
4th (5:20)- Further answering that claim, Ibaka drills another triple. —GSW 103, OKC 93
4th (6:00)- Serge Ibaka hits his second from downtown to give him 10 points and cut the lead to 10. The Thunder still need to make one substantial run before the Dubs put this on ice. That shot has been there for Ibaka all night, really.—GSW 101, OKC 90
4th (7:57)- Marreese Speights may not be graceful, but grace is pretty overrated. His barrell to the basket, three-point play gives the Dubs its biggest lead of the night. —GSW 96, OKC 83
4th (9:07)- Dion Waiters is 0 of 3 from the floor for a scoreless 25 minutes. He is also -16—but all of OKC's starting lineup is negative for that matter, too. —GSW 91, OKC 81
4th (9:07)- Though Russell Westbrook has seven turnovers, he has been there at every turn when the Dubs try to pull away with this. Steve Kerr does not want Westbrook getting in rhythm, so he burned a timeout. —GSW 91, OKC 81
4th (9:26)- Kevin Durant is able to get good shots at will. His mid-range jumper keeps OKC within range and he has 28 points on the night. —GSW 91, OKC 79
4th (10:24)- The Warriors have their biggest lead of the night on a Harrison Barnes three from straightaway. —GSW 89, OKC 77
4th (11:02)- Warriors open quarter on a 5-0 run and prompt a Thunder timeout. —GSW 86, OKC 77
End of 3rd- Stephen Curry turned it over which led to a quick run-out dunk by Kevin Durant. Then Andre Iguodala picked up a charging call. OKC inbounded it to Randy Foye who had his buzzer-beater blocked. —GSW 81, OKC 77
3rd Quarter (1:05)- Hack a Festus failed. Festus Ezeli knocked down both free throws much to the delight of a very lively Oracle crowd. —GSW 81, OKC 75
3rd Quarter (Under 2 Minutes): Steph Curry hit his third three of the night right between Steven Adams' eyes. Kevin Durant answered wtih a three of his own, and he has 24 points on the night. —GSW 79, OKC 75
3rd Quarter (3:46)- Draymond Green busted his tail for a putback layin to give the Dubs a four-point edge. Thunder timeout. —GSW 74, OKC 70
3rd Quarter (4:30)- Dion Waiters just broke Steph Curry down off the dribble and set the table for an easy Steven Adams dunk. Waiters is a better playmaker than most realize it seems. —GSW 72, OKC 70
3rd Quarter (5:20)- Russell Westbrook stumbled and turned it over in transition which set up a fast break finish for Draymond Green who drew contact on the bucket. Green has seven points and 10 boards. —GSW 72, OKC 68
3rd Quarter (5:52)- Kevin Durant's long two from the top of the arc knots it up. Stephen Curry answered with a difficult look, but this game is going to see-saw it seems: Russell Westbrook then answered Curry's two with a triple, giving OKC the lead. —OKC 68, GSW 67
3rd Quarter (7:43)- Whether or not the Thunder win this series, its offseason checklist will include finding another shooter to put on the wings. Serge Ibaka is being left alone a lot, but the Thunder still prefer Durant and Westbrook taking contested "Js" to that. Thunder timeout. —GSW 65, OKC 61
3rd Quarter (9:37)- Draymond Green came up with a big block on Steven Adams but then he bobbled the ball and lost it in transition. Nothing is coming easy for Draymond in this one. —GSW 63, OKC 59
3rd Quarter (10:33)- If Kevin Durant and the Thunder want this game, it is right there within reach. The momentum has swung in favor of the Thunder and now is the time to pounce. —GSW 60, OKC 59
3rd Quarter (10:33)- Serge Ibaka drilled his second jumper of the half and the Thunder capped a 9-2 run. Timeout Dubs. —GSW 60, OKC 59
3rd Quarter (11:10)- Draymond Green picked up a technical foul and now the Thunder are back within three. Durant hit four of four from the line on that trip down the court. —GSW 60, OKC 57
3rd Quarter (11:20)- Andrew Bogut has been lurking around the basket and it has worked out for him well. Klay Thompson hit him for yet another lob. Bogut is 6 of 7 from the field and all have been at the rim. —GSW 60, OKC 53
HALFTIME- Kevin Durant missed a three to close the half, and the Thunder are fortunate to still be in this. Klay Thompson and Stephen Curry are 10 of 21 from the field while Durant and Westbrook are 10 of 29. OKC also has nine turnovers, while Golden State has seven. We will be back with you after the intermission. —GSW 58, OKC 50
2nd Quarter (1:33)- With Durant and Westbook a combined 9 of 27 from the field, OKC is still right in this. —GSW 53, OKC 48
2nd Quarter (2:55)- Andre Iguodala pushed it in transition to get Green an easy look. With the cohesion returning, perhaps Green comes back into his own. Timeout on the floor. —GSW 53, OKC 45
2nd Quarter (4:00)- The Warriors are playing much more like themselves. The ball is moving, and the risky passes that were not getting through in games 3 and 4, are now. The Dubs are as whimsical and free flowing as ever. —GSW 49, OKC 45
2nd Quarter (5:24)- Oracle is coming to life as the Dubs are on a 6-0 run and Stephen Curry seems to be getting his mojo/swag/whatever back. Curry scores at the rim, pumps his first...Oracle is blowing its lid. Thunder timeout. Curry has scored the last seven points of the game. —GSW 47, OKC 39
2nd Quarter (6:45)- For lacking a propensity of post moves, Steven Adams finds plenty of ways to score in pick and roll sets and in hustling for opportunity buckets. His three-point play off the pick and roll set pulled OKC within two. Westbrook hit a three the next possession, and OKC is now within one. —GSW 40, OKC 39
2nd Quarter (9:03)- Anthony Morrow is 3 of 3 from the floor and the Warriors lead is down to a single point as Steve Kerr calls for timeout. —GSW 33, OKC 32
2nd Quarter (9:45)- Marreese Speights has a pair of three-point plays and he is intense and pumped. The Warriors bench can be so good, and it is at this juncture. —GSW 33, OKC 29
2nd Quarter (10:30)- Anthony Morrow canned a jumper on the baseline as Enes Kanter was fouled away from the ball, for the ever so unconventional three-point play. —GSW 30, OKC 27
End of 1st- Klay Thompson and Anderson Varejao ran a pick and roll for the final possession and it led to a missed Thompson jumper along the baseline. Despite the Thunder hitting 5 of its first 25 field goals, OKC ended the quarter on a 9-3 run and made its final three looks. —GSW 25, OKC 21
1st Quarter (1:17)- The Warriors just picked up its first foul of the game. Klay Thompson reached in on Kevin Durant, though he still for some reason had difficultly believing it was a foul. —GSW 23, OKC 17
1st Quarter (Under 2 mins)- Andre Roberson is 2 of 3 from three-point range early on and his confidence is brimming. He has also been matching up against Draymond Green. The guy can defend every position. —GSW 22, OKC 15
1st Quarter (2:30)- OKC is just 5 of 22 from the field. —GSW 21, OKC 12
1st Quarter (2:51)- Dion Waiters did a superb job on Klay Thompson in the post but Thompson is wily and caught Waiters in the air, leaning in to draw the foul. —GSW 21, OKC 12
1st Quarter (3:29)- Kevin Durant's mid-range jumper ends a three-minute drought for the OKC Thunder. Despite the lack of scoring the Thunder are still in it as Billy Donovan calls for a timeout. —GSW 19, OKC 12
1st Quarter (4:10)- The Warriors just committed its fourth turnover, but Golden State still leads early. Andre Iguodala's corner three makes it a seven point Dubs' lead. —GSW 17, OKC 10
1st Quarter (8:14)- Draymond Green may not have it offensively, but his block led to a Steph Curry two pointer in transition and an OKC timeout —GSW 11, OKC 7
1st Quarter (8:38)- Draymond Green turned it over for the second straight possession. Green is just not locked in. —GSW 9, OKC 7
1st Quarter (9:34)- Oklahoma City shooting guard Andre Roberson is playing aggressive with a lot of confidence. His take to the basket was nullified by Steven Adams' offensive foul, but his three evens it up here. Roberson had 17 points in Game 4. —GSW 7, OKC 5
1st Quarter (11:40)- Harrison Barnes strikes first on a corner three. —GSW 3, OKC 0
Last game note until game time: Stephen Curry may have been the unanimous MVP, but it could all amount to naught if he cannot recapture his typical brilliance. Curry hit just 6 of 20 from the field and 2 of 10 from three-point range in Game 4. That is not Curry stuff. Without his typically unstoppable antics, it is tough to imagine the Warriors avoiding elimination. That said, if a team is going to come back from a 3-1 deficit, why not the winningest team of all-time?
And as good a shooting team as the Warriors are, they need their easy buckets too, particularly when the three ball is not falling. The Warriors hit just 9 of 30 from behind the arc (30 percent) in Game 4. Almost nothing was as it usually is for the Warriors.
The Thunder had 24 blocks/steals in Game 4 while the Warriors had just 15. OKC's defense has been pestering and the Warriors have had trouble passing around or over the Thunder's length. When OKC goes big the Warriors have had a lot of trouble getting the ball inside.
The Thunder attempted 40 free throws in Game 4, which was another key to its lopsided win. Golden State's key players got in foul trouble early, and the Dubs never really recovered from it. Getting put in the bonus mid-quarter can tend to do that.
Kevin Durant showed he can make big defensive impacts in addition to his gaudy scoring. He had four steals and three blocks in Game 4, and those blocks were key in OKC getting out in transition. Though the Thunder were credited with just 15 fast break points, the number of buckets that caught the Warriors with its pants down was far greater than that. OKC just kept pushing, and the Warriors were unable to take what they typically dish out.
Thunder head coach Billy Donovan said starting center Steven Adams has become one of the game's best young big men. If one is looking for things other than statistical impacts, he is right. Adams had 12 points, seven rebounds, two steals and a block in Game 4. His play was bigger than that still, as he was largely responsible for OKC making the Warriors' typically daunting frontcourt utterly unimposing.
Westbrook led the NBA in scoring last season, but with Kevin Durant healthy for most of this year his numbers dipped slightly. He averaged 23.5 points per game this season, but he did it with greater efficiency. Westbrook shot 42 percent from the field a year ago and 45 percent this season. He averaged 8.6 assists per game last year, but this year got teammates more involved in averaging 10.4 assists per contest.
It was still Russell Westbrook who made the biggest Game 4 impact. Westbrook became just the second player since the year 2000 to post mulitiple 30/10/10 triple-doubles. He now has three, and the only other guy to do it is LeBron James. Will the 2016 NBA Finals be a showdown of Westbrook and James? As of right now, it is definitely looking like it.
OKC's entire starting lineup scored in double-figures in Game 4. Andre Roberson, typically a non-factor offensively, scored 17 points on 7 of 12 shooting.
Thunder super sub Dion Waiters came off the bench to score 10 points in Game 4, and he was instrumental in Game 3 as well. He has become OKC's sixth man, and he is doing a splendid job of providing scoring off the bench. The Thunder managed 11 bench points in Game 4, and 10 of them came from Waiters.
Draymond Green was booed every time he touched the ball in Game 4, and while no player would state such affected them, Green was remarkably quiet and, well, just bad. Green shot 1 of 7 from the field in Game 4 and had six turnovers (with just two assists). In Game 3, he was just 1 of 9 from the field and had four turnovers to his three assists. Green finished the season averaging 7.4 assists per game and three turnovers. For a power forward, that is phenomenal. But where has all that production gone?
The Warriors have shot about 40 percent from the field over the last two games. In Game 4, the Warriors had 21 turnovers to just 15 assists. Their typically free-flowing and efficient offense has become sloppy, careless and utterly disorganized. One must credit the Thunder for a large part of the struggles, but how can a 73-win team suddenly lose its mojo as the Warriors have?
With their backs against the wall, the Golden State Warriors now need three straight wins to keep its season going. While there is the maxim of "taking it one game at a time," only nine teams have come back from a 3-1 deficit. Only three of those nine comebacks have been in Conference Finals series. The Warriors more than have their work cut out for themselves at this point.
Welcome to live coverage of the Western Conference Finals! My name is Brett Roberts, and I am happy to be bringing you minute-by-minute coverage of the WCF between the Oklahoma City Thunder and Golden State Warriors here on VAVEL. From now until the game begins at 9:00 pm ET, news and notes will be above to get you up to speed. Be sure to return at tip-off for live minute-by-minute updates!