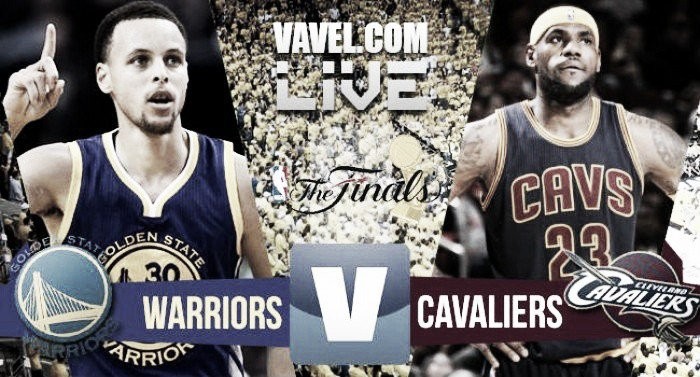 FINAL- Mo Speights hit back-to-back threes late in garbage time to keep this looking somewhat close. The reality is that the Cavs put it away by over 20, but the final score is: Cleveland 115, Golden State 101. Game 7 will be on Sunday night at Oracle Arena in Oakland, CA. It will air at 8:00 PM Eastern Standard Time. This was Brett David Roberts (@33Trigger) bringing you the LIVE commentary at VAVEL! Have a great night all!
4th (2:12)- Benches are emptying, and we will most assuredly have a Game 7 on Sunday. Waiting three days for this is going to be hard, isn't it VAVEL fans? —CLE 110, GSW 89
4th (Under 4 Minutes): Curry picked up an ejection on the technical. That is the first ejection of his career. The Warriors frustration level is immeasurable. —CLE 103, GSW 87
4th (4:22)- Stephen Curry just fouled out and threw his mouthpiece, hitting a fan, and picking up a technical. Not your day, Steph. He just apologized to the fan, though that was probably the highlight of their life. Curry scored 30 points in what is going to be a Game 6 loss in a few minutes.—CLE 99, GSW 87
4th (4:43)- The Cavaliers have a +12 advantage on the boards and two turnovers less than Golden State. —CLE 99, GSW 86
4th (4:43)- James just swatted Curry on the baseline for his third block. Tristan Thompson has joined the foray of Warriors destruction and he now has 15 points and 15 rebounds on the night. The Cavs have outhustled Golden State in this game and deserve to be up by the margin they are. Timeout Warriors. —CLE 99, GSW 86
4th (5:45)- LeBron James is just willing the Cavs in this one. He is 15 of 26 from the field for 36 points, eight rebounds, eight assists and six block/steals. And there is still half a quarter to go. —CLE 95, GSW 84
4th (7:00)- A chaotic sequence that saw a few turnovers in it ended in a LeBron James layup to push it back to double-digits. Crushing end to that sequence for Golden State. Timeout Warriors.—CLE 90, GSW 79
4th (9:17)- LeBron James swatted Draymond Green at the rim. He has been making a lot of defensive plays in the second half, and that is his second block to go with his four steals. —CLE 84, GSW 73
4th (9:49)- Steph Curry came up with a steal, only to hear a late whistle signal his fifth foul. The steal really did look clean and Curry genuinely looked shocked. WOW. He cannot come out, though, either. The Warriors need their MVP to get back in this. —CLE 84, GSW 73
4th (10:41)- Klay Thompson and Anderson Varejao ran a nice trap on Kyrie Irving and forced him to call timeout. The Warriors need to continue the high pressure on Irving, and trapping both on the baselines and during pick and rolls is absolutely imperative. Timeout on the floor. —CLE 82, GSW 71
4th (11:04)- The Warriors ran its first two plays of the quarter for Thompson. The first resulted in LeBron James making a defensive play and starting off in transition (he missed at the rim). The second Warriors possession got Klay to the line for two free throws. —CLE 82, GSW 71
End of 3rd- Klay Thompson scored at the rim to cap an 8-0 run that he did all by himself (sort of, you know). The Cavaliers' J.R. Smith had to hoist a long distance triple at the horn, which drew all back iron. Thompson scored 15 points in the third quarter, and this game is still within striking distance for the Warriors. —CLE 80, GSW 71
3rd (Under 1 minute)- Klay Thompson hit another triple and the Cavs have to find a way to hinder him coming off screens. He is the most dangerous Warrior on the court. —CLE 80, GSW 69
3rd (1:08)- The Cavaliers now can slow this pace down to preserve its lead. The Warriors have had trouble executing in half-court all game. Klay Thompson quieted that noise, though, with another made three. —CLE 80, GSW 66
3rd (4:38)- A Kyrie Irving-to-J.R. Smith-to-LeBron James lob was executed to perfection in transition and Quicken is erupting. Timeout Warriors.—CLE 76, GSW 57
3rd (6:04)- On a chaotic possession which was not seeming to amount to much, Steph Curry simply put it on the floor and went hard baseline. It resulted in a three-point play to cut the lead to 15. —CLE 70, GSW 55
3rd (6:58)- The Cavaliers seem to be in the driver's seat. If the Warriors cannot cut this lead to 15 by the end of the quarter, Kerr may as well pack it in and start looking forward to Game 7. Timeout on the floor. —CLE 70, GSW 51
3rd (8:00)- Tristan Thompson hustled and saved the ball to Kevin Love in the corner to give the Cavs their largest lead of the night. Thompson is doing it all. —CLE 70, GSW 46
2nd (9:24)- Stephen Curry connected on his fifth three, but the Warriors still seem to have issues with spacing and the Cavs have made everything more difficult. —CLE 65, GSW 46
2nd (10:36)- Steph Curry picked up his fourth foul, sending Kevin Love to the free throw line. Steve Kerr really cannot afford to simply take Curry out of the game at this juncture. It is a matter of hoping he can play super smart from here on out. —CLE 62, GSW 43
2nd (10:57)- Tristan Thompson reeled in yet another offensive rebound then found a flashing LeBron James for a dunk. —CLE 61, GSW 43
Halftime- The Cavs shot 55 percent in the first half, while the Warriors were good for just 29 percent. Curry has 18 to lead the Warriors and Irving paces the Cavs with 20. Golden State outscored Cleveland 32-28 in the second quarter but that first quarter really set the Warriors back badly. —CLE 59, GSW 43
2nd (1:01)- Journeyman Dahntay Jones got the call in this game despite having played very little this postseason. He spent most of the year in the D-League, but his three-point play hardly hurts as Cleveland keeps rolling. —CLE 57, GSW 43
2nd (2:32)- The Cavs went on a 4-0 run following the Warriors 20-second timeout. LeBron James had a smooth lefty finish in transition and Thompson connected on his second lob-finish of the game. —CLE 54, GSW 38
2nd (3:34)- Steph Curry picked up his third foul and the Warriors are now in the penalty too. The Warriors call a 20-second timeout.—CLE 49, GSW 38
2nd (3:53)- Kyrie Irving just crossed Draymond Green over viciously. He drew contact at the rim to give him 18 points on the night. —CLE 48, GSW 38
2nd (4:40)- Tyronn Lue calls a 20-second timeout as Draymond Green got to the basket to cut the lead to single-digits. —CLE 46, GSW 38
2nd (4:50)- Stephen Curry has been grabbing at his right wrist and Andre Iguodala's back is stiffening up. Curry still has 13 in the quarter, though, so it cannot be hurting him too badly. —CLE 46, GSW 36
2nd (5:50)- The Warriors pushed it in transition and kept attacking to draw within 13 points on a Klay Thompson drive to the bucket. Timeout on the floor. —CLE 46, GSW 33
2nd (6:42)- Stephen Curry has to be careful with his two fouls, and the Cavs are really trying to get him to pick up a third. Curry steps to the line for two free throws with 12 points thus far. —CLE 46, GSW 31
2nd (8:54)- The Warriors are shooting 26 percent from the field but are on an 8-4 run to open the quarter. TV Timeout. —CLE 39, GSW 24
2nd (10:09)- Kevin Love picked up his third foul less than two minutes into the quarter. It seems pretty safe to assume Cavs fans are livid that Love cost the team the rights to Andrew Wiggins. Wiggins is a budding star and Love is a withering grape. —CLE 37, GSW 18
2nd Quarter (10:58)- Kyrie Irving and Stephen Curry opened the quarter with threes, but the Warriors offense still does not seem to have its usual fluid motion. —CLE 35, GSW 16
End of 1st- All Cavs starters scored except for Love, who hit the bench after two minutes with a pair of fouls. All Warriors starters scored, too, except Harrison Barnes, but the Warriors starting five hit just 4 of 16 collectively. Barnes alone was 0 of 5. —CLE 31, GSW 11
1st (Under 1 Minute)- Cleveland is not allowing any good looks from the Warriors. Golden State is just 4 of 21 from the field and 1 of 9 from three. —CLE 31, GSW 9
1st (3:20)- Tristan Thompson threw it down hard in transition off a nice feed from LeBron James. Thompson's energy seems to be infecting his teammates. He has been all over. —CLE 24, GSW 9
1st (3:40)- Tristan Thompson attacked the basket hard and drew contact. He has been aggressive early with seven boards already. —CLE 22, GSW 9
1st (3:53)- Festus Ezeli quickly scored but the Warriors still trail by double-digits and Quicken Loans Arena is letting them know about it. —CLE 20, GSW 9
1st (4:30)- Klay Thompson hit a nice turnaround in the paint for his first bucket. Cleveland answered with a three by J.R. Smith and a corner two by Richard Jefferson.—CLE 18, GSW 7
1st (5:51)- Moments after hitting a three, Steph Curry picked up his second foul. Cleveland was forcing the issue by attacking Curry. Smart play calling. Shaun Livingston checks in along with Festus Ezeli for Harrison Barnes.—CLE 13, GSW 5
1st (6:40)- Draymond Green drove hard down the center of the court for a layup to put the Warriors on the board, but Kyrie Irving answered with a triple. —CLE 11, GSW 2
1st (7:37)- Golden State is 0 of 6 from the floor and still has yet to score. —CLE 8, GSW 0
1st Quarter (8:51)- LeBron James thundered down a two-handed tomahawk jam on a Warriors' turnover to put the Cavs up by six. Golden State burns a timeout. —CLE 6, GSW 0
1st Quarter (9:40)- Kyrie Irving hit a tough contested jumper to get in the scorebooks. His 17 of 24 performance in Game 5 was historically awesome. —CLE 4, GSW 0
1st Quarter (10:30)- The Warriors now have three team fouls with Andre Iguodala picking up one to send Tristan Thompson to the line for free throws. Stephen Curry and Draymond Green own the other two fouls. Thompson connected on 1 of 2 before Kevin Love picked up his second foul fighting for the rebound. —CLE 2, GSW 0
1st Quarter (11:10)- Kevin Love came up with a big block that led to a LeBron James transition look. James drew contact and connected on 1 of 2. —CLE 1, GSW 0
1st Quarter (11:38)- Cleveland's first possession resulted in a 40-foot three-point airball by J.R. Smith. —CLE 0, GSW 0
1st Quarter (12:00)- Draymond Green gets the start at center with Andrew Bogut out.
That's all for the pre-game notes here at VAVEL. Be sure to return at game time for live commentary and updates on Game 6 of the NBA Finals!
The Warriors attempted 42 threes in Game 5, hitting 14 of them. Overall, the Warriors were just 36 percent from the field.
The Warriors had 59 rebounds in Game 5, and Cleveland had 52. Golden State had 13 offensive rebounds to Cleveland's eight. Second chance opportunities are a key to this series. It seems the Warriors are really struggling to get a body on Tristan Thompson.
J.R. Smith shot 3 of 9 in Game 5, and he is shooting just 33 percent on the season against the Warriors. Over his past 10 games, Smith has tallied averages of 6.3 points, 3.7 rebounds and 1.4 assists per game while shooting 35 percent from the field. He has hardly been a hallmark of efficiency, in other words.
Iman Shumpert's defense has made a difference in this series. He had two blocks and a steal in 26 minutes off the Cavs bench. He can be an offensive threat at times, and he is the Cavaliers most complete reserve.
The Warriors will likely lose Harrison Barnes and Festus Ezeli in free agency. Veteran Andre Iguodala may be promoted to starter next season while Anderson Varejao becomes the full-time backup at the 5-spot. The Warriors will certainly keep on ticking, but Ezeli and Barnes will be heavily pursued in free agency. The Warriors can afford to re-sign Barnes, but it remains to be seen if the Dubs want to match max offers. Anderson Varejao will not be challenging to re-sign.
For a series depth has mattered so much in, neither bench contributed much in Game 5. The Warriors got 15 points from their reserves while the Cavs managed just 12. Shaun Livingston had seven of the Warriors points while Richard Jefferson had eight of Cleveland's.
If the Warriors can win with Thompson and Curry having poor games, but the Cavs cannot win without both Irving and James going bonkers, what does that really say about Cleveland's chances? They will have to work for everything because it seems to take a perfect storm for the Cavs to win games in this series.
The Cavaliers are 2 point favorites according to Vegas oddsmaker. This series may go seven games despite most thinking it would end in five games. Never count out a team with LBJ.
Part of Golden State's problem was that it seemed in disarray on both ends of the court without Draymond Green. Green was serving a one-game suspension for an aggressive hit to the groin of LeBron James. Green was unable to even be in the vicinity of Game 5, but he would have been able to celebrate had the Warriors won.
The Warriors assisted on just 15 field goals in Game 5. The Dubs had more turnovers than assists, committing 16 miscues in the game. Golden State cannot afford to be so careless.
Klay Thompson and Stephen Curry combined to shoot 19 of 41 from the field in Game 5, combining for 62 points and 11 three-point field goals.
Thompson has been a monster on the offensive glass. He had 15 boards in Game 5 and three were on the offensive end. He is averaging nine points and 10 rebounds per game against the Warriors this season.
Kevin Love was virtually invisible in Game 5. He scored two points on 1 of 5 shooting while grabbing just three rebounds in 33 minutes of play. He has gone from being an All-Star to being a bonafide scrub. Love is not even serving as a spot-up shooter or great setter of screens. He is really contributing close to nothing. Expect Tyronn Lue to turn to Channing Frye for some of the 4-spot minutes. Tristan Thompson will also factor largely.
Irving had what may have been the best game of his career. He shot 17 of 24 from the field, and a lot of those makes were really tough contested looks. There was just no slowing Irving in Game 5. Over his past 10 games, he is averaging 21 points and six assists per game.
Kyrie Irving and LeBron James put on a show for the ages in Game 5. The duo each put up 41 points, and it was the first time in NBA history that two players have gone for 40-plus in a Finals game. The good news for Cavs fans was that Cleveland emerged as victors, but will it take top-notch efforts from Irving and James just to keep the Cavs in the game, and in this series.
Welcome to live coverage of the NBA Finals! My name is Brett David Roberts (@33Trigger), and I am happy to be bringing you point-by-point coverage of the NBA Finals here on VAVEL. From now until the game begins at 8:00 pm ET, news and notes will be above to get you up to speed. Be sure to return at game time for point-by-point updates!