 With rumors swirling around the NBA world leading up to the draft, the first major deal has been announced. Former Atlanta Hawks point guard Jeff Teague has been traded to the Indiana Pacers, who have in turn traded their former point guard George Hill to the Utah Jazz. The Hawks will receive the #12 pick in tomorrow night's draft from Utah in the trade.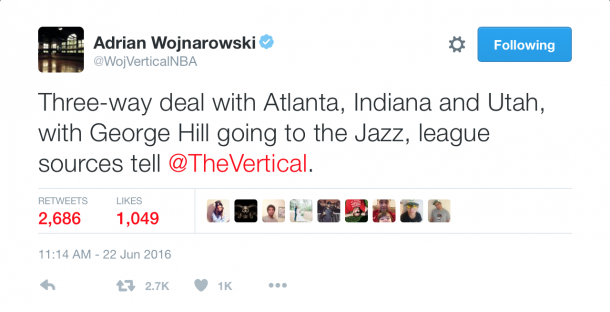 Teague's tenure in Atlanta over, as expected
A move involving Teague has been written in the stars for a while, especially as young German guard Dennis Schroder has proven he is ready to start for the team next season. It seemed that the 28-year-old Teague was destined to head to the Philadelphia 76ers a few weeks ago in exchange for Nerlens Noel, but Philadelphia decided to wait it out and assess their options. The Wake Forest product also took to Instagram to reveal some injury history that Atlanta wasn't too interested in leaking to the public. Instead, the Hawks will look to capitalize on two first-round picks (#12 and #21) and re-tool positions that may become slimmer over the course of free agency. Meanwhile, Indiana will be acquiring one of the quickest guards in the league who should provide them with even more of an offensive boost alongside Paul George and Monta Ellis.
Utah not intrigued by the draft?
The Jazz are adding needed depth with 30-year-old George Hill, a point guard known for his defense and basketball IQ. With point guard prospects like Wade Baldwin and Demetrius Jackson expected to be available at their 12th pick, the franchise is more keen on going with a veteran and perhaps allowing Dante Exum to grow into his role next year. Hill is very versatile and should be able to switch between both guard positions as needed while providing valuable experience to a young, up-and-coming organization.