 The Denver Nuggets are looking to trade away Kenneth Faried, and the Minnesota Timberwolves may be a potential fit for him, according to Sean Devaney of the Sporting News.
Faried not happy in Denver
Devaney points out in his article that while Faried has not formally requested a trade, he does not feel included in the Nuggets future plans, and would welcome a move.
Last season, the 27-year-old forward averaged 12.5 points and 8.7 rebounds while still being one of the better defensive forwards in the league. However, the one issue with him is he has only attempted 13 career three-pointers and is commonly thought of as someone who will never make a living behind the arc.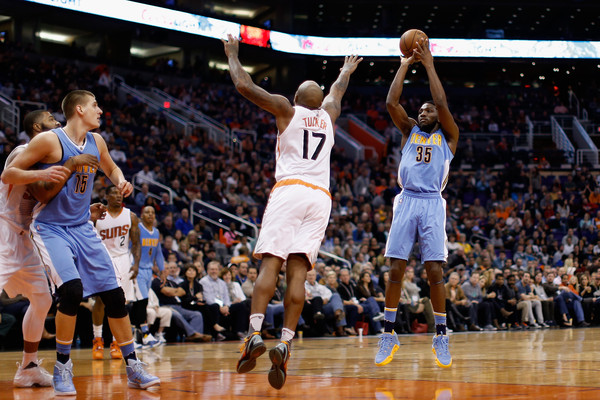 His contract is very reasonable, as he has three years left and $39 million, which when added to the expanded salary cap, would not seem to be the reason that a deal does not get done.
Minnesota looking to move their pick?
The Timberwolves, led by new head coach Tom Thibodeau, have the No. 5 pick in the upcoming draft, and reports mention that that could be the piece that goes to Denver in a possible trade. That would give the Nuggets four first-round picks.
The move would be welcomed by a lot of Timberwolves fans, as they are in need of a forward who can drive to the basket, which is a skill that they desperately lack ever since Kevin Love was traded to Cleveland.
One option for Minnesota if they are unable to get Faried is to draft a forward with the 5th pick. Kentucky forward Jamal Murray is one name that has been mentioned as a possible target. He has also been mentioned as a target for Denver if they acquire the pick from Minnesota, although Murray has preferences for Minnesota.
Even if the trade does not go through before the draft, look for Faried to be actively shopped the rest of the offseason until Denver finds someone who will take him.