 According to a report from ESPN, the Los Angeles Lakers are planning to select Brandon Ingram with the second overall pick of the 2016 NBA Draft. Reports came out yesterday that the Philadelphia 76ers were going to take Ben Simmons of LSU with the first overall pick, and it was all but confirmed when Simmons posted a picture of him working out with the Sixers and used the hashtag of former general manager Sam Hinkie's famous line, "Trust the Process".
Ingram's Career at Duke
The 6'9'' forward from Duke had a fantastic freshman year at Duke. Ingram, along with Grayson Allen, were the two players that led the charge in terms of scoring after the departures of Justise Winslow, Tyus Jones, and Jahlil Okafor to the NBA. He played in every game this year and averaged 17.3 points per game and 6.8 rebounds per game.
The Kinston, North Carolina native had his two highest scoring games against some of the lower-tier Division I teams in Georgia Southern and Elon, scoring 26 both times, however, he did have a knack for the big stage, delivering some big-time performances when needed. In a three-game stretch where the Blue Devils played Louisville, Virginia, and North Carolina, Ingram went for these numbers: 18 and 10, 25 and 7, and 20 and 10. In the NCAA Tournament, he averaged 23 points a game, scoring no less than 20 in the three games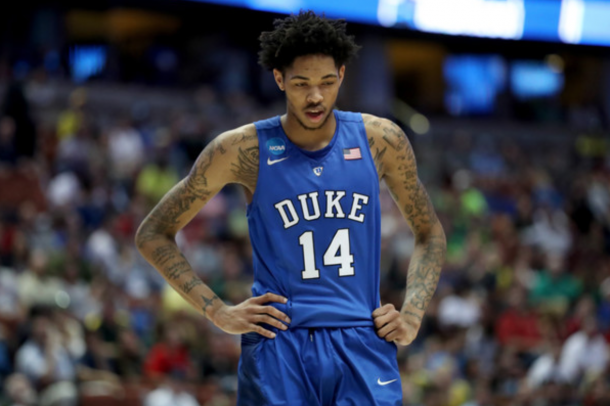 Lakers Worked Out Others But Confident In Ingram
The Lakers did not only work out Ingram. Buddy Hield and Kris Dunn also worked out for the Lakers, but the 16-time NBA Champions felt the Duke forward was the one that fit their needs the most and had the most upside. The Lakers also tried to shop the number two overall pick in hopes of getting a young but experienced All-Star.