 Ricky Rubio is reportedly on the trading block ahead of tonight's NBA Draft, as multiple reports are indicating that the Philadelphia 76ers have been looking at him for the past few weeks.
Other reports are indicating that the Timberwolves may be willing to let Rubio go for cheap, so long as the other team is willing to take on the contract of Nikola Pekovic, who is owed around $12 million a year through the 2017-18 season.
The report was confirmed by Jerry Zgoda of the Minneapolis Star-Tribune, who tweeted that the 76ers had indeed been "doing their due diligence" on Rubio.
Once a heralded star, Rubio has lost his flare
When he was first drafted in the first round of the 2009 draft, he was touted as the player who would single-handedly turn the franchise's bad luck around, but that took a backseat when he didn't make his debut until 2011 due to contractual obligations with his Spanish league team.
In his career with the Timberwolves, 10.1 points per game, 8.3 assists per game, and 4.3 rebounds per game, although he did miss significant time in 2011 due to a leg injury.
During his time in Minnesota, the team has not had a winning record, despite the bold promises from team management. In recent months, the growing consensus among fans of the team was that Rubio was no longer a good fit for the team, and should be traded.
If he is traded, his place could be filled by Minnesota native Tyus Jones, who did not play much in his rookie season, and even spent a stint in the D-League. He was a heralded prospect coming out of Apple Valley High School, and in his one year at Duke, he combined with Jahlil Okafor to lead the Blue Devils to a national championship.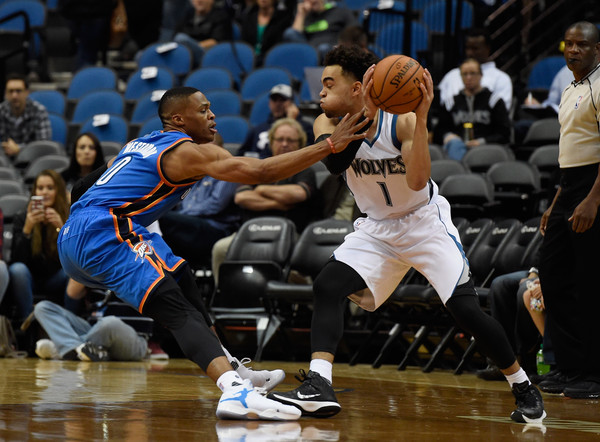 He was drafted last year by the Cleveland Cavaliers but was immediately traded to Minnesota. He did not play much during his rookie season, as he averaged just 15.5 minutes, 4.2 points, 2.9 assists, and 1.3 rebounds per game.
At this point, this is all just rumors, and before the end of the night, there will probably be many more rumors before the night is done.