The Eastern Conference has long been the weaker conference of the NBA, with the Western Conference often boasting much better teams. Teams like the San Antonio Spurs and Golden State Warriors tend to be viewed as the upper tier of NBA teams, and they both belong to the Western Conference. However, the East was greatly improved last season. While there still wasn't more than one real championship contender, it was much more difficult to make the playoffs than in previous years. The Eastern Conference looks to take another step forward this year, with many teams bolstering their lineups through the draft and free agency. The following describes what every team in the conference has done to make themselves more competitive.
Slow-movers and Non-risers
Philadelphia 76ers
Not all teams improved their rosters, and some of those that did won't necessarily be competitive next season. Though the Philadelphia 76ers look to be much improved next year, that doesn't mean much. They have made some visible progress after being the laughingstock of the NBA during the last couple of years. They took Ben Simmons first overall this summer, and he looks the part of a future star in the league. They also got a steal with Timothe Luwawu at 24th overall.
Joel Embiid is finally healthy, and Nerlens Noel emerged as a defensive ace, giving the Sixers two good frontcourt options. If he isn't traded, Jahlil Okafor should look forward to building upon a promising rookie season. Dario Saric, coming from overseas, gives the Sixers a versatile option at power forward. Good though they are, these players present a logjam in the frontcourt, which, if left unresolved, could result in stunted development for some of Philly's young players. The signings of Jerryd Bayless and Gerald Henderson provide the team with some veteran leadership, something sorely lacking in some of its past squads. A significant lack of proven talent and the potential frontcourt clutter buy Philedelphia a one-way ticket back to the lottery next summer. They may be more competitive than they have been in recent years but not competitive enough to actually have an impact on the conference.
Toronto Raptors
The Toronto Raptors finished second in the Eastern Conference last season and actually stole two games from the Cleveland Cavaliers, eventual NBA champions, in the conference finals. Why are they in this section then? They've done nothing to improve their roster. Despite winning a couple of games against the Cavs, there was a notable difference in talent between the teams. The Raptors, so far, have done nothing to close the gap. DeMarre Carroll did only play 26 games in the regular season, and perhaps a healthy season from him could improve the team.
But beyond that, they lost playoff hero Bismack Biyombo to the Orlando Magic and replaced him with Jakob Poeltl in the draft. This presents a significant downgrade in their bench squad, which was already lacking in Toronto. While they will still have an impact due to their competitive roster, don't expect any improvement from last season; actually look for them to slip a couple of playoff spots. UPDATE: The Raptors announced they signed Jared Sullinger to a one-year deal. Although Sullinger can be a productive player in the right system, he is far from a game-changer.
Brooklyn Nets
The Brooklyn Nets are in the same boat as the Sixers. They have a serious lack of talent and, to make matters worse, they owe many of their future first-round picks to the Boston Celtics. A culture change is imminent, however. The San Antonio Spurs' assistant general manager, Sean Marks, has been hired to oversee the Brooklyn's franchise. He has already made moves that have brightened the Nets' future. First, he traded Thaddeus Young to the Indiana Pacers for a first-rounder, who turned out to be Caris LeVert. LeVert is a very promising prospect, but he has had several season-ending injuries, so caution is called for regarding his production. They also signed Jeremy Lin to a decently sized contract (in this new crazy cap-space filled world).
Lin figures to be better suited as a back-up point guard in this league, but he'll bring solid play to a young team and will garner some positive PR for a team in dire need of it. They have also signed two promising guards to offer sheets. Tyler Johnson signed to a 4-year $50 milllion contract, but the Miami Heat's surprising loss of Dwyane Wade could prompt them to match Brooklyn's offer. The Nets also signed Portland Trail Blazers guard Allen Crabbe to a 4-year $75 million offer sheet. Crabbe is a very promising shooting guard, and with the Blazers dealing out hefty contracts of their own, there's a good chance they won't match the contract. Though these players are indeed promising, neither has proved himself as a starter in this league, and it will likely take a few seasons for them to flourish. This, coupled with the inexplicable keeping of Brook Lopez, spells out a lottery pick for the Nets. Don't expect them to have an effect on the playoffs this year, and maybe not even the year after. UPDATE: Both Miami and Portland matched Brooklyn's offers on their restricted free agents. A seemingly productive off-season from the Nets is suddenly much less impressive.
Miami Heat
The Miami Heat have a crisis on their hands. Chris Bosh was lost to blood clots for the second straight season, and his future in the league is murky at best. They also shockingly failed to keep 13-year Heat veteran, Dwyane Wade, who chose to go to the Chicago Bulls in free agency. They re-signed Hassan Whiteside, who will likely continue to be a top-five center in this league, but he is only one of two remaining starters from last season for the Heat. They were also so caught up in the Wade drama that they made no steps to sign any high-quality free agents. Look for the Heat to take several steps back next season and potentially miss the playoffs.
Atlanta Hawks
The last team in this section is the Atlanta Hawks. Even though they signed one of this year's top free agents in Dwight Howard, he replaced Al Horford, an even better center, who left for the Boston Celtics. They also traded last year's starting point guard, Jeff Teague, for a first-round pick that will take at least a year to fully contribute to the team. Dennis Schroeder could possibly thrive in the starting point guard role, but it is unlikely that he will excell from the start. A re-signed Kent Bazemore and a contract year from Kyle Korver will likely propel this squad to a playoff berth, but nothing will keep them from a first-round exit.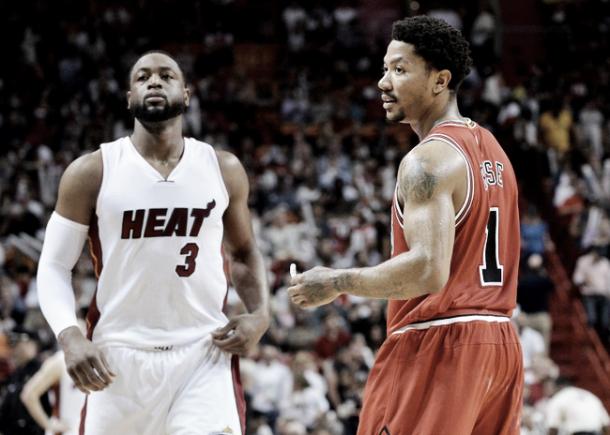 Upcoming teams and improved squads
Cleveland Cavaliers
The Cleveland Cavaliers shocked the NBA world by becoming the first team to overcome a 3-1 finals deficit and beat the Golden State Warriors to bring home a championship. As long as they have LeBron James, they will always have an impact on not just the Eastern Conference but the entire NBA. Despite having arguably the best player in the world, they still improved a championship roster. While they lost Matthew Dellavedova, most of the backup guard playoff minutes went to Mo Williams. The Cavs' drafted Kay Felder as a potential replacement in the second round of the draft.
The Los Angeles Lakers signed the Cavs' much-maligned center Timofey Mozgov to a 4-year $64 million contract. To say Cleveland was sad to see him go would be an overstatement. They also have reportedly already found his replacement in Chris Andersen, a center who has a history of producing on LeBron teams. They also facilitated a trade for Mike Dunleavy, a very good shooter, who will bolster an already dangerous bench. The Cavaliers seem like a lock for the number-one seed and to win the conference for a third straight year.
Boston Celtics
The Boston Celtics seem to be the runner-up in this year's off-season. They are second only to the Warriors, who guaranteed their win by signing the prize of free agency, Kevin Durant. The Celtics have greatly improved in each of the last two seasons, with a leap certain to come in year four of the Brad Stevens era. They signed Al Horford to a four-year max contract, giving them their first real star in the frontcourt since Kevin Garnett. While they lost a solid rotation player in Evan Turner, he is easily replaceable, and the addition of Horford makes his loss more than bearable. The Celtics added a legitimate star to a lineup that finished fifth in the conference last season. They will make serious noise next season and will contend for the number-two seed.
Orland Magic
The Orlando Magic have finally done it. After years of casting away young talent for nothing, they have fully mortgaged their future in search of short-term success. While they will likely make the playoffs this year, they have made plenty of short-sighted moves that will come back to haunt them. First, they made headlines on draft day, as they traded Ersan Ilyasova, Victor Oladipo, and the rights to Domantas Sabonis to the Oklahoma City Thunder for Serge Ibaka. The trade was initially thought to be a means to acquire a player that could help out Orlando's Nikola Vucevic, who is a very talented offensive center but is a liability on the defensive end. Ibaka is a well-known shot blocker and actually can space the floor, making him a valuable two-way player.
This move begs this question, however: If you need to trade arguably your best player (Oladipo) to build around one of your other players, wouldn't it be easier to trade the latter instead? This move lost its remaining justification when Orlando signed Bismack Biyombo to a four-year $72 million contract. They signed a talented center, whose best qualities are his prowess on the defensive end and his knack for grabbing rebounds. It is doubtful that they shelled out nearly 20 million a year for Biyombo to come off the bench, meaning that Vucevic will likely be sidelined. With Biyombo starting, Ibaka's defense is no longer as vital, rendering the Oladipo trade almost useless. A secondary reason for the Oladipo trade was to free up cap space for the Magic.
What they've done with that cap space is disappointing, though. They re-signed Evan Fournier, a talented shooting guard, whose potential, however, is at least on par with Oladipo's. They then signed Jeff Green to a one-year, $15 million contract. Green has bounced around the league as a player who always seems attractive from the outside, but is almost always cast out after the team realizes just how hollow his production is. The biggest ramification of their free agency is the inevitable hindering of Aaron Gordon's development. With Oladipo gone, Gordon has the most superstar potential on the team. A high-flying hard worker on the defensive end, if he can develop his shooting touch, the power forward can become a very talented player in the NBA. His development saw a big leap last year, with many predicting a breakout season in 2016-17. This is unlikely to happen now with the acquisitions of Biyombo, Ibaka, and Green. New head coach Frank Vogel has already been quoted saying that Gordon will likely be the backup power forward for the Magic next season. This is a serious blow to the young star's development and will get some front office executives fired in the next few years. Look for the Magic to have an exceptional defensive team that will make the playoffs but is unlikely accomplish much else.
Washington Wizards
One of the teams that have gotten a bad rap this off-season is the Washington Wizards. Their efforts have been labeled as disappointing because of their unrealistic aspiration to sign Kevin Durant. Beyond that, they've actually made some smart acquisitions and have avoided overpaying middling talents, something that has plagued many teams this year. The only real loss they had was Jared Dudley, a versatile veteran forward who elected to sign with his former team, the Phoenix Suns. Dudley's moving on could be a blessing in disguise, however, as it opens up minutes for Otto Porter. Porter is a very talented young forward whose development has seen real leaps in the last couple of years.
Despite a tarnished reputation, trade deadline acquisition Markieff Morris can still be a productive power forward when motivated. If new head coach Scott Brooks can light a fire under him, Morris could again become a seriously underpaid stretch four that instantly brings offense and energy to any lineup. They also made an incredibly intelligent signing in Andrew Nicholson. He is another one of Orlando's castaways who, if history repeats itself, will surprise people the year after leaving the organization. They signed him to a very cheap contract, something other teams have seemingly forgotten how to do. He brings defensive instincts and a decent outside shooting touch to a team that seriously needs both in their rotation. Look for Nicholson to be the Bismack Biyombo of next season, a player whose value on the court vastly surpasses the value of their contract.
The Wizards also made an under-the-radar move in trading for Trey Burke. A player who never lived up to his hype in Utah, Burke will look to a refreshing start in a different place. It only helps that his new head coach has a great track record in developing young point guards (see Russell Westbrook and Reggie Jackson). He will be a decent backcourt bench option for a team that really hasn't had one in recent years. The Wizards also made one of my favorite signings of the season, Ian Mahinmi for four years, $64 million. After Horford and Dwight Howard, there was a steep decline in talent at center in the free agency pool, with Mahinmi being one of the better options.
He averaged 9.1 points, 7.1 rebounds, and 1.1 blocks in just 25.6 minutes per game last season with the Indiana Pacers. He was a defensive stalwart for a team that went for more of an offensive mindset. For now, Mahinmi is slotted to back up Marcin Gortat at center, but I believe it'll take less than half the season for him to steal the starting spot. He's much more athletic than Gortat and will appeal more to Brooks' game plan. They also signed a solid big man, Jason Smith, to round out the frontcourt rotation. If the Wizards can get a decent backup at small forward, they will have a very good roster that will make waves in the Eastern Conference. A resurgent season from John Wall and a healthy season from Bradley Beal will make this team one to fear come postseason.
Charlotte Hornets
The Charlotte Hornets have had a bittersweet off-season. While they successfully re-signed starters Nicolas Batum and Marvin Williams, they lost key bench players, Jeremy Lin and Courtney Lee. They also failed to retain long-time Charlotte player, Al Jefferson. They made a low-risk signing in Roy Hibbert. Hibbert could finally return to All-Star status in a new city. His new head coach, Steve Clifford, should also be a boon to his production. Even if the center doesn't pan out, he's only in Charlotte for a year and will only cost the team $5 million.
To replace Lin, they signed veteran Ramon Sessions to a cheap two-year deal. While he won't bring the dynamic scoring Lin provided, Sessions adds leadership and solid play. The Hornets also made a trade for forward Marco Belinelli. He had an off year with the Kings, but he can be productive in the right situation. With Sacramento being as dysfunctional as it is, it isn't far-fetched to think that the sharp-shooting forward could have a resurgent year on a team as exciting as Charlotte. With another year of Kemba Walker improving and Batum getting used to the system, look for the Hornets to be as dangerous as they were last season, with more experience aiding them come playoff time.
Milwaukee Bucks
The Milwaukee Bucks had an incredibly disappointing season in 2015-16. The short-sighted signing of Greg Monroe robbed the Bucks of the top five defense they had in 2014-15. Despite the abysmal season, something brilliant came out of it. Due to a decimated backcourt, the Bucks elected to give ball-handling duties to Giannis Antetokounmpo. The "Greek Freak" responded by recording the first five triple-doubles of his career in the second half of the season. The young forward is opening eyes across the league and is seemingly a lock for the all-star game next season.
The Bucks sought out to build around their young core. They needed two things: three-point shooting and defense. The Bucks got both these things in the off-season. They signed Matthew Dellavedova, a young point guard who could start for Milwaukee next season. He shot above 40 percent from three for the season, and while his reputation as a "Curry stopper" is overrated, he is still one of the more tenacious defenders at the position.
They also bolstered the rotation by signing Mirza Teletovic to a three-year $30 million contract. The forward is a pure three-point shooter. He broke the record for most made three-pointers by a reserve in NBA history. Making two threes a game off the bench will be an instant boost to the Bucks and will make the rotation much more respectable. With Monroe and Michael Carter-Williams still inexplicably in the picture, it is anyone's guess what the starting lineup will look like for Milwaukee next season, but expect them to give teams trouble and be much improved.
Indiana Pacers
Larry Bird has been seriously busy during free agency for the Indiana Pacers. He has worked diligently to overhaul the plodding, defensive-minded team of years past and compile a quick roster capable of putting up a ton of points. First, he sent George Hill to the Utah Jazz in a three-team deal that got them Jeff Teague. They essentially swapped Hill straight up for Teague, effectively committing highway robbery. Both guards are on expiring deals, so that has no effect on the trade. Teague averaged three more points and over two assists more than Hill did on a team that was both more competitive and had more scoring options than the Pacers.
Adding to the unbelievable deal, Teague is also two years younger than Hill. Bird facilitated one of the most lopsided trades in recent memory. The Pacer's president wasn't done dealing, however, as he sent the 20th overall pick and a future second-round pick to the Brooklyn Nets in exchange for Thaddeus Young. The Nets were eager to give up the proven power forward for a chance at some draft selections.
Young averaged 15 points and nine rebounds a game, giving Indiana a near double-double player for a couple of picks that would have had no immediate effect on the team's future. Another year of development from Myles Turner should be very beneficial to the team. He showed to be NBA-ready last year, starting most games for the playoff-bound Pacers. Even if his development stalls, Indiana made a great signing in Al Jefferson. They signed him to a very cheap contract, one that is already being called among the best of this off-season. Jefferson is still a very valuable rotation player and was vital in the Hornets' playoff run last season. His offense will either be solid, if he starts, or will be crucial coming off the bench. Bruising big men off the bench have been recently quite beneficial to competitive teams, with Enes Kanter coming in third in sixth-man of the year voting. All these changes could mean chemistry issues for the Pacers, but look for this team to be one of the offensively best in the conference.
Detroit Pistons
Stan Van Gundy continues his run as a very successful head coach and general manager. The Detroit Pistons were in a down spiral before the hiring of Van Gundy, with a collection of talented players but no real direction for the team. Since then, the team made the playoffs for the first time in years and finally has an identity. The Pistons committed to Andre Drummond as its franchise player by handing him a five-year max extension. Drummond is a highly productive center who made the third-team All-NBA this season. They've surrounded him with shooters and productive young players.
All that was really missing for them was a stretch-four, one that would give Drummond more space to operate in the paint. They first addressed this by drafting Henry Ellenson, who improbably slipped to 18th in the first round of the draft. In case he should show the same shooting touch he had at Marquette (28% from three), the team signed Jon Leuer. Leur was one of the only bright spots in a rather depressing Suns season. The power forward is a proven shooter at the position and has made strong progress after being unknown in most basketball circles. This, along with the addition of garbage-time star Boban Marjonovic, bolsters a weak bench in Detroit. A respectable bench was all that was holding back this team, one that competed hard in the first round of the playoffs before bowing out to the eventual champion Cavaliers.
Chicago Bulls
The Chicago Bulls have had a roller-coaster offseason. First, they made headlines when they dealt former MVP Derrick Rose to the Knicks. Their return was Jose Calderon, Robin Lopez, and Jerian Grant. The team quickly discarded Calderon to save cap space. Lopez is a very solid center, one who provides above-average defense and quality offense. The 28-year-old will likely start for the Bulls. Jerian Grant hasn't really had a chance to perform on the NBA stage, but he is a young guard that has the talent to contribute. This move, along with rumors of Jimmy Butler being available via trade, seemingly signaled a re-start for the Windy City.
It seemed like only a matter of time before they blew up the whole roster, and started over with young prospects like Grant. After the trade, however, the Bulls off-season went a different direction. They first signed Rajon Rondo to a two-year deal. The former assists leader seems like a strange fit for the rebuilding Bulls, because he, like Butler, is a ball-dominant player. Regardless of the fit, Rondo remains one of the best passers in the league and can provide excellent perimeter defense when motivated.
The team showed it wasn't done making headlines, however, when they made perhaps the most surprising signing of free agency. 13-year Heat veteran Dwyane Wade elected to leave the team that drafted him and head to Chicago. The signing gave the Bulls an established All-Star and a go-to scoring option. A starting lineup consisting of Rondo, Wade, Butler, and Lopez could make some serious noise in the conference. The team could start either Taj Gibson or Nikola Mirotic at power forward, the former establishing a killer defensive unit, and the latter providing spacing and a better offensive lineup. This roster could have chemistry problems, but has enough talent to challenge any team in the Eastern Conference.
New York Knicks
The Bulls are not the only team in the conference to have stocked up on veterans who may be past their prime. The New York Knicks already had Carmelo Anthony, a blistering shooter who, despite struggling with knee injuries, still retains the title of superstar in the NBA. They also drafted Kristaps Porzingis last year, a young Latvian big man who excelled in his first year in the league. The 7'3" power forward is a complete package: he can block shots on one end and drain threes on the other. These two players provided a solid beginning to a dangerous lineup. They began by trading for Derrick Rose without giving up too many resources. Rose is far past his MVP days, but he played some solid basketball in his last campaign. He also stayed relatively healthy throughout a full season for the first time in what feels like forever. He could be finally making a comeback, or at least that's what the Knicks are hoping for.
They then signed his former running mate, Joakim Noah, another Chicago star that fell victim to injuries. If healthy, both players could boost NY's team tenfold, providing All-Star level offense and defense. If it all goes wrong, however, the two former Bulls could combine for 30 games played. Time will only tell whether these moves will be disasters or strokes of genius. The Knicks also made a few low-key signings that will bolster their rotation. They signed Courtney Lee to a four-year deal. The shooting guard was one of the best two-way players on the market, and one whose sweet shooting stroke and stifling defense will immediately improve the Knick's lineup. Off the bench, New York will have Brandon Jennings on a one-year deal. Jennings excelled in a starting role for the Pistons two years ago before succumbing to an Achilles injury. If he can come back to even close to that production, he will be a real luxury to have off the bench.
The Eastern Conference looks to be much improved next season. Plenty of teams have enhanced their rosters and will look to compete for a playoff spot. Some teams have pushed themselves into contender status, finally giving some push among the top of the conference. The usually lesser half of the NBA should be much more exciting to watch this coming season.