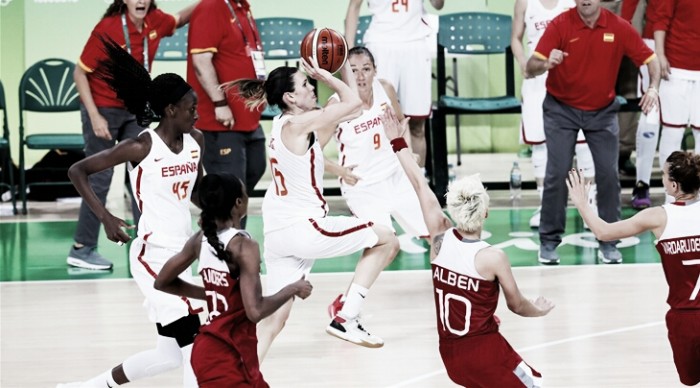 Anna Cruz hit a runner just inside the three-point line as time expired to give Spain a thrilling 64-62 win over Turkey. Cruz was the Spaniards leading scorer with 14 points while LaToya Sanders paced the Turks with 22 points. Spain advances to a semifinal matchup with Serbia, who upset Australia in the first quarterfinal of the day.
Tale of two quarters: Turkey controls the first, Spain dominate the second
Turkey started the game quickly, going on a 7-2 run over the first 2:17. Spain scored the next six points to take a one-point lead while holding the Turks scoreless for 3:03. Turkey would respond and shut the Spain offense down, ending the quarter on a 10-4 run to take a 17-12 lead.
The second quarter was an entirely different story as Spain locked up the Turkish offense, holding them to just eight points in the period. Even more remarkable was Turkey didn't score in the quarter until Sanders made two free throws with 4:45 to go, Spain having scored nine points in a row. The Spaniards now led 25-19 and held Turkey at bay the remainder of the quarter, taking a 29-25 lead into the locker room.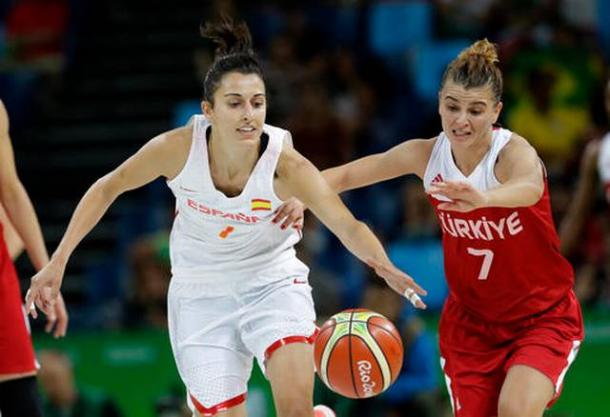 Turkey dominates the third quarter, Spain rallies from an eight-point deficit in the fourth quarter
When Alba Torrens made a layup, Spain led 31-25, but the Turks found an answer, going on an 11-0 run, capped by Sanders' two free throws to give Turkey a 36-31 lead. Spain pulled to within two on a couple of occasions, but Turkey scored five of the last seven points to take a 47-42 lead into the fourth quarter, outscoring Spain 22-13 in the quarter.
An Astou Ndour layup pulled Spain to within 49-46, but when Sebnem Nezahat Kimyacioglu drained a three-pointer, Turkey held their biggest lead of the game, 54-46 with 6:38 left. They led by eight on two more occasions, but Spain used a 10-0 run to take a 62-60 lead, capped by a Cruz jumper. What would follow was the most dramatic ending of any game in Rio as Sanders stole the ball and tied the game with a layup with four seconds to go. Cruz then received an inbounds pass, drove to just inside the three-point arc and drained a runner as time expired to give Spain a 64-62 win and send the Spaniards to the semifinals against Serbia.