Kevin Durant had a brilliant all-around game, finishing with 27 points, seven rebounds and seven assists as the United States routed Argentina 105-78 to advance to the semifinals of the Rio Olympics to take on Spain In a rematch of the last two gold medal games.
Argentina leads by ten early, United States finds their footing to assume control
The Argentines were the last team to beat the Americans in the Olympics and although that was 12 years ago, many of those same players are still playing for the national team. They got off to a good start, Facundo Campazzo's layup putting them up 4-2. Another Campazzo layup stretched the lead to 10-5 and Patricio Garino scored to make it 12-7. Andreas Nocioni canned a three-pointer with 4:02 left in the quarter and stunningly, the South American side were up 19-9. The United States responded, going on a 7-0 run to cut the Argentine lead to 19-16. DeMarcus Cousins scored the final six points of the quarter to stake the Americans to a 25-21 lead after ten minutes.
The defending gold medalists continued their surge and they scored eleven more points in a row, three apiece from Cousins, Durant, Jimmy Butler and a bucket from Paul George, showcasing their depth and firepower to increase their lead to 36-21. The two teams traded buckets for a brief period until Kyrie Irving hit a pair of free throws to stake the Americans to their biggest lead of the game at 47-27. The red, white and blue continued to show off their versatility and scores from Kyle Lowry and Durant twice ballooned the lead to 25. Argentina closed the half on a 9-0 run to cut the US lead to 56-40 at halftime.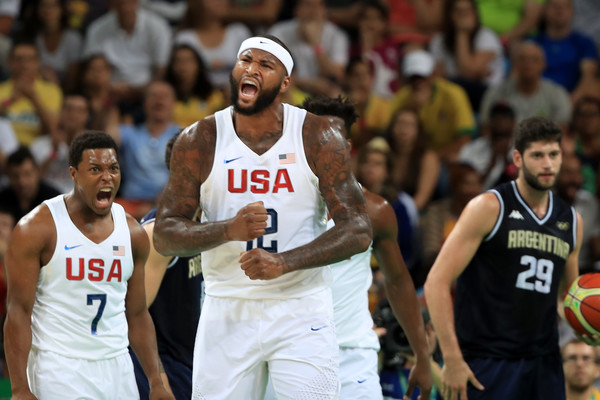 Second half
Durant continued to sizzle, scoring and assisting on the US' first three baskets of the half. Now ahead 67-45 after Carmelo Anthony's triple, the Argentines found some offense if only temporarily, long-range marks by Ginobli and Scola thinning the lead to 73-53. The Americans responded with a 7-0 run to boost the lead back up to 85-58. Baskets were made by both teams and the US led 87-61 after thirty minutes.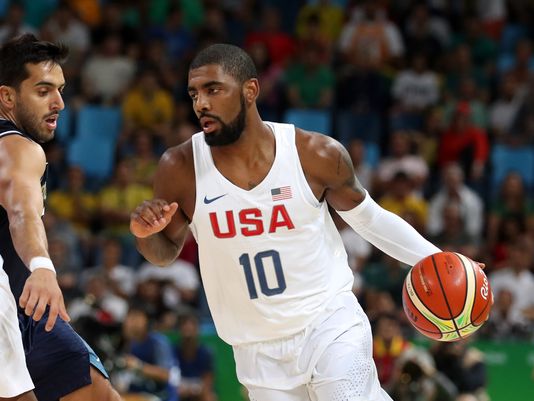 The fourth quarter was nothing more than a scrimmage. George twice hit layups to extend the US' lead to 28. A brief 6-1 run made the score 96-73 before the Americans hit 100 points again, DeMar DeRozan with the basket that put the two-time defending champions over the century mark. Harrison Barnes capped the scoring with a long range three to make the final score 105-78 and send the US swiftly into the semifinals at the top of their game. Scola led Argentina with 15 points while Ginobli, in his final international game, finished with 14.