 It was an opening night to never forget, with DeMar DeRozan and Jonas Valanciunas putting on a show like no other for the Toronto Raptors.
DeRozan poured in 40 points while Valanciunas added 32 points & 11 rebounds to lead the Raptors to their first win of the season against the Detroit Pistons, 109-91.
First Half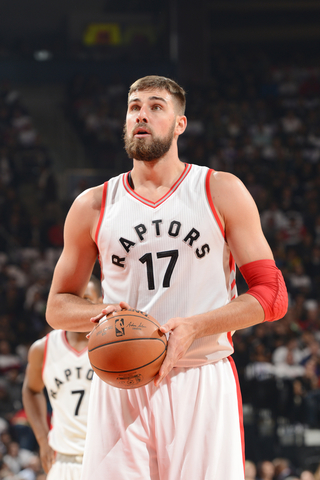 Right from the get-go, it was no apparent that it was Valanciunas's and DeRozan's night, combining for the Raptors first 17 points.
With Andre Drummond picking up two fouls early in the first, the Raptors were able to take advantage of that, finishing the quarter on a 28-18 run; after starting the game with the score tied at five a-piece.
Much credit had to do with the Raptors defense, holding the Pistons to 5-23 shooting in the first. Jonas was also able to use his size to get to the rim and draw fouls, which saw him at the charity stripe eight times in the first quarter with fourteen total attempts.
Due to the excessive foul calls on Jakob Poeltl early in the second quarter, the Pistons were able to get to the bonus and keep the game within distance. But with Jonas checking back in, the Raptors were able to push their lead to 12 at halftime due to their scrappiness on the broads and their second chance points.
DeRozan Taking Over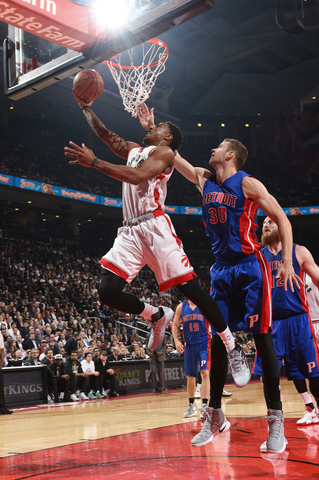 The third quarter should be renamed after DeRozan tonight. He dominated, dropping 21 points in the third quarter alone while becoming the first Raptor to score over 30-plus points in a season opener since Vince Carter in 2003. DeRozan also finished the game with the new Raptors record in points in an opener with 40.
Other takeaways from this game is Terrence Ross hitting a hook shot which had most people left speechless and while Valanciunas played well he also took a page out of DeRozan's textbook tonight, slamming all over Aron Baynes.
While the Raptors dominated, their three-point shooting wasn't something to be proud of. The Raptors shot just 3-18 from deep on the night. This could be a concern for the Raptors in the future when they go up against great shooting teams in the league.
Next Up
The Raptors host LeBron James and the Cleveland Cavaliers on Friday night in an Eastern Conference rematch that you probably don't want to miss.