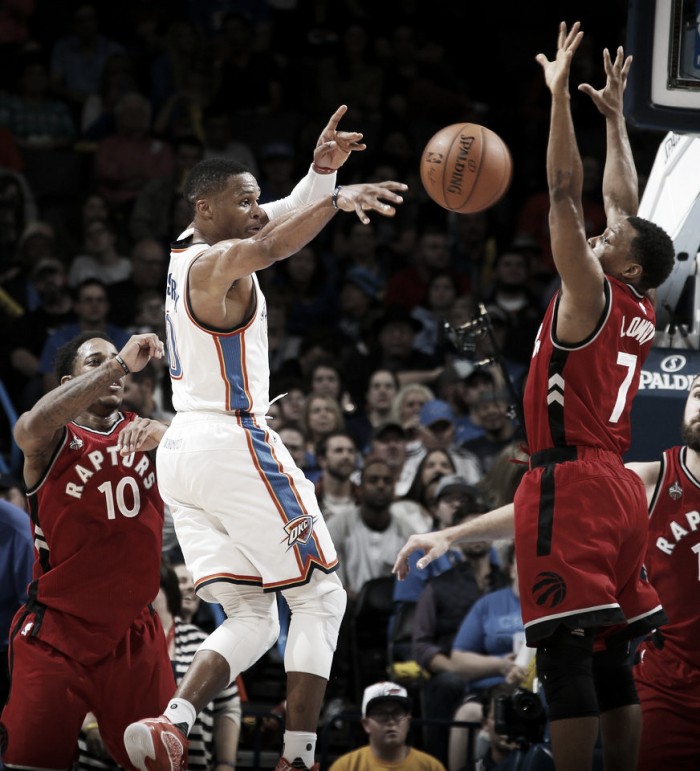 The Toronto Raptors (4-2) will face off with the Oklahoma City Thunder (6-1) on Wednesday night in Oklahoma City where they will make their only visit to Chesapeake Energy Arena this season. The Raptors will get their first look at a Kevin Durant-less team that now belongs to a one-man wrecking crew in Russell Westbrook.
Looking to Bounce Back
The Raptors come into Wednesday's game coming off of their worst performance of the season against the Sacramento Kings on Sunday night. DeMar DeRozan failed to score 30 points in a game for the first time this year, and the Raptors as a team, shot 36 percent from the field, and 23 percent from three-point range. Mind you this what was without center Jonas Valanciunas (who was out with a knee contusion), but this was an inexcusable loss. Losing 96-91 to a subpar team at home is unacceptable.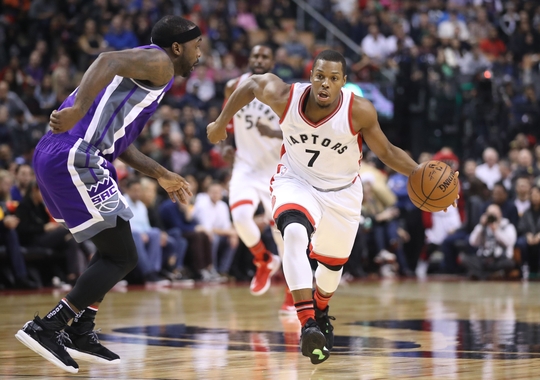 Moving on From the Warriors
After a humiliating 26-point loss to the Golden State Warriors last Thursday, The Thunder have bounced back in a big way their past two games. Coming into Wednesday's game, they have won back-to-back games vs. the Miami Heat and the Minnesota Timberwolves with an average margin of victory of 16 points per game. Backup center Enes Kanter has been a big part of this recent success. In those two games since last Thursday's contest, Kanter has averaged 22 points and 10 rebounds on 73 percent shooting in only 21 minutes per game. And there is also that Russell Westbrook guy who is averaging 30.4 points, 8.4 rebounds, and 9.9 assists a game this season. Westbrook has put up some ridiculous numbers in his past three games against the Raptors as well. He has averaged 26 points, 15 assists, 8.7 rebounds, and 2.3 steals per game to go along with two triple-doubles.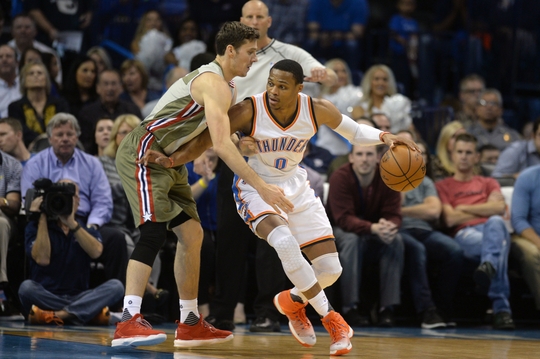 Players to Watch
Oklahoma City Thunder: Center Enes Kanter is coming off one of the best performances of his career in limited time. In 21 minutes of action last game, Kanter had 24 points and 10 rebounds on 83 percent shooting. A sixth man of the year candidate, Kanter is one of the streakiest players in the NBA and he is on the hot side of a streak right now.
Toronto Raptors: Shooting Guard Terrence Ross has been a pleasant surprise this season. The catalyst of the second unit for the Raptors thus far, Ross is coming off a subpar performance vs. the Kings on Sunday. Even on an off shooting night, Ross was still able to make an impact with his energy and active hands on defense. Ross appears to have a newfound confidence this season and it should carry over to Wednesday's contest. Averaging 14.3 points in his past three games, Ross should be rearing to go come game time.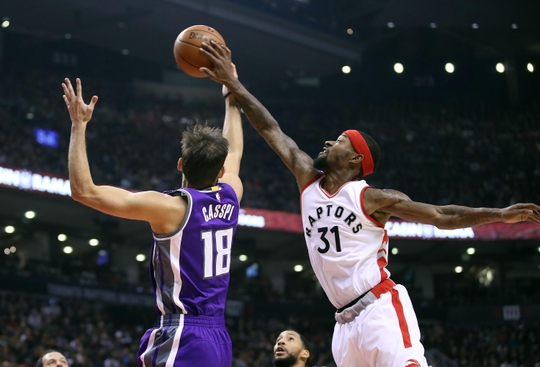 Head-to-Head Matchup
The Thunder have gotten the best of the Raptors in recent times, having won 3 out of their last 5 games vs. Toronto. However, they have split their last six home games against this team. The Raptors have an all-time record of 5-3 in Oklahoma City and a 6-9 record overall vs. the Thunder making them one of the few teams in the NBA that can withstand the college atmosphere of Chesapeake Energy Arena.
Likely Starters
Oklahoma City Thunder: Point Guard-Russell Westbrook; Shooting Guard-Victor Oladipo; Small Forward-Andre Roberson; Power Forward-Domatas Sabonis; Center-Steven Adams
Toronto Raptors: Point Guard-Kyle Lowry; Shooting Guard-DeMar DeRozan; Small Forward - DeMarre Carroll; Power Forward-Pascal Siakam; Center-Jonas Valanciunas (day to day with knee contusion)
Game Details
The game is set to tip-off at the Chesapeake Energy Arena in Oklahoma City, Okla., on Wednesday night at 8 p.m. EST.