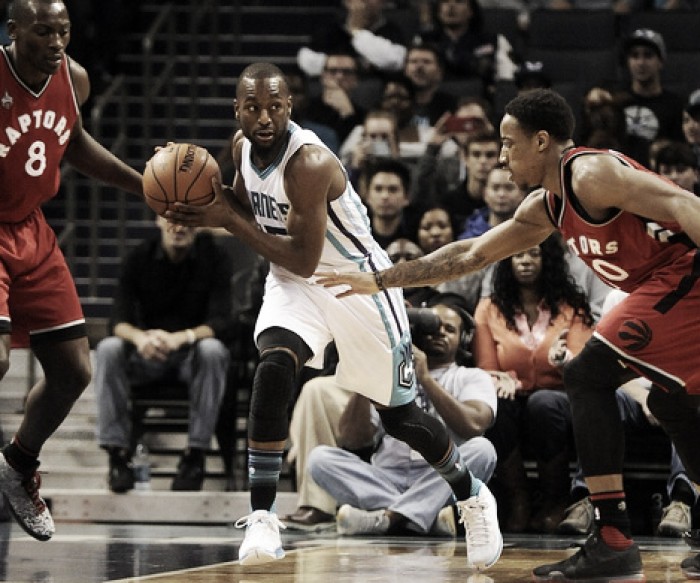 Coming off an 112-102 win over the Oklahoma City Thunder, the Toronto Raptors (5-2) now travel to North Carolina at the Spectrum Center to face-off against the Charlotte Hornets (6-1) on a Friday night.
Picking Up Where They Left Off
After a disappointing finish on Sunday vs. the Sacramento Kings, the Raptors responded with a victory vs. the Oklahoma City Thunder Wednesday night. It seemed to be a typical night for the Raptors, with DeMar DeRozan pouring in 37 points for his sixth 30-point game of the season.
Although DeRozan came in and did his thing, the Raptors were able to maintain more of a balanced attack in this one, as they had five players with double-figure point totals in the game. The Raptors were able to regain their shooting touch against the Thunder; and after a subpar first quarter, the Raptors had their best quarter of the season, decimating the defense for 42 points in the second. Forwards Patrick Patterson and DeMarre Carroll both bounced back after struggling mightily in the early stages of the season, as they both scored in double figures and shot a combined 45 percent from the three-point range, a stark difference from their 0-7 three-point shooting output in Sunday's game vs. the Kings. The Raptors should be able to continue their winning ways but they will have to be prepared for a scorching hot Hornets team.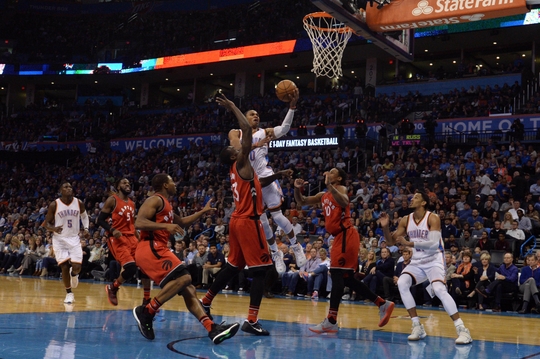 Proving Everyone Wrong
It was an offseason to forget for the Charlotte Hornets as they lost several key contributors. Jeremy Lin, Al Jefferson, Courtney Lee were all lost to free agency, but that has not seemed to have stopped the Hornets this season. Off to an impressive 6-1 start, the Hornets seem to be that underdog team this year just like the Portland Trail Blazers of last year in that they lost multiple players in an offseason, yet they are still maintaining their success.
The electrifying play of Kemba Walker has been the major ticket that makes the Hornets go thus far. Averaging 24 points and six assists per game, Walker has taken another step forward after a career year across the board last season. Walker surely is the star and captain of this team but it has largely been a team effort to start the season.
Five players on the Hornets average double figures in points per game and they all do it in unique ways. Kemba Walker is a creative shot-maker (24 points per game); Nicolas Batum is a slashing, gritty small forward (12.7 points per game); Cody Zeller is a talented young big man who can score inside and on the pick and roll (11.4 points per game); Frank Kaminsky is a young stretch four who is a great young talent (11.4 points per game); and Marvin Williams in one of the best three-point shooters in the NBA at 40 percent this season (11 points per game). The Hornets are a team that has a multitude of weapons that can give you a little bit of everything. Their immersive, differentiating play has given coaching staffs a tough time preparing so far this season.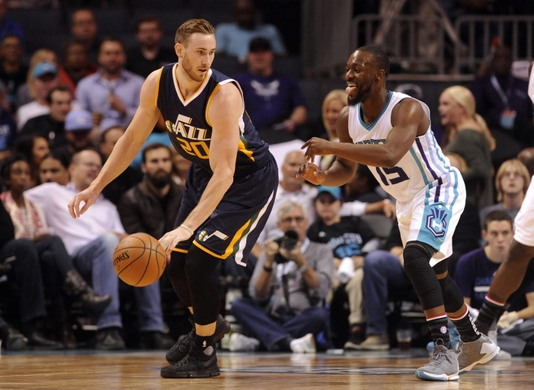 Key Matchup
The Charlotte Hornets are one of the best defensive teams in the NBA. They hold opponents to 42 percent on field goals and allow only 96.7 points per game which are the second and fourth-best in the NBA. They are definitely rolling to start the season which is why the key matchup to watch in this one is DeMar DeRozan vs. Michael Kidd-Gilchrist/Nicolas Batum. DeRozan will square up against one of the elite defenders in the game in Kidd-Gilchrist which should be a no-brainer, considering DeRozan's recent success. Kidd-Gilchrist's disruptive play-style can give any player problems, especially one like DeRozan who likes to slow the game down and play at his own pace.
DeRozan has also experienced difficulties in the past with taller, lankier defenders like Paul George and Otto Porter. The Hornets may switch Nicolas Batum on to him as well because of his ability and length on the defensive end like Paul George. DeRozan will likely have his work cut for him as the Hornets appear to have two answers to his scoring spectacle heading into this game.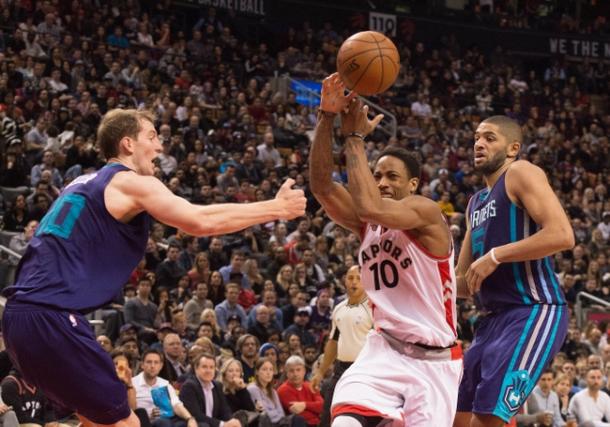 Head-to-Head Matchup
The Hornets have won seven of their last eleven contests against the Raptors including a six-game winning streak in that span of eleven games. However, in the last five games between these two teams, the Raptors have won four of them. These are two even teams that will love it more than anything to take a victory from one another. This is well-documented in their last 42 games head-to-head as each team has a .500 record of 21-21
Likely Starters
Toronto Raptors: Point Guard-Kyle Lowry, Shooting Guard-DeMar Derozan, Small Forward-DeMarre Carroll, Power Forward-Pascal Siakam, Center-Jonas Valanciunas (likely to be a game-time decision with knee contusion)
Charlotte Hornets: Point Guard-Kemba Walker, Shooting Guard-Nicolas Batum, Small Forward-Michael Kidd-Gilchrist, Power Forward-Marvin Williams, Center-Cody Zeller
Game Notes
-Jonas Valanciunas is a day-to-day with a knee contusion
-Roy Hibbert is a day-to-day with a sore knee (probable to play Friday)
-Terrence Ross is a day-to-day with a sprained right index finger
-Jeremy Lamb is out 1-2 weeks with a left hamstring strain
Game Time
The Toronto Raptors will take on the Charlotte Hornets in Charlotte, N.C., at 7 p.m. E.T. at Spectrum Center.