After struggling in the third quarter against the Charlotte Hornets on Tuesday, the Minnesota Timberwolves responded in a big way against the Philadelphia 76ers Thursday night, coming away with an 110-86 victory.
Joel Embiid Struggles With Limited Action
Battling with his 24 minutes per game restriction, Philadelphia 76ers center Joel Embiid struggled to get it going for his team Thursday night. After taking two awkward stumbles early in the first quarter, Embiid never seemed the same for the rest of the game. Timberwolves coach Tom Thibodeau and his team had a gameplan for him and Embiid's rust from not playing for two seasons showed mightily tonight; although it was not entirely his fault. The 76ers offense had many possessions of stagnant, sloppy offense and this led to multiple shot clock violations throughout the game. Even so early in Embiid's career, the 76ers are already resorting to him and asking him to play one-on-one and bail them out. The Timberwolves were able to zero in on Embiid and constantly double team him from the weak side, forcing him to make a play something he has to learn to do as he progresses and gets better. Almost all of Embiid's points came on putbacks and rebounds within five feet as he was stymied by Minnesota's halfcourt defense.
Dario Saric was able to lead the 76ers in scoring with 16 points as Embiid finished the game with 10 points and 10 rebounds on 44 percent shooting.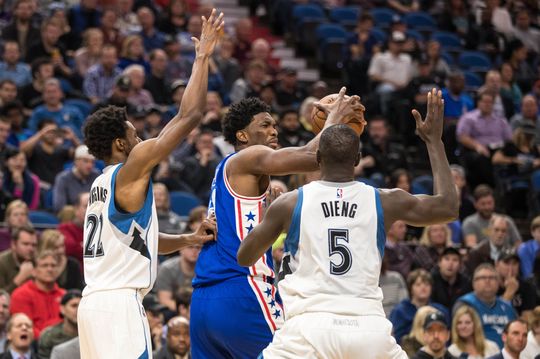 The Karl-Anthony Towns and Andrew Wiggins Show
On the other end of the floor, it was non-stop mania for the Timberwolves and their fans tonight. Karl Anthony-Towns and Andrew Wiggins combined for 60 points on an efficient 68 percent shooting from the field. Wiggins was filling it up all night and finished the game with 35 points. He showed his complete game with an array of moves. Once Wiggins got the ball in the post, it was over. He put on an exhibition of how to keep your defenders off balance as he was able to use his shimmy shake and turnaround jumper in the post. Wiggins was also able to continue his hot shooting from three-point land as he came into the game shooting 54 percent on three-point field goals this season. He was able to capitalize on three of his six long-range bombs tonight, good enough for 50 percent.
Karl-Anthony Towns also had himself a night as well. Finishing with 25 points and 10 rebounds, Towns took center stage in his matchup with 76ers big man Joel Embiid in the fourth quarter. Towns made two key plays in the fourth that made Embiid look silly. First, Towns took Embiid into the post and performed the generational, slick up-and-under move that Embiid fell for. Then, Towns took Embiid onto the perimeter near the three-point line, gave him a quick pump fake, drove past him and dunked on him. Towns' dominance and intensity in the fourth proved essential as the 76ers were stunned and were not able to recover until the dying minutes when the game was out of reach.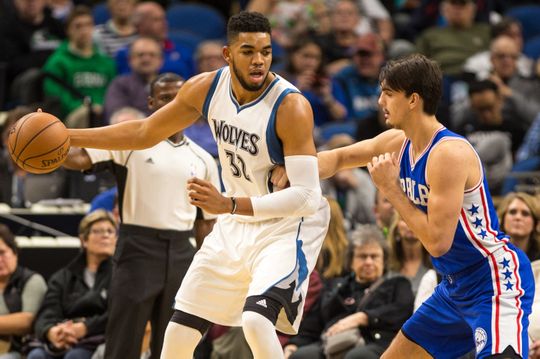 Sealing the Deal
Tom Thibodeau and the Timberwolves coaching staff were not messing around in tonight's game. With a lackluster start 3-7 to start a season full of expectations, Tuesday's game was the final straw in a season of disappointment so far for Minnesota. After taking a 12-point lead into halftime against the Charlotte Hornets, the Timberwolves appeared to be smooth sailing to the finish line. But this lead turned out to be a hard lesson for this young team. The Timberwolves went on to surrender 36 points in the third quarter and their 12 point lead vanished into a seven point deficit. In tonight's game, coach Thibodeau made sure he saw no lackadaisical effort tonight vs. Philadelphia- even in a 24-point game. Andrew Wiggins, Karl-Anthony Towns, and Zach LaVine; the three key players for the Timberwolves, all played 38 minutes. This sent a message to a young team to tell them that every possession counts and no one should take anyone for granted.
Upcoming Schedule
After splitting a four-game homestand, the Timberwolves will now play four of their next five games on the road. For their next three games, they will see the Memphis Grizzlies in Memphis at FedEx Forum Saturday; come back home for one game against the Boston Celtics Monday, and then travel to the Smoothie King Center to play the New Orleans Pelicans on Wednesday.
For the Philadelphia 76ers, they will play their next three games at home at Wells Fargo Center, they will face the Phoenix Suns on Saturday; the Miami Heat on Monday; and the Memphis Grizzlies on Wednesday.
Game Notes
-Joel Embiid failed to score more than 13 points in a game for the first time in his career.
-Second night in a row for an NBA tandem to score 60 points as Karl-Anthony Towns and Andrew Wiggins combined for 60 Thursday; while Kevin Durant and Stephen Curry of the Golden State Warriors combined for 65 points Wednesday night vs. the Toronto Raptors.
-The Timberwolves held the 76ers to only 33 points in the first half, a season-best for the Timberwolves this year defensively.
-Five technical fouls were issued in tonight's contest: Joel Embiid, Gerald Henderson, Zach LaVine, Adreian Payne, and Karl-Anthony Towns.
-Nerlens Noel was inactive tonight with knee surgery.
-Jerryd Bayless was inactive tonight with a wrist injury.
-Brandon Rush was inactive tonight with a toe injury.
-Shabazz Muhammad was inactive tonight with a knee injury.