 The Minnesota Timberwolves will look to rebound from a tough loss on Sunday to the Oklahoma City Thunder on Monday night when they welcome the Atlanta Hawks to Minneapolis. Tip-off is set for 7 p.m CT.
About the Timberwolves
The Timberwolves are 9-21 on the season after losing to the Thunder on Sunday evening. Karl-Anthony Towns leads the team, as he is averaging 22.2 points, 11.3 rebounds, and 2.5 assists per game. Andrew Wiggins is averaging 21.7/4.2/2.5 per game. Zach Lavine also is averaging more than 20 points per game, as his averages are 21.2/4.2/2.3.
Against the Thunder, the Wolves had a lead after the first half, but were unable to maintain it, as they trailed for the entire second half despite 26 points from Towns and 10 assists from Ricky Rubio.
About the Hawks
The Hawks are 15-15 on the season after beating the Denver Nuggets 109-108 on Friday night. They are led by two main scorers, Dennis Schroder, who is averaging 17.6 points per game, and Paul Millsap, who is also averaging 17.6 points per game. Schroder is averaging more assists per game, but Millsap has the edge in rebounds per game.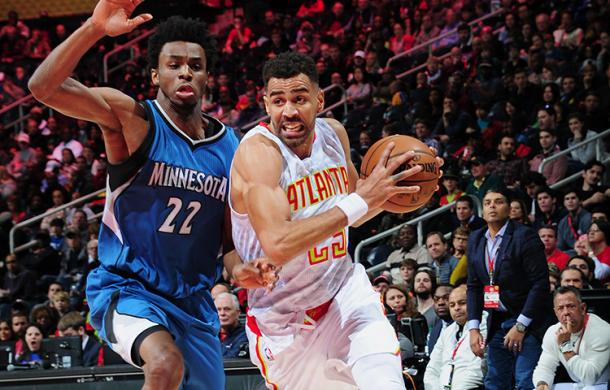 Against the Nuggets, Schroder led the Hawks with 27 points and five assists. They trailed 108-100 entering the final few minutes, but the Hawks went on a free-throw parade, and ended up taking the lead with two free throws from Millsap with six seconds remaining.
Previous Meetings
These teams have met just once this season, with the matchup coming on Wednesday when the Timberwolves defeated the Hawks 92-84 in Atlanta, The Hawks were led in that game by Schroder, who had 21 points, while Minnesota got 19 points from Wiggins in a winning effort. This will be the final time that the two teams will play this season.
Game Info
Tip-Off: 8 p.m. ET/7 p.m. CT
Television: Minnesota (FS North) Atlanta (FS Southeast)
Radio: Minnesota (830 AM) Atlanta (92.9 FM)
Projected Starting Lineups
ATLANTA
Schroder, Korver, Bazemore, Sefolosha, Millsap
MINNESOTA
Rubio, Lavine, Wiggins, Dieng, Towns
Prediction
While the Hawks will keep the game close, the Timberwolves will pull away down the stretch, and pick up a sweep of the season series with a 95-89 win over Atlanta.