 When the Chicago Bulls decided to move on from Joakim Noah and Derrick Rose last offseason, it appeared that general manager Gar Forman and President of Basketball Operations John Paxson would move in a different direction. Forman and Paxson had an opportunity to rebuild the Bulls around star guard Jimmy Butler. They had a chance to build a team that fits prized head coach Fred Hoiberg's fast paced, floor spacing style.
Instead, Forman and Paxson handed two-year contracts to guards Dwyane Wade and Rajon Rondo. Wade is having a borderline All-Star season for his hometown team, but things haven't been as easy for Rondo. The 30-year-old guard was benched in the second half of Saturday's loss to the Indiana Pacers and Hoiberg doesn't plan on starting him going forward.
Rondo met with Bulls management after the game and said he wanted out if the benching persisted. The former Kentucky Wildcat's uncertain future further highlights the Bulls' questionable roster construction others on this site and I pointed out.
A poor fit from the beginning.
When Rose and Noah went to the New York Knicks last summer (via trade and free agency respectively), they created some cap and roster space to sign three point shooters. The additional sharpshooting would allow Jimmy Butler, who scores most of his points inside the three-point arc and at the free-throw line, plenty of space to operate.
In lieu of that, Forman and Paxson brought in unneeded redundancies in Rondo and Wade. The two former All-Stars generate their offense from the same areas on the floor Butler does. For the most part, the Bulls brought in the same style of team, with different names on the back of the jerseys.
As of Monday, Rondo is averaging 7.2 points, 7.1 assists, and 6.5 rebounds per game, all down from last season. His 11.2 player efficiency rating (PER, 15 is league average) is the lowest in his career. Rondo has -0.8 offensive win shares and a -2.7 offensive box plus minus.
Worse yet, Rondo is shooting 32 percent from three-point range, well below the league average 36 percent. His two point and overall percentages aren't much better. Rondo is shooting just 37 percent on corner threes and just 42 percent from under the basket. That doesn't even include the one game suspension Rondo served for throwing a towel at assistant head coach Jim Boylen. For what it's worth, the pass first wizard is providing good defense with 1.2 defensive win shares, and a 1.6 defensive box plus minus.
Sign of bigger problems in Chicago?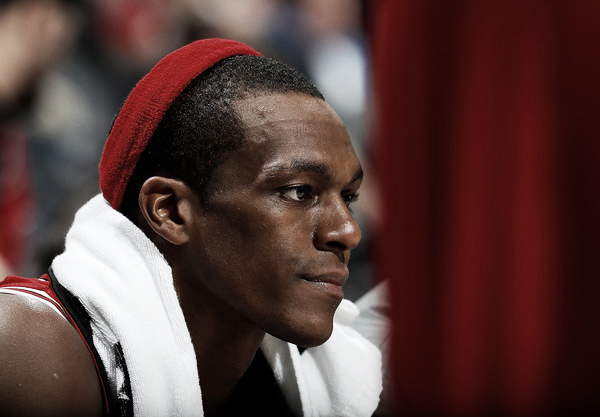 Rondo's benching in the second half of Saturday's loss to Indiana, as well as losing his starting job to Michael Carter-Williams, might result in a change for both the team and Rondo. Don't expect it to come immediately.
Moving Rondo right now may be a significant obstacle. Chicago owes Rondo $14 million this season and $13.4 million next season. Rondo is not the only one in Chicago whose future is cloudy. There are even rumors suggesting Hoiberg's job is in jeopardy. All of this is a small part of systemic turmoil in the Bulls organization dating back to the firing of Tom Thibodeau.
Forman and Paxson wanted Hoiberg to coach this team and move away from the hard-nosed defensive style of Thibs. Yet Forman and Paxson don't seem to realize it takes more than a new coach to improve the offense. Houston Rockets general manager Daryl Morey did not sign a bunch of lane clogging slashers after hiring Mike D'Antoni. He used his cap space to sign Ryan Anderson and Eric Gordon to help space the floor for superstar guard James Harden. As a result, the Rockets are off to a 26-9 start and Harden is having an MVP season. The Bulls went with the name brands and their reward is a middle of the road offense and a 16-18 record, good for 10th in the Eastern Conference.
The overall struggles of the Bulls leave management with more questions than answers. Starting Carter-Williams, who is just as poor from the perimeter as Rondo, is not a permanent fix. Axing Hoiberg is not acceptable either. Rondo's signing and subsequent benching are symptoms of poor management at the top. If Paxson and Forman remain unhappy with the team's performance, they can look no further than the two men who built it.