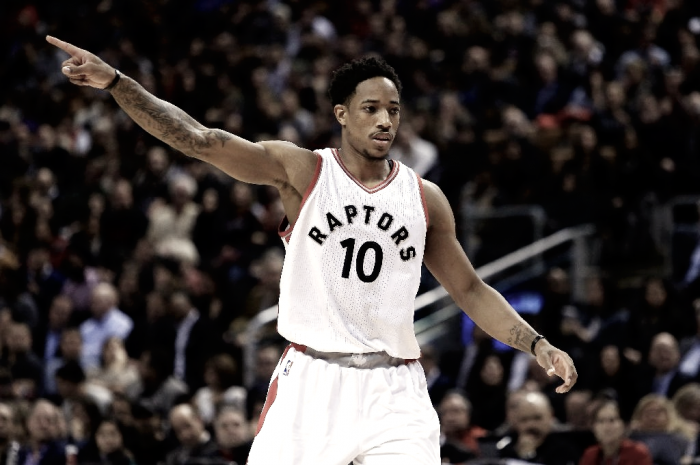 Two-time NBA All-Star DeMar DeRozan of the Toronto Raptors wins the Eastern Conference NBA Player of the Week award for the week of Jan. 9 to Jan.15. The league announced that he and Gordon Hayward of the Utah Jazz won the awards for their respective conferences on Monday. This is the third time this season DeRozan has won the Player of the Week for the Eastern Conference.
As the NBA All-Star fan voting ends tonight, it seems that this late push from DeRozan can help him get a few more votes.
Toronto's Perfect Week
During the past week, the Raptors went 3-0 with all wins coming from the Atlantic Division. In all three of those games, DeRozan was the leading scorer for the Raptors, including a 41-point effort and a career-high in rebounds with 13 in a close victory against the Boston Celtics on Jan.10. He averaged 30.7 points, 7.3 rebounds, and 2.3 assists per game during that week. He was efficient from the floor as well as he shot 51.5 percent from the field. The Raptors also set a franchise record with most points in a non-overtime game with 132 against the Brooklyn Nets on Jan.13. DeRozan scored 28 points to go along with four rebounds in that game. The Raptors ended the week with a 116-101 victory against the struggling New York Knicks. DeRozan led all scorers with 23 points, and was able to record five rebounds, and five assists.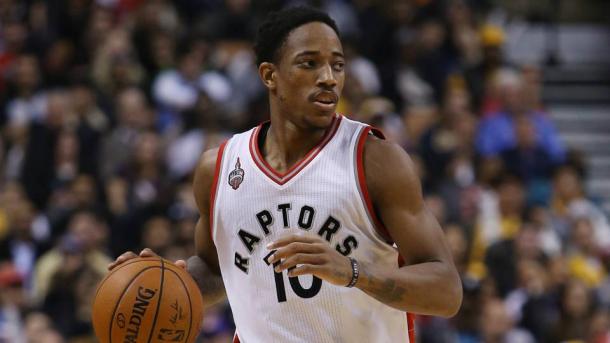 DeRozan is Not Letting Up
DeRozan is currently leading the NBA in points per game with 30.5 points per game since the start of the new year. He has been shooting the ball fairly well since then as he is shooting 47.8 percent from the field. On top of that, DeRozan is also making 11 field goals a game, which is fairly impressive. Over the course of the season, however, he is averaging a career-high 28.1 points per game, which is tied for fifth place with DeMarcus Cousins of the Sacramento Kings.
Raptors' Next Few Games
The Raptors' next three games are all on the road as they visit the last-place team in the Eastern Conference in the Nets in Brooklyn, the third-last team in the 76ers in Philadelphia, and conclude their three-game trip in Charlotte as they take on the Hornets. DeRozan should once again go off on any of these games considering his recent offensive spurt.
DeRozan and the Raptors are currently holding down the second seed in the Eastern Conference as they sit 2.5 games back from the Cleveland Cavaliers. Not too far from the Raptors are the Celtics who are two games back from catching the Raptors.