The league has now officially announced the 20 players who will be involved in the Rising Stars Challenge at this year's All-Star Weekend in New Orleans.
The game, which features 10 players representing Team USA and ten representing a Rest of World side, will take place next month among the other events of the All-Star weekend.
The match-up will be the third time that both rookies and sophomores will take to the court against the each other.
Karl-Anthony Towns, who won the 2016 Rookie of the Year award in unanimous fashion, will lead an impressive American Line-up, which also features Myles Turner of the Indiana Pacers and the Phoenix Suns' sharp-shooting Devin Booker.
Meanwhile, on the World Team roster, well-hyped rookie Joel Embiid will team up with Latvian Kristaps Porzingis, Serbian Nikola Jokic and the teenage Jamal Murray of the Denver Nuggets.
A Look at Last Year's Game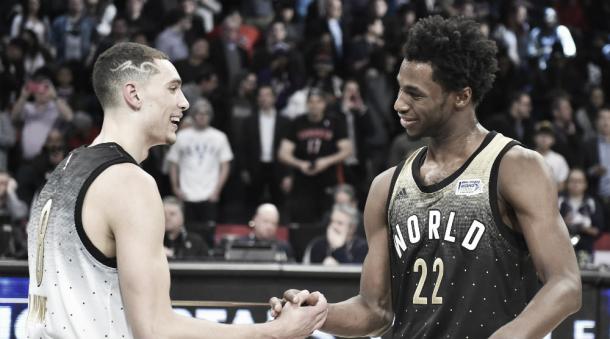 Much like every year, 2016's game was a high-scoring affair, with Team USA narrowly winning 157-154.
It was the Rest of World team who were more consistent however, as they scored 79 and 75 in the first and second half respectively. Nonetheless, an 88-point effort from the Americans in the first half was enough to win the tie, despite the fact they only scored 69 in the second half.
Both of Team World's highest scorers on the night will be at the game again this year, as Kristaps Porzingis and the Congolese Emmanuel Mudiay scored 30 points apiece.
For Team USA, Jordan Clarkson grabbed a steady return of 25 points, whilst Zach LaVine, who scored a team-high 30, was named the game's MVP.
Minnesota Timberwolves teammate Andrew Wiggins was one of the most lethal players on the night too, scoring 29 for the World Team off of a 13-from-15 conversion rate.
Complete list
Team USA:
- Karl-Anthony Towns (Minnesota Timberwolves)
- Devin Booker (Phoenix Suns)
- Malcolm Brogdon (Milwaukee Bucks)
- Marquese Chriss (Phoenix Suns)
- Brandon Ingram (Los Angeles Lakers)
- Frank Kaminsky (Charlotte Hornets)
- Jahlil Okafor (Philadelphia 76ers)
- D'Angelo Russell (Los Angeles Lakers)
- Jonathon Simmons (San Antonio Spurs)
- Myles Turner (Indiana Pacers)
World Team:
- Joel Embiid (Philadelphia 76ers, Cameroon)
- Dante Exum (Utah Jazz, Australia)
- Buddy Hield (New Orleans Pelicans, Bahamas)
- Nikola Jokic (Denver Nuggets, Serbia)
- Trey Lyles (Utah Jazz, Canada)
- Emmanuel Mudiay (Denver Nuggets, Congo)
- Jamal Murray (Denver Nuggets, Canada)
- Kristaps Porzingis (New York Knicks, Latvia)
- Domantas Sabonis (Oklahoma City Thunder, Lithuania)
- Dario Saric (Philadelphia 76ers, Croatia)