 Nobody can say that Washington Wizards point guard John Wall is short on confidence regarding fellow guard Bradley Beal's abilities. After the Wizards downed the Boston Celtics 123-108 Tuesday night, Wall told CSN Mid-Atlantic's Chris Miller: "I think (Wall and Beal are) the best backcourt in the league when we're going. We're both playing at a high level right now. We're staying healthy. We're a tough tandem to deal with."
Wall and Beal are often labeled as one of the best backcourts in the NBA. This year especially, the numbers seem to back up the general consensus.
Not the Best, but Pretty Close
This year, Wall is averaging 23.1 points, 4.6 rebounds and 10.1 assists per game. The former Kentucky Wildcat also has a .464/.317/.824 shooting line and a 23.7 player efficiency rating, the highest of his career. Beal is also having a career season, averaging 22 points and posting career-best marks in field goal and free throw percentage (45 and 82 percent respectively). Beal has also managed to stay healthy. He has started 41 games this year, already more than he did all last year.
Advanced numbers show that Wall and Beal are among the class of the association. Wall and Beal have a combined 9.1 win shares, as of Tuesday. As far as Eastern Conference backcourts are concerned, only DeMar DeRozan and Kyle Lowry of the Toronto Raptors have more. In the Western Conference, the Golden State Warriors (Stephen Curry/Klay Thompson, 10.3), Oklahoma City Thunder (Russell Westbrook/Victor Oladipo, nine), and Houston Rockets (James Harden/Patrick Beverley, 12.2) starting guards have more win shares than the Washington guards. To put this in perspective, the backcourts tearing it up more than Wall and Beal have either a back-to-back MVP (Curry), a candidate for MVP (Harden, Westbrook) or are perennial All-Stars (Lowry, DeRozan, Thompson) filling one of the guard positions.
When Wall and Beal are on their game, few teams can slow them down. Unlike some disastrous backcourt pairings (cough...Chicago…cough), the two stars skill sets complement one another. Wall is one of the best playmakers in the game, averaging 9.1 assists per game in seven NBA seasons. His ability to slash to the basket combined with his elite passing ability allows Beal to focus on his best attribute, his three point shooting. Beal's accuracy from downtown (39 percent) gives Wall space to operate in the paint and around the rim.
Will Wall and Beal be Enough in April?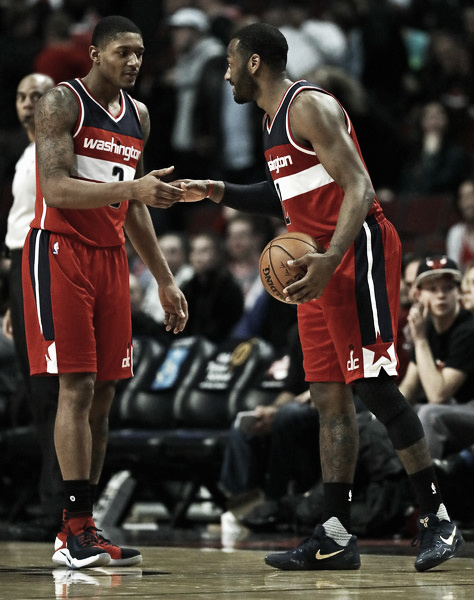 While not the absolute best, Wall and Beal are in the upper echelon of the association guard combos. For Washington to return to the playoffs, they need to be. Other than Wall and Beal, or their starting five, the Wizards lack depth. No player besides the starters has a PER higher than 11.4. The team scores significantly fewer points per 100 possessions when the reserves are on the floor compared to the starting five. Only Wall, Beal, Otto Porter, and Marcin Gortat have positive box plus minuses (BPM). Washington has a talented starting lineup (Markieff Morris notwithstanding) and little else. For them to make some noise in April, Wall and Beal need to be as good as they and others think they are.