Despite missing three players in forward Danilo Gallinari, guard Emmanuel Mudiay and power forward Kenneth Faried, Denver Nuggets added to New York Knicks' woes as while they have returned to winning ways following their defeat at Atlanta, they have instilled a fourth straight loss to the Knicks.
Serbian Nikola Jokic has proved to be a dominant force in the Nuggets roster after registering a career high 40 points. Prior to the game, he had collected 19 double-doubles and also the first triple double over the course of the last 29 matches.
Meanwhile, Carmelo Anthony was the Knicks leading scorer with 33 points but despite he scored 21 points of his 33 in the fourth quarter, their late rally was not enough to avoid the defeat.
Following the accident which saw involved former Knicks power forward Charles Oakley, the environment at the Madison Square Garden was hostile to the hosts as the fans started to call Oakley's name during the night while also booing their own team throughout the course of the game.
High-Scoring First Quarter
In a points-galore first quarter, the Nuggets led 32-34 courtesy of the Wilson Chandler's, former Knicks player, nine points. Also, both sides shared 10 three-pointers leading to an entertaining first part of the game. The Nuggets were lethal in their offensive manouvres as they had five successful turnovers while their opponents failed to capitalize on four steals.
Knicks Back on Track
The Knicks scored more points in the second quarter as they were dominant on two pointers, with a percentage of 79 percent. Anthony and Kristaps Porzingis were lethal in offense as they were involved in 14 field goals and 12 rebounds.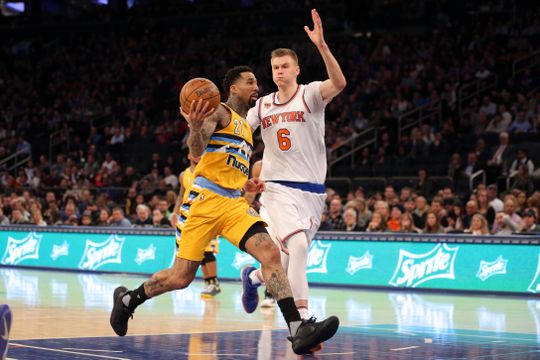 Dominant Nuggets
After the interval, Mike Malone's side rout the Knicks with an astonishing 22-36 third quarter. They were dominant in all aspects as they converted 67 percent of their free throws, 65 percent of their two-pointers, 67 percent of their three-pointers attempts and scored 15 times on field goals.
Melo's late rally not enough
In the final quarter, Anthony raised the bar and scored 21 points, spearheading the team from New York to convert 64 percent of their three-pointers attempts. Yet, the Knicks defense was a let-off once again and even Melo's super performance could not overshadow the defensive collapse.
Jokic was the overall star of the game as he helped the Nuggets to reach the tally of 120 points for an impressive eight time over the last 16 fixtures.
What's Next
The Knicks will return to the court tomorrow afternoon when they host one of the Western Conference powerhouses, San Antonio Spurs.
On the other hand, the Nuggets will feature in another road game tonight against Cleveland Cavaliers hoping to add second straight win away from home.