Cleveland Cavaliers returned to winning ways, following their setback on Thursday against Oklahoma City Thunder, as they cruised to a 125-109 win over a rampant Denver Nuggets side.
LeBron James and Kyrie Irving were pivotal for the Cavs as they grabbed 27 points each, while their defensive department was excellent in the second and third quarter, as the Nuggets could not surpass 25+ points in both periods.
Meanwhile, Nikola Jokic put up another impressive display as he collected a double-double with 27 points and 13 rebounds for the Nuggets.
The Nuggets coach Mike Malone was making his return to his old home, having fulfilled his duties of assistant coach at the Cavs between 2005 and 2010.
They were still without Kenneth Faried and Danilo Gallinari, who are recuperating from their injuries.
Balanced first half
The Nuggets immediatetly showed their intentions as they took a five point-lead at 28-33 in the first quarter, with Jamaar Nelson scoring eight points and the rest of the team capitalizing on five turnovers and five successful offensive rebounds.
Jokic started the game slowly as he managed to tally only seven points.
Yet, in the second quarter, the Cavs managed to impose their game and were dominant in all statistical areas: 64 percent in two pointers, 44 percent in three pointers, 55 percent in field goals and 15 successful rebounds.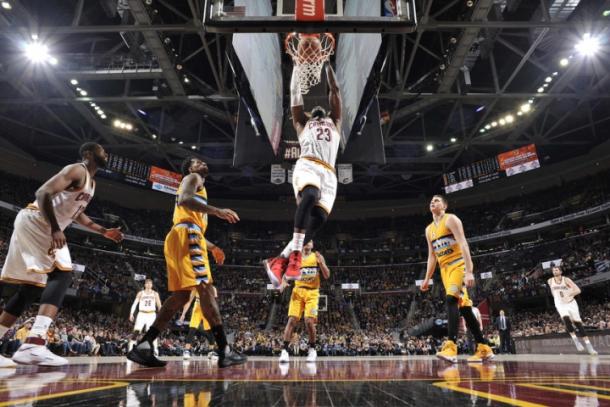 Dominant Cavs
The Cavs had a slender advantage at half-time as they led 59-55 but in the third quarter, that lead was to be increased.
LeBron and company opened an 18-0 lead, with Irving netting three pointers and LeBron even scoring a shot which was intended to be a pass to Tristan Thompson.
The trio LeBron, Irving and Love were determinant in the third period as they scored 27 points from the total 33.
Ohio native LeBron registered a double-double as he collected 27 points and 12 assists in a magnificent evening at the Quickens Loan Arena.
Thompson also managed to record a double-double with 13 points and 13 rebounds.
What's next
The Cavs will return to the court on Tuesday, when they take on Minnesota Timberwolves against whom they won their last five matches in a row.
On the other hand, the Nuggets will complete their uphill task schedule as they host Western Conference leaders Golden State Warriors.