 Minnesota Timberwolves put themselves back on track in the playoff race as they reached the All-Star break with a convincing 112-99 victory over the Denver Nuggets, who 48 hours before demolished Golden State Warriors.
Undeniably, the star of the night was shooting guard Andrew Wiggins whose 40 points combined with 24 scored by teammate Karl-Anthony Towns, helped the Timberwolves to power past the Nuggets.
This was Wiggins second 40-point game in 24 hours, equaling Kevin Love's record who had collected two 40-point games in 24 hours for the franchise.
On the other hand, this was a disappointing night for Mike Malone's team as they managed only to score 11 three-pointers. Talisman Nikola Jokic was not on his best night as he had to satisfy himself with 15 points.
Meanwhile, Mason Plumlee made his debut for the Nuggets. Plumlee joined the Nuggets ranks recently from Portland Trail Blazers and he marked his first appearance with 11 points and nine rebounds.
Tight First Half
In a high-scoring first quarter, the Timberwolves took the lead 32-31. Yet, it was the hosts who converted all their free-throws, and had the better of their opponents in two-pointers and field goals.
Also, the Nuggets were more concrete in rebounds as they had 11 successful offensive rebounds.
Nonetheless, the away side managed to put up another efficient performance in the second quarter to lead 62-60 at halftime, as they were looking more sharp upfront while safeguarding themselves without possession.
Both teams had to raise their bar after the change of ends, in order to set up an exciting encounter.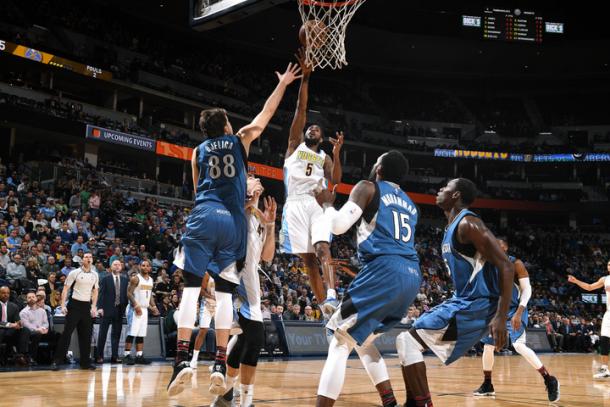 Pragmatic Timberwolves Prevail
The third quarter was a low-scoring one, with Minnesota scoring 23 points to the 19 scored by their opponents.
Both teams capitalized on offensive rebounds, with Denver collecting 17 rebounds while Minnesota 15.
Yet, Denver's defensive line was clumsy as they committed five fouls, with the Timberwolves converting 88 percent of the free-throws, building an 11-point cushion lead over the Nuggets.
The Nuggets lost shape in the final quarter, and Wiggins and co. flourished in offense, securing a vital win which boosts their hopes for a spot in the post-season.
Towns was on an inspiring night as well as he registered a double-double with 24 points and 19 points while Shabazz Muhammad also inspired Minnesota, courtesy of his 15 points.
What's Next, Following the All-Star Break
The Nuggets will return to action on Feb. 23 when they take on fellow playoff challengers Sacramento Kings, in Sacramento.
On the other hand, the Timberwolves will be in action a day later when they host the Dallas Mavericks.