After re-aggravating his wrist injury during the All-Star break, the Toronto Raptors decided to take precautionary measures for the past two games to rest their star point guard Kyle Lowry and his wrist injury. Today, an update was given on his injury and the news is everything but promising. Lowry will undergo a surgical procedure on that will remove the loose bodies in his right wrist.
What the Raptors will Miss
Kyle Lowry has been an integral part of everything the Raptors do for five-plus seasons now. This season, he's leading the NBA in minutes per game with 37.7 and is tasked every night with being the team's best facilitator and shooter especially from three-point range. Lowry shoots 42 percent on his three-pointers and overall 46 percent on all his field goals.
Lowry leads the team in assist percentage, assist ratio, effective field goal percentage, and true shooting percentage. To say his shooting will be missed is an understatement, he provides the Raptors with a lethal weapon from outside the arc. His facilitating is probably the most underrated aspect for this Raptors team. On a team that is dead-last in the NBA in assists per game, Lowry averages seven assists every contest. This team will surely miss their leader who brings so much to the table every night for a team that relies on guard play.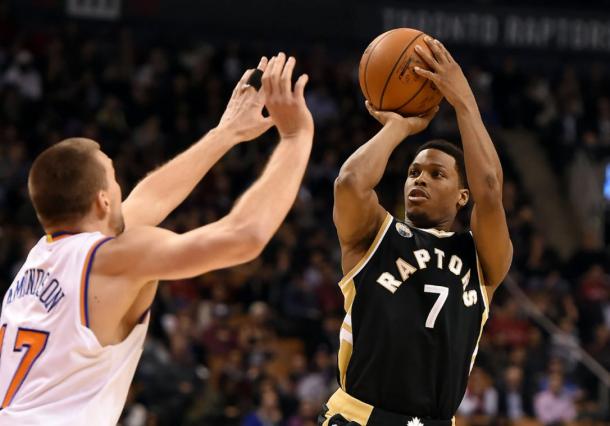 Who will Step Up?
To say the guard play of Delon Wright, Fred Van Vleet, and Cory Joseph will need to exceed expectations during this stretch run in the last few months of the season is something that will have to happen without question. However, look for center Jonas Valanciunas to get more touches in the post as they search for a secondary option. Valanciunas is 21st in the NBA in post up frequency and averages 0.87 points per possession. With such a small substance for the Raptors' talented big man, perhaps he will become an essential part of the Raptors offense as they may need to resort to other options.
The Raptors overall three-point shooting must improve as well as besides Lowry the Raptors have some mediocre shooters from behind the line statistically. Norman Powell shoots 33.6 percent, Patrick Patterson is at 36.3 percent, and DeMarre Carroll is an average 35.2 percent. Cory Joseph shoots 39.7 percent but he has only attempted 73 total three-pointers on the season. DeMar DeRozan may be encouraged to launch some trifectas if the Raptors offense goes sour with no Lowry in the lineup.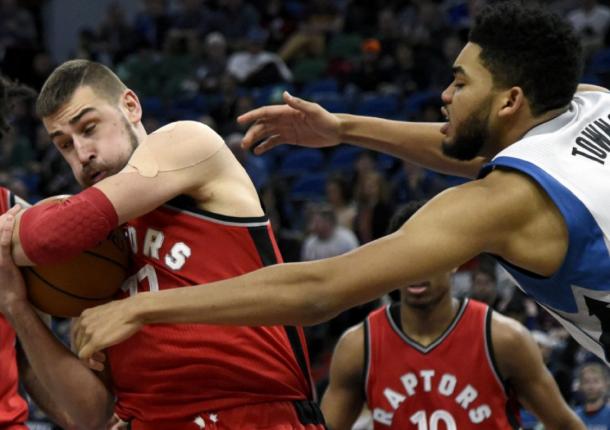 Raptors Record without Lowry
Going into Monday's game vs. The New York Knicks, the Raptors record without Kyle Lowry in his five seasons with the team is 21-16. Although this sounds promising, this the Raptors will have to rely on defensive stops, second chance points, and improved three-point shooting as they cannot rely on the elite shot-making ability of Lowry.
Up Next
After taking on the New York Knicks in tonight's matchup at Madison Square Garden, the Raptors will have a home-and-home stint with the Washington Wizards as they will take them on at home at the Air Canada Centre, Wednesday night at 7:30 p.m. E.T. Then it's on the road at Verizon Center in Washington, D.C. 7 p.m. E.T.