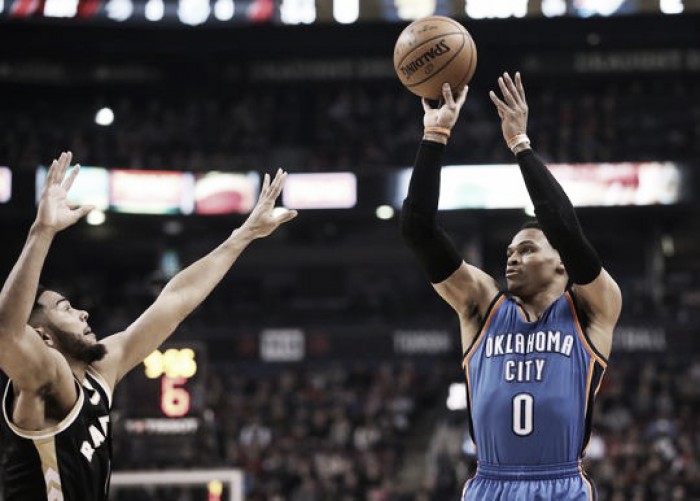 After taking the Dallas Mavericks to task Monday night at home, the Toronto Raptors hosted The Oklahoma City Thunder Thursday night in the final game of their season series.
Mr. Triple-Double
Russell Westbrook's impact was truly felt in tonight's game. After taking a quick rest at the beginning of the second quarter, Westbrook subbed back in and took over. A barrage of dazzling passes, pull-up jumpers, and three-pointers entertained the crowd. The Raptors did not have an answer all game as Westbrook continued his magical season with his 34th triple-double through only three quarters. Westbrook finished with a stat line of 24 points, 10 rebounds, and 16 assists.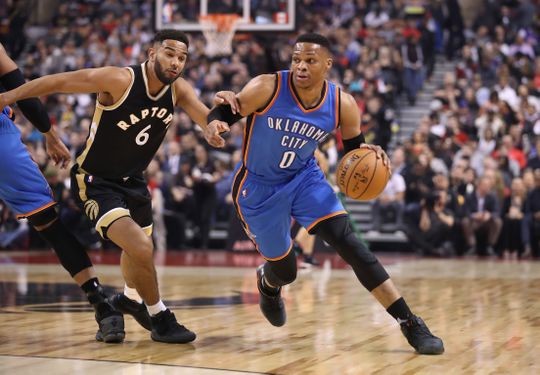 Inconsistency on Defense
After seemingly dismissing their defensive woes on Monday night against the Mavericks, the Raptors put up an abysmal effort Thursday night against the Thunder. What was missing on the defensive end tonight was not that complex; There was simply no effort, physicality, or energy. This led to this dominating win. The Thunder outrebounded the Raptors by 15, had 14 second-chance points, and shot 53.4 percent from the field. These three pieces of statistics epitomized the victory for the Thunder and the effort they put forth this game.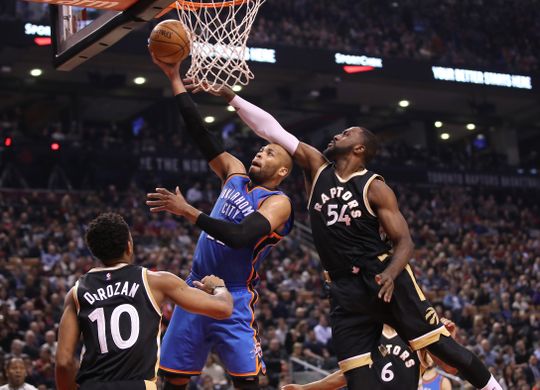 Offensive Performances
Another day, another performance where the Raptors struggle from three. They finished the game shooting 5-for-20 from three-point range, along with multiple players still struggling to find consistency. DeMarre Carroll, Patrick Patterson, and Serge Ibaka were a combined 0-for-9 from behind the line. The Raptors still got some promising productivity from their young prospects as Norman Powell had 13 points, while Delon Wright had his third consecutive double-digit scoring game with 10 points. DeMar DeRozan also forced his way to 22 points on 8-for-14 shooting and Cory Joseph chipped in with 11 points and 6 assists.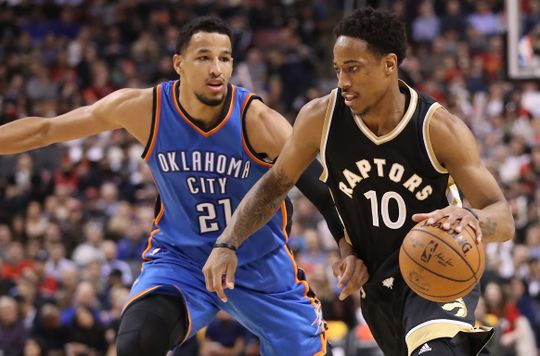 Next Up
The Raptors will travel to Michigan on the second night of a back-to-back to take on the Detroit Pistons Friday night. Tipoff is at 7:30 p.m. E.T.
The Thunder will continue to ride their four-game winning streak to the West Coast when they take on the Sacramento Kings on Saturday. Tipoff is at 3:00 p.m. E.T.
Game Notes
-DeMarre Carroll returned to the starting lineup for the Toronto Raptors after a two-game absence with an ankle injury
-Russell Westbrook needs eight more triple-doubles to break Oscar Robertson's NBA record for most triple-doubles in one season
-The Oklahoma City Thunder had seven players scoring in double figures
-The Thunder shot 56 percent from three-point range, their best performance of the season