Oklahoma City Thunder guard Russell Westbrook is seemingly setting NBA records every other week nowadays, and yesterday was no exception.
The 28-year-old finished his side's 122-97 blowout win against the Philadelphia 76ers with a stat-line of 18 points, 11 rebounds and 14 assists, but more importantly converted every attempt he had from the field.
Uncharacteristically Westbrook only attempted six field goals, meaning it was the first time all season he had less than ten shots in a game. He didn't shoot from beyond the arc once and converted all six of his free throws.
In fact, including his low attempt count against the Sixers last night, Russ is still averaging 23 field goal attempts per game for the month of March, only highlighting his quieter game against Philly.
Incidentally it also marks the first time all campaign that the point guard has scored less than 20 points in back-to-back games, meaning his points average has dropped slightly to 31.2.
The win last night means the Thunder have won both games over the 76ers this season, extending their run to 16 consecutive regular-season wins over the side.
Westbrook This Season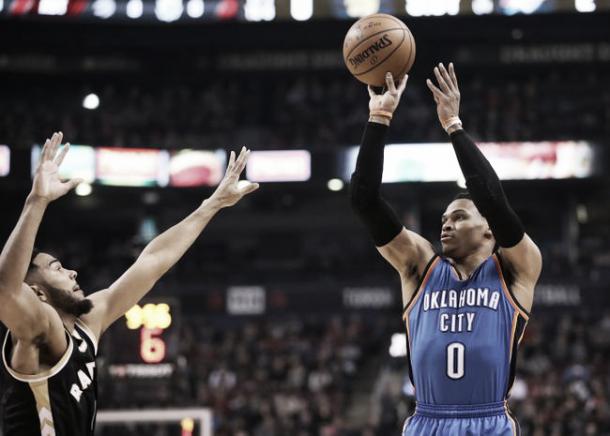 The point guard has been mesmeric for Oklahoma City this season, and leads the league in points as a result.
What's more, he's well ahead of the pace to become to first player to finish a full season with a triple-double average since Oscar Robertson did so in the 1961/62 campaign.
Westbrook could also break a record set by 'The Big O' too, with the point guard currently boasting 35 T-D's for the season.
Should he manage another seven in the Thunder's remaining 11 games, he'll set the record for the most in a single campaign, with Robertson having recorded 41 in the same season he averaged the triple-double.
Earlier this month Westbrook enjoyed a career-high night in terms of point scored, has he converted 58 against the Portland Trail Blazers.
Since then, OKC have won six out of a possible seven, meaning they're just a game and a half behind the Los Angeles Clippers in the fifth seed.
The Thunder's next isn't until Sunday however, when they travel to face the Houston Rockets.