Earlier today the Chicago Bulls revealed that their point guard, Rajon Rondo, would be out indefinitely with a fractured right thumb. He will be re-evaluated in 7-10 days, almost certainly indicating that Rondo will miss the remainder of the first round series against the Boston Celtics. Jerian Grant was assigned the role as the playmaker in Rondo's place.
Rajon Rondo was a big part of the Bull's team this playoff series averaging nearly a triple-double with 11.5 points, 10 assists, and 8.5 rebounds per game. His presence was missed in Game 3 as the Bulls only had a team total of 14 assists with only one in the first quarter and none in the third. 
After the top-seeded Boston Celtics dropped their first two games of the season, head coach Brad Stevens adjusted his starting line-up by inserting Gerald Green in place of Amir Johnson in order to space the floor and it paid off dividends as the Celtics made 17 three-pointers compared to only six by the Chicago Bulls. 
Evenly Played Match at the Half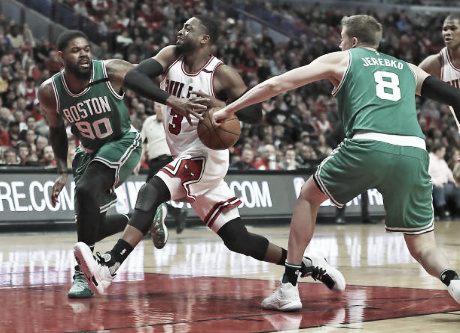 The Boston Celtics started off the match with a big first quarter that ended 33-15, marking Boston's highest-scoring quarter and Chicago's lowest offensive quarter in the series. 
In the second quarter, the Bulls raised their intensity, especially on the defensive end. After being down by 21 in the second quarter, Chicago finished the quarter on a 24-7 run cutting their deficit by only three. 
Second Half Dominance by the Celtics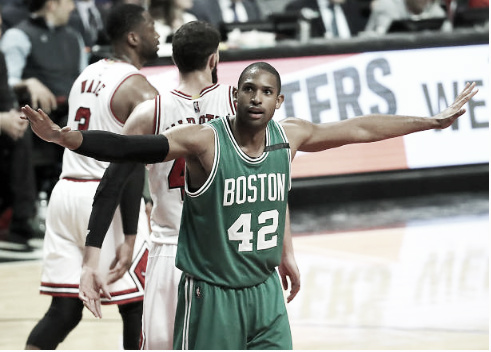 The Celtics opened up the third quarter by building up their lead to as much as 15 points and their was no turning back. Isaiah Thomas and Al Horford led their team on the offensive end and finished off with 16 points and 18 points respectively.
The Bulls could not find their rhythm in the third quarter as they were unable to register a team assist. Jimmy Butler was averaging 26 points per game this series and tonight had his worst game in this year's playoffs as he was only scored 14 points and collected seven rebounds. 
After the game, Jimmy Butler gave the Celtics' defense credit but said that his aggressiveness is going to carry over to Sunday he believes his shots will eventually fall. 
Game 4 Details
With the series tied 2-2, Game 4 is Sunday in Chicago and it will prove to be a crucial game for both teams with the winner having momentum going forward in the series.