 It is not usual to see a college player leaving college basketball after just one season and declare to form part of the NBA draft, in the interest of joining an NBA roster immediately. 19-year-old Lonzo Ball can be the exception, as he is listed among the potential top picks in the next NBA Draft, come Thursday.
Born on Oct. 27 in 1997, Ball featured for the UCLA Bruins last season, averaging 14.6 points, 7.6 assists, and 6.0 rebounds. All these statistics made him the first college player to register these numbers since the other Californian native Jason Kidd managed to do so back in the 1993-94 season. His impressive displays were also highlighted due to upgrade in results that UCLA made in contrast with the previous season. During the 2015-16 campaign, UCLA went 15-17 overall, a disappointing season to say the least.
Nevertheless, Ball and company revived the team in the following league and their talent flourished as an impressive 31-5 record was registered, with LaVar Ball's son undoubtedly one of the best performers, placing second also in the DraftExpress.com database which lists the 100 best prospects.
Despite his physical aspect is still a work in progress, he was fundamental in not letting the chip on his shoulder affect him and was able to carry the offensive responsibilities of the team.
Ball has also won numerous individual awards including from the Associated Press, United States Basketball Writers Association, National Association of Basketball Coaches, Sporting News and the Wayman Tisdale Award as well, among other individual prizes he collected in the Pac-12.
Strengths
When one measures the strengths and weaknesses of this teenager, the balance shifts towards the strengths. He is considered to be a guy with a vision, and in fact, he is lethal in transition play, from which UCLA prevailed for most of the season last year. This underlines the offensive push this player can give to any roster (except maybe the Golden State Warriors, too much offensive power?). Tall 6-foot-6, weighing in at 190 pounds, his speed of thought and change of direction are two characteristics which complete him as a player. Moreover, he is also intelligent and accurate in his passing and the fact that he does not keep the ball as much as a young talented prospect would do, adds more to his possibilities of earning an NBA contract.
According to Synergy Sports Technology, UCLA prevailed from over 30 percent of the situations where Ball was in possession and that says a lot about his decisiveness and level of competitiveness upfront. In addition, one of the traits that also cherish him is the ability to translate difficult passing or movements into ordinary situations. Having a player who is able to anticipate every situation can prove to be fundamental, especially in the games that matter most.
Moreover, to have some of your characteristics compared with the likes of LeBron James and Stephen Curry says a lot about the quality of this player. He can be a joy to watch every night if he fulfills his promising talent.
Weaknesses
Dribbling. It is his main limit probably. He has all the composure to build up the offensive maneuvers but he may not be the one to overcome players. Maybe he needs more physicality or maybe he needs to polish his skills.
According to Synergy, Ball tried to find his own offense on few occasions and was more of a threat when he was included in the pick and roll situations, 75 percent of his possession circa.
Physicality can be also something on which he can work ahead of the new season. Adding more bulk to the body, would enable him to win spaces on his own while in possession and become more devastating when he is in the field goal area.
NBA Comparison - Jason Kidd
It was inevitable that as a Californian kid, Ball would be compared to another Californian player, Jason Kidd. Both of them were awarded the Pac-12 Freshmen of the Year awards and were players that could reignite a game and turn it in favor of their sides. Another striking similarity between both players is the confidence they have in themselves, both when they play and even when they talk. Awareness of your own potential can be fundamental in order to nurture it and maximize all of it.
A notable difference between both subjects is that Kidd was much more of a player who played inside the arc and took the twos while Ball roams the ball more and is more efficient when he attempts the three-pointers, in fact, he took 1.4 more three-pointers than twos, which underlines his ability from that shooting range, and even a testimony of his confidence.
Nonetheless, comparisons always have some discrepancy and these two are not an exception. While Kidd played in the 90's, a totally different era of NBA, Ball will be playing in 2018, an era where there is more spotlight on the superstars and technique rather than physicality. Nowadays, roles are becoming intertwined and players are more versatile in their duties. If Ball will be able to capitalize on his potential and live up to the expectations, then this comparison won't be unfair at all.
Best NBA Fit
Well, the Lakers still seem to be his perfect fit. One has to consider both on court and off court criteria as well when it comes to such a decision. The Staples Center, home of the Lakers, is distant 40 miles away from Ball's former high school, in Chino Hills and staying in a familiar region would be beneficial for the formation of Ball, considering that he is still relatively young.
On the other hand, since Ball is a point guard, it might not be easy to implement his game as the Lakers already boast another talented point guard in D'Angelo Russell. However, with Luke Walton being versatile in his options sometimes, he might apply both players simultaneously, shifting responsibilities there and then and could reduce both their defensive concerns and add to their offensive threat.
How Will His Career Turn Out?
No reads the future, so it is actually impossible to predict what will be the future of a 19-year-old prodigy, but on the other hand, one can assume what type of path can this player take assuming he lives up to his expectations. He can be a big helping hand to any roster he joins in the draft, that's a guarantee.
The most interesting situation for this player is that he can be considered as a traditional NBA player. A point guard with a vision but whose role and characteristics are often overshadowed by the superstars. Ball is a player on which a team can rely as he has all the cards in order to provide an identity to the team, just as he did at UCLA.
Hence, rather than trying to seek answers for his future, it is more interesting to see how he evolves as a player and how the NBA world will view him.
NBA Draft Prediction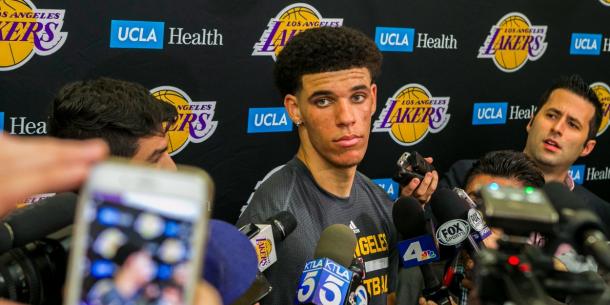 Living in his native California, it looked inevitable that Ball would move to the Lakers, to wear the famous yellow and purple shirt, but in recent days, this certainly has faded and it would be surprising if Ball won't be drafted by the Lakers, because they have shifted their attention on a couple of another hot prospects, including Markelle Fultz, who is on the radar of the Philadelphia 76ers.
In fact, the trade between the Boston Celtics and the 76ers for the top pick has been halted, in order to have a clear idea of the intentions of the Lakers, because if they move on from Ball, the Celtics might be tempted to bring him in. Meanwhile, Ball has only attended the workout for the Lakers, so all this hype of his final destination might be nonsense after all.
However, wherever he ends up, it is difficult to imagine that Ball won't be a part of the early picks, following his exceptional season with the UCLA. His passing skills, among other traits, made him one of the most wanted players ahead of the new NBA season. He has earned the praise from some of the best players, coaches, and experts, which adds up to the curiosity to where he will end up playing.