 NBA Finals MVP Kevin Durant will opt out of his player option with the Golden State Warriors to become a free agent but will re-sign with the team once free agency begins. The 10-year veteran had a player option of 28 million after signing a one-plus-one deal with a player option last offseason.
"The Hampton Five"
The point of Durant taking less money, roughly about four million dollars less, to keep the core of "The Hampton Five" together (Durant is likely to sign another one-plus-one deal). The Hampton Five, which includes Durant, where the group of five players (Klay Thompson, Andre Iguodala, Draymond Green, and Stephen Curry) that met in the Hampton's during free agency to get Kevin Durant to join the Warriors. The one player from The Hampton Five who is in most danger of leaving is Andre Iguodala.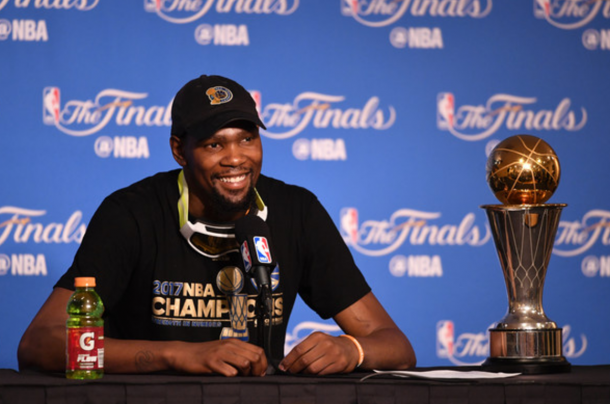 Iguodala a Hot Commodity
Despite the Warriors having Bird Rights on him, the former Finals MVP is strongly considering leaving. The Utah Jazz, Minnesota Timberwolves, Atlanta Hawks, Chicago Bulls, and Los Angeles Clippers. These teams are willing to offer him upwards of 20 million dollars, but the Warriors can go over the cap to attain their own free agent in Iguodala.
Let's Get Down To Business
For Durant, the move is to see if he can help the Warriors win a second straight NBA Championship, and a third in four years. The 28-year-old has also put down his business roots down in the Bay Area. Rich Kleiman, Durant's business partner, and Durant have set their business up, The Durant Company, in the Bay Area. The former second overall pick has also forged partnerships with the likes of Youtube, Acorns, and Postmates. He also revealed that he's in business with Ronald Conway and Laurene Powell Jobs, the widow of Apple co-founder Steve Jobs.