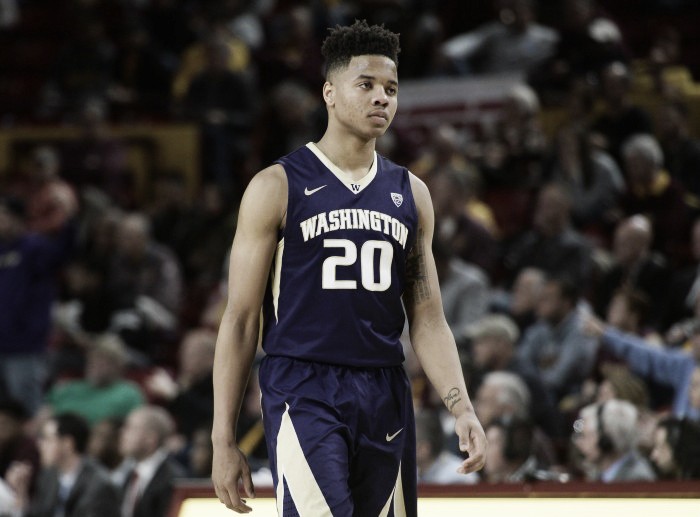 Fultz must be an exciting talent if he's likely to be drafted first on Thursday despite not playing in the NCAA Tournament with the Washington Huskies.
It looked likely that the 19-year-old would be a Boston Celtics player after he worked out for the 17-time champions and met with general manager Danny Ainge.
However, Ainge's desire for more picks including the third pick in this year's draft puts the Philadelphia 76ers in the driver's seat to select Fultz.
In this draft profile, we'll be looking at the strengths, weaknesses, and comparisons in the NBA.
Strengths
Fultz makes the ability to dictate on offense so effortless but efficient at the same time. This makes him such a natural point guard, which would be a huge asset for a team in a transitional stage like the 76ers. If he had joined the Celtics I'm not sure if he would have the same impact with Isaiah Thomas on the scene. At 6-foot-4, the man from Maryland has the same trait of being reliable at the rim and attracting the opponent's defense. The playmaking impact Fultz had for the Huskies was beneficial. The ability to not always go to the basket and be unselfish in finding teammates in open shooting positions really stands out. If Fultz can create these plays with players like Joel Embiid and Robert Covington around him then that can only lead to great things. This off-season, Fultz has bulked up, improving his game from a physical point of view. A trait he will need to become a fantastic guard in the NBA.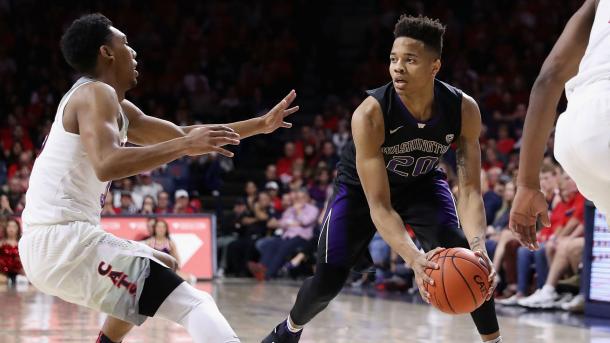 Weaknesses
Fultz's free-throw percentage is surprisingly low for a point guard at just 65 percent over the 25 games he played for the Huskies this season. In comparison, that's roughly 25 percent lower than NBA guards like Kyrie Irving and Stephen Curry. This could have a negative effect on Fultz games but it can certainly be improved with more practice. Fultz's effort on defense is also questionable. His opposite number doesn't have to do much to go by him to go by him and get points. Fultz has the speed and agility to transition on defense but if he can improve on this area of the game, he could be a fantastic all-around guard.
NBA Player Comparison – SG James Harden, Houston Rockets
Fultz's style to make plays so effortless reminds me of Harden along with the same ability to lead from the front. Harden started off as a role player during his time at Oklahoma City but since moving to Houston, the team has developed around him. With Fultz likely to move to Philadelphia, he could well have the same influence, despite being in a more inexperienced team. Fultz has a nice jump shot but his explosiveness towards the rim could also draw small comparisons to Dwyane Wade. I see the start of Fultz's NBA career is more similar to where Harden is right now.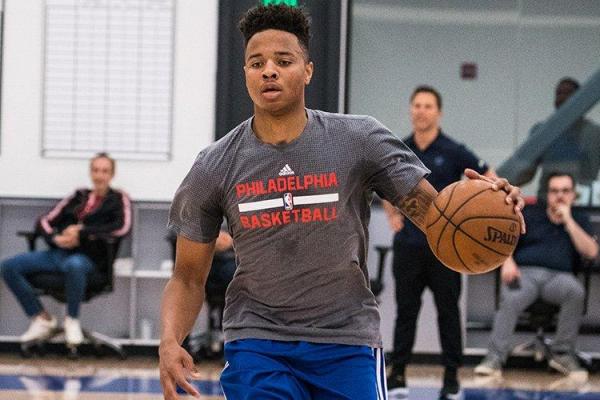 How his career will turn out?
I expect Fultz to be a great player in the NBA. It's hard to know how his career will transpire depending on how healthy he can stay and the clubs he'll be at. I can't say if he'll be an MVP but Fultz can be a huge part of the "Trust the Process" era for the Sixers. This could well lead to him becoming an NBA champion but it may be too early talk about that prospect.