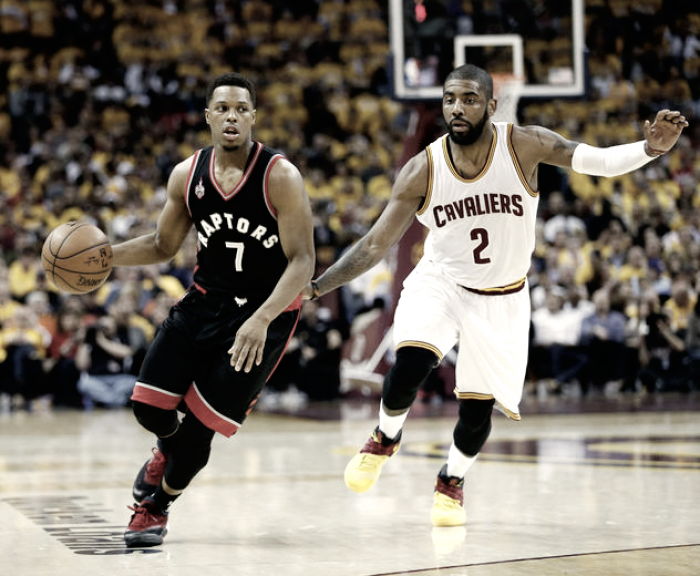 Welcome to the NBA, where teams attempt the impossible on a daily. The Toronto Raptors reportedly inquiring about Kyrie Irving is the latest example of that.
Bobby Webster, general manager of the Raptors told TSN 1050's Michael Landsberg and Matt Cauz that he called the Cavaliers about Irving.
"We all do our due diligence. Things don't always make sense, but if they do we're always prepared," said Webster.
How Did Bobby Webster Come About?
Webster was promoted on June 28 as general manager after former Raptors general manager Jeff Weltman joined the Orlando Magic to become president of basketball operations. Webster used to be a staffer in the NBA league office in New York, then joined the Raptors in 2013 and was named an assistant general manager in 2016.
He is now the youngest general manager in the league at the age of 32, known to be an expert in all things that relate to the salary cap.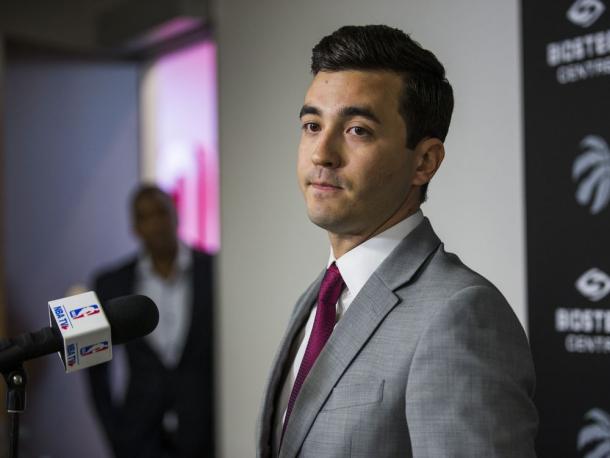 Webster Asking About Kyrie is Usual
To get to the bottom line, Webster calling about Kyrie should not be a surprise to anybody. All the other 29 teams in the NBA have most likely asked the Cavaliers what their asking price is for a star like Irving, after reports have claimed he has demanded a change of scenery.
We truly don't know what the value is for a guy like Kyrie after witnessing what the Indiana Pacers gave up for Paul George and the amount the Chicago Bulls received back for Jimmy Butler. Both guys are arguably better than Kyrie, considered to be top 10-15 players in the NBA.
If that's what the Pacers and Bulls got back is it possible that president Masai Ujiri mind tricks the Cavaliers into trading Kyrie to the Raptors?
Very unlikely.
Irving to Toronto is Unrealistic
TSN's Raptors beat reporter, Josh Lewenberg said that Toronto don't have the pieces to acquire Irving. He stated on TSN's 1050 that the Cavaliers are looking for a player that can help LeBron James immediately compete for a title, a young player with star potential and a draft pick.
The Raptors don't seem to have that and if they did, would they even want to give that up for a guy that might not want to stay long term. The only players that could make a massive impact and help LeBron compete for a title are Kyle Lowry and DeMar DeRozan.
Do you really want to break up that bromance?
I know, I don't.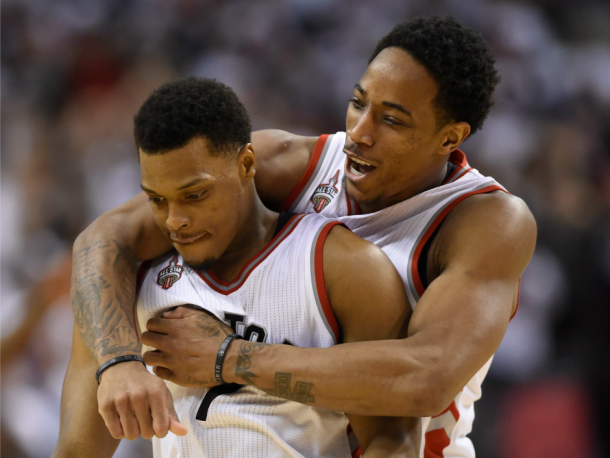 Let's just pretend for a minute that you did. Who is that young player with star potential that the Raptors can send? Norman Powell?
Don't get me wrong, Powell has potential to make a massive impact on a roster but it might be hard to sell to Cleveland that he will flourish into a star. There are 29 other teams in the NBA that could possibly offer more than the Raptors, so it's safe to say the chances Drake makes a song welcoming Kyrie to Toronto is very unlikely.
It might be smart for Cleveland to just pause on shipping Kyrie anywhere just yet, with him under contract for two more years. Should just wait it out until the best deal lands right in front of them.
Just like Webster said, the Raptors are just doing their due diligence and that really just sums it up.