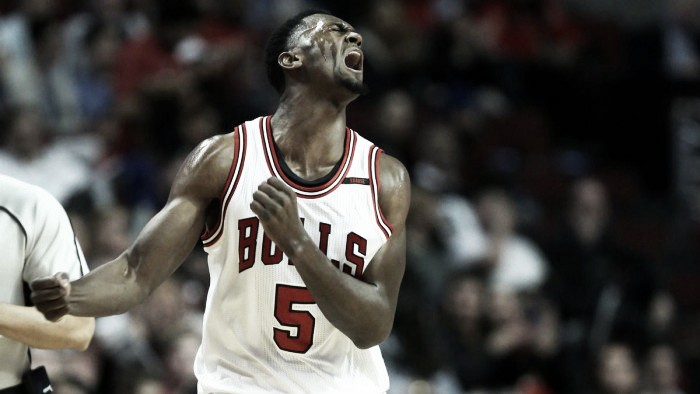 Chicago Bulls forwards Nikola Mirotic and Bobby Portis both took part in a physical altercation in practice on Tuesday, according to Shams Charania of The Vertical. Charania notes that the tussle resulted in Mirotic being hospitalized, sidelining him indefinitely.
Mirotic was sent to the hospital after he and Portis got into a shoving match, which ended with Portis punching Mirotic in the face. According to Charania, Mirotic underwent tests and the Bulls expect him to miss playing time for the foreseeable future. Chicago opens up their season Thursday against the Toronto Raptors.
What Mirotic and Portis mean to the Bulls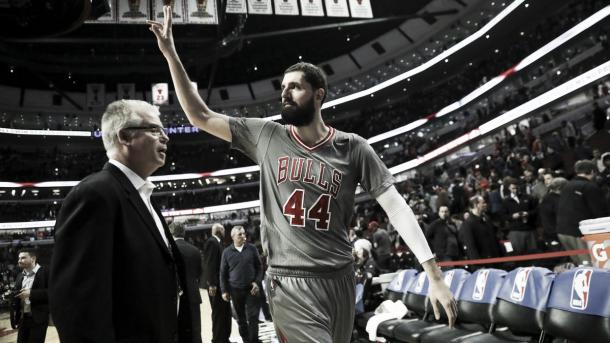 Mirotic, the 23rd overall pick in the 2011 NBA Draft, was pegged to be one of the Bulls most prominent offensive options while the team is in the midst of their rebuild. Last season, he averaged 10.6 points per game with a .413/.342/.773 shooting line. Mirotic will have to wait a while to cement himself as an NBA-caliber stretch four after this setback.
It remains to be seen whether or not the 22-year-old Portis faces any repercussions following this incident. Like a lot of the other young player on this Chicago team, Portis hoped to receive quality minutes to continue his development. The Bulls selected Portis with the 22nd overall pick in the 2015 Draft, and he has shown flashes of being a productive NBA big man. In two seasons with the Bulls, Portis has averaged 6.9 points in 16.7 minutes per game.
The More Things Change, the More they Stay the Same
For all the talk about changing the culture of the Bulls organization, this incident mirrors the type of stories that surrounded the team over the past several seasons. It might turn out to be nothing, but the fact that team can't even make it to their season opener without a story like this is pretty telling. If Mirotic misses significant time, a potentially long season for Chicago may have just gotten longer.