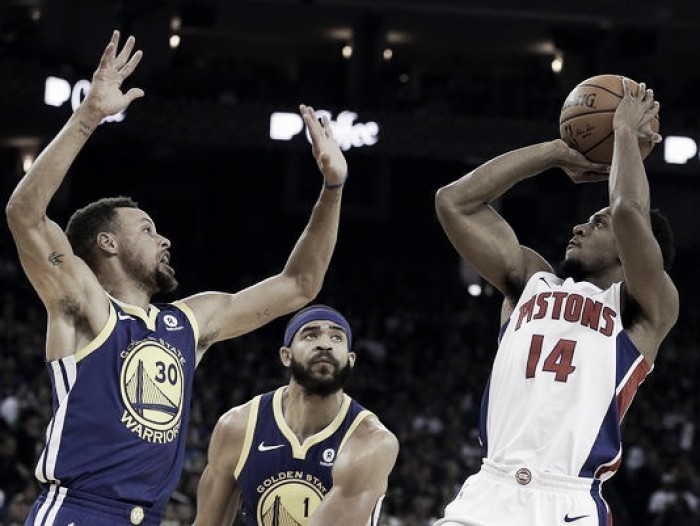 The Detroit Pistons improved to 5-2 after beating the Golden State Warriors at Oracle Arena on Sunday night. With this win, the Pistons are in first place in the Eastern Conference.
The 26 year-old Avery Bradley, scored 23 points, with one rebound and two assists. Almost the same as Reggie Jackson, who made 22 points, three rebounds and five assists.
On the other hand, Klay Thompson led the Warriors with 29 points and two rebounds. Followed by Kevin Durant with 28 points, six rebounds and four assists. Besides them, Stephen Curry made 27 points, with six rebounds, and eight assists at the game.
However, it had not helped them to continue their inconsistent campaign with the second loss at home in this start of the season.
Warriors led until the half
The game had begun with an aggressive game, especially for the Warriors' side. Thompson began leading the board with more than seven points of the Dubs' 12 points. On the other hand, Detroit was struggling to decrease the score.
However, with many, three-point shots drained especially by the Curry's hands and with good defensive rebounds, the game was finished for 35-27 in the first period with 10 assists for the host's side as well as two blocks against none of the visitors.
Curry, Thompson, and Durant continued to score more than 22 points in the second period. Whilst Detroit was fighting to lose their small deficit. The second-half finished with 57-52 for the Warriors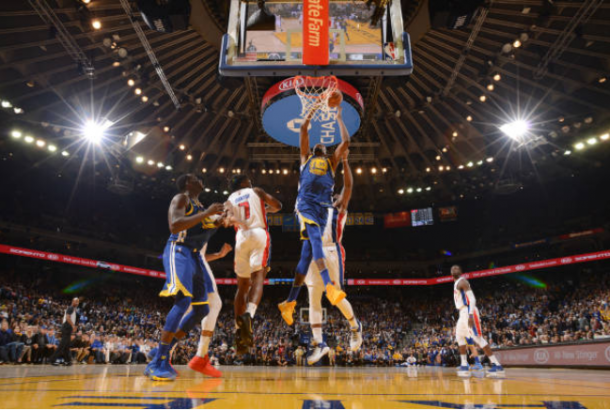 Pistons tie up at the third period
One of the most interesting things that we have seen in that game happened in the third period. The quarter began the Warriors leading by five, but at the more than five minutes, it expands to ten points for the host. Nevertheless, at the last three minutes, everything would change.
Anthony Tolliver started to struggle the Warriors' defense. Firstly, he was fouled on the triple try and he hit all the three points for their side. Eventually, the Pistons grew their intensity and took two points with Reggie Bullock. Secondly, Tolliver would tie up the game to 81-81.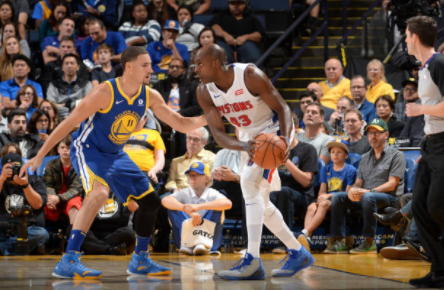 Warriors attempt comeback, but Pistons controlled their advantage until the end
Pistons started the last quarter turning up the board with Avery Bradley ruling three points. Which seemed to be impossible for the Warriors in the first twice periods, finally it was true. Detroit amplified their perimeter to pour in 33 points.
In addition, even Kevin Durant trying to save the Golden State's to return the inconsistent way, the team seemed lost on the court. While the Pistons were having the focus to steal one on the road. Moreover, until the last minute, Bradley appeared once again to increase the advantage 115-107.
Coming up
The Warriors will visit the Los Angeles Clippers in their next game on Monday at Staples Center. Whilst Detroit Pistons are going to take the Los Angeles Lakers on Tuesday, October 31 at Staples Center.