 The 2018 NBA Finals kicked off with a game for the ages as the Golden State Warriors defeated the Cleveland Cavaliers 124-114 in overtime to grab an early 1-0 lead in the best-of-7 series.
Playing in the championship round for the fourth straight year, the Warriors were led by Stephen Curry's 29 points. Kevin Durant added 26 while Klay Thompson had 24 after leaving the game in the second quarter with a leg injury.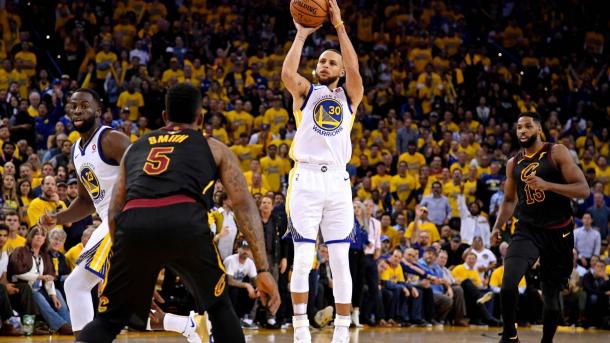 LeBron James scored the fifth most points in an NBA Finals game, pouring in a playoff career-high 51 points, eight rebounds, and eight assists. Kevin Love came out of the league's concussion protocol to score 21 points and pull down 13 rebounds.
James turns in another virtuoso playoff performance
Playing in his ninth Finals and eighth in a row, the Cavaliers legend turned in his finest performance yet: he shot 19-of-32 from the field, including three of seven from long distance as well as 10-for-11 from the free throw line.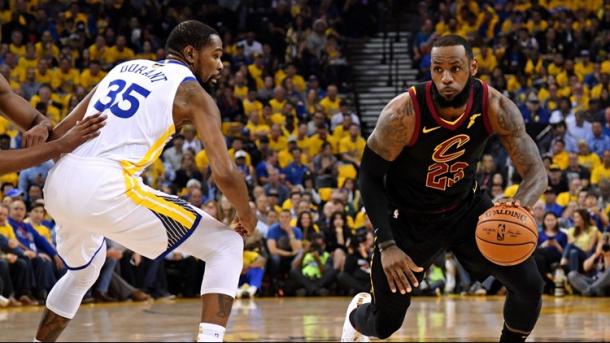 He carried the Cavaliers on both sides of the court, recording the first 50-point game in the finals since Michael Jordan in 1993. He also tied the Bulls icon with his 109th career 30-point playoff outing as well as notching his eighth 40-point game during this playoff run to tie Hall of Famer Jerry West in 1965 for most in a single postseason.
Unfortunately, he wasn't given much support, a recurring theme this postseason, outside of Love. The rest of the team shot 16 of 47 from the floor (34 percent). The Cavaliers did outrebound the Warriors 53-38, including 19-4 on the offensive glass.
Dramatic end of game sequence costs Cavaliers
After Golden State led by six heading into the fourth quarter, James scored or assisted on four of the first five Cleveland buckets and his driving layup with 7:31 left gave the Eastern Conference champions a 92-91 lead.
After the Warriors went back up by six, James recorded back-to-back field goals, cutting the lead to 100-98. Curry answered to put the Warriors ahead by four, but a Love triple and another James driving layup saw Cleveland go-ahead 103-102.
James drove past Curry for a three-point play with 50 seconds remaining in the fourth quarter. But James was given a foul following a review with 36.4 seconds left and Kevin Durant converted a pair of free throws to tie it at 104. The call had initially been a charge on the 2017 Finals MVP.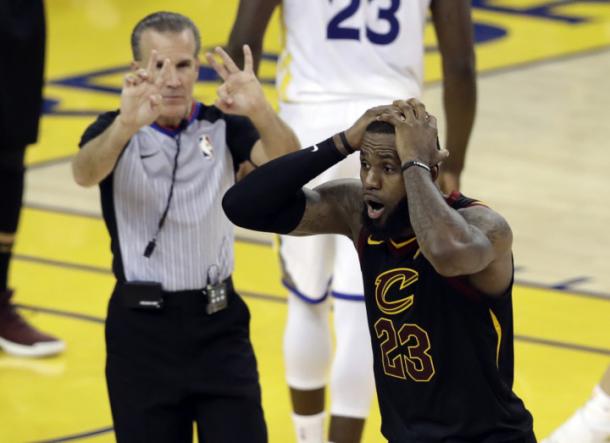 "It's never been done, ever in the history of the game," said Cavaliers head coach Tyronn Lue."It was great, it was epic and [James] did enough to carry this team to a victory ... To do what he did tonight and to come up robbed, it's just not right."
Following that sequence, Curry drove to the hoop, scored the basket and was fouled by Love. After making the free throw to complete the three-point play and give Golden State a 107-106 lead, George Hill was fouled by Thompson.
He made the first of two free throws with 4.7 seconds left after being but when J.R Smith secured the rebound after Hill missed the second, he dribbled back toward half court instead of shooting, apparently thinking the Cavs had a lead.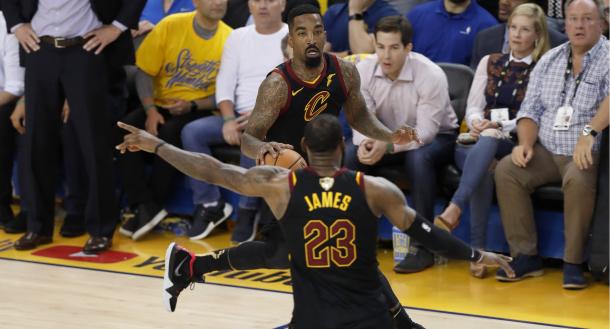 Cleveland coach Tyronn Lue said afterwards that "He thought it was over. He thought we were up one." Yet Smith insisted he knew the score. Jeff Green figured Smith was simply looking for James, saying, "I would have looked for LeBron, too."
Smith further explained that "I just thought we were going to call a timeout. Because I got the rebound, I'm pretty sure I couldn't shoot it over KD. If I thought we were ahead, I would have just held on to the ball so they could foul me. Clearly, that wasn't the case."
Warriors dominate overtime to close out Game 1
It was Golden State who raced out quickly in the extra session, scoring the first nine points and outscoring Cleveland 17-7 in overtime. The Warriors assisted on all five buckets in the extra period with Thompson and Shaun Livingston scoring 11 of the 17 points.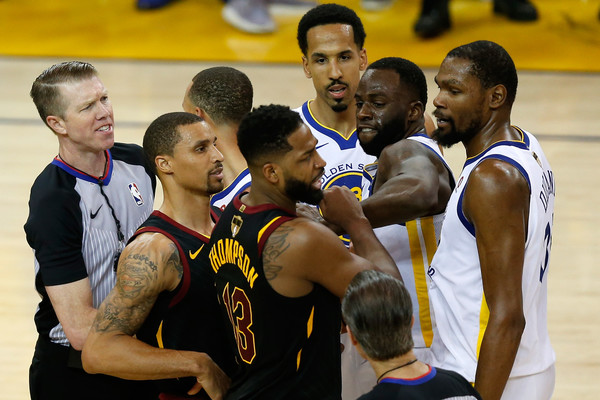 As time wound down, James jawed with both Curry and Klay Thompson, then Tristan Thompson and Draymond Green tangled moments later and made contact. After replay review, Tristan Thompson received a flagrant 2 foul and ejection with 2.6 seconds left.
Green had an excellent all-around game, finishing with 13 points, 11 rebounds, nine assists and five steals.
Game 2 is Sunday night at Oracle Arena and is scheduled for a 8 p.m. ET tipoff.