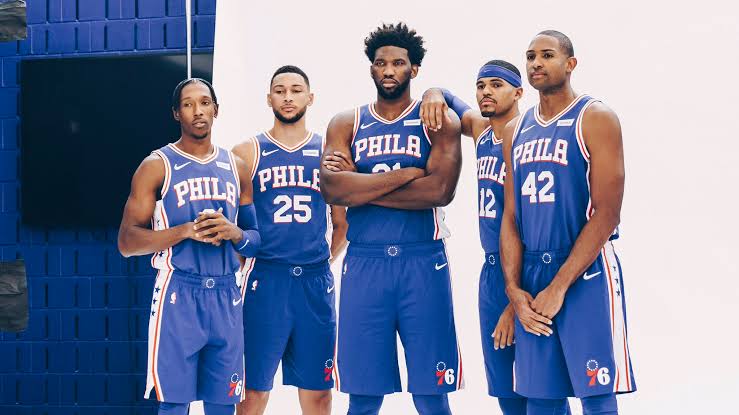 Note: All grades are relative to previous seasons and expectations, one player getting a higher grade than another does not mean they are better, just that they had a more productive growth or that they played their role better.
Players involved in a mid-season trade or signing will be included in the team that they were on at season's hiatus, and the review will include both or all teams that they were a part of.
Head Coach: Brett Brown- 39-26, 17th ranked offense, 6th ranked defense
Even though the ship Brown runs is rapidly sinking, blaming him would be folly. Suggesting that he may not be the man for the job, however, is completely realistic.
He seems to have little control over the half-court offense, which is certainly something that he should be running, and as a result, the 76ers have had one of the most meagre half-court offenses in the league.
He lacks any creative flair unless forced into it, and even when he tries something and it works, he shies away from committing to it, such as the Simmons at Center experiment.
You could point to the defense as an area in which he has succeeded, but it isn't difficult when you have two All-Defense players and another two of the best, up-and-coming defenders to work with, although unlike on offense he has worked well to maximise their potential.
Is he passionate, motivated and probably even inspirational? Sure. But if the message he is screaming down to the players is the wrong one, then expressiveness doesn't win basketball games.
Also, you would like to think a coach is more important on the road, so their 10-24 away record is an ugly colour for Brown.
He has held this post since 2013-14, in which only one season has been particularly inspiring, and it may be time to move on from a guy that has without a doubt been a loyal contributor, despite his faults.
This has not been a positive season for either him or the Sixers as a whole, coming in with expectations sky-high and leaving with a lack of surety regarding the safety of their jobs. And one job that could definitely be on the market this summer; Head Coach, Philadelphia 76ers.
Grade- D+
Center: Joel Embiid- 23.4 points, 11.8 rebounds, 3.1 assists, 1.3 blocks, 59.3% TS
It has been a weird season for Joel Embiid, very inconsistent and at times majorly disappointing. Lowlights include his 0 point game against Toronto, following up two weeks later with another poor performance against the same team, his 1 for 11 game against Boston and the 6 for 26 game in Milwaukee.
On the flip side, he has had multiple dominant games, including two wins over Atlanta with 49 and 36 respectively, his 33 and 17 game in Dallas where he was the only force Dallas had to deal with, and many more highlights which aren't out of the ordinary for Embiid but would be cause for celebration for almost any other player.
Much of that inconsistency is a direct result of his time on the ball, which varies deeply game-to-game depending on the circumstances. This is not something that should be a worry for an All-NBA Center, but alas the team he is on means that he has no choice but to be quiet sometimes.
Some games, Embiid looks polished yet dominant, while others, he looks clunky and uninvolved. This is not the norm for Joel, and last year we saw the consistent paint beast he can be on a nightly basis.
His jumpshot has taken a slight improvement, especially in regards to his surprising uprise as a clutch three point shooter and the fade-away jumper that he has polished marvellously.
But other than that, it has been a drop off for him from last season, definitely, but he maintains a semi-neutral grade because for the main part, it is out of his control, and he remains a victim of his own team.
Grade- C-
Point Guard: Ben Simmons- 16.7 points, 7.8 rebounds, 8.2 assists, 2.1 steals, 60.8% TS
Simmons comes under a lot of strife for his lack of a jumpshot, and, admittedly, it is warranted. Not only can he not shoot, but he shows a complete lack of willingness to improve it in a game sense.
But focusing on one negative or positive aspect of a player's game is how fans begin to over or underrate them, and Simmons is a prime example. In reality, he is a perfect modern day player, despite the obvious flaw, and he is quickly developing into a superstar in his own right.
While he may not be capable of shooting threes, he is easily the best at setting them up, using his speed to attract defensive attention before throwing a bullet pass to his favourite spot at the top of the key being his weapon of choice.
His fast break pacing is fairly simple: full speed ahead at all times without relent, and his body control and nifty handling makes even taking on two defenders an attainable goal while he's at top speed. This may seem like a rare situation to be in, fast breaks don't grow on trees, but he is an expert at creating fast breaks, best in the league, through a combination of speed and advancing the ball quickly with his passing.
What has been the most impressive thing when evaluating Simmons this season is his around-the-basket finishing ability, even throughout the season we have seen a noticeable difference in the choices he is making, decisions as to when and where to use his strength, his height or his interior guile.
And, when he is choosing to trigger his inner small, he has been much more accurate with his floaters, hooks and touch layups, more obviously so after the season's first two months.
I can't mention Simmons without bringing up his defense, something that has bettered even further this season. He has been undeniably an All-NBA defender, a huge improvement for someone who before that was simply considered an above average defender. His struggles defending smaller guards still stands, but that has been countered by him earning Forward assignments.
In very limited minutes as a Center, he has shown a lot of great promise as a roller in screen situations, able to use his athleticism around slower defenders, and playing Point Center is a good fit for the rest of the team as well.
He came under some flack after a timid start to the season, but he has put those doubts well behind him with an explosive finish to the year and an incredible stretch without Embiid.
His stats barely improved, but he is a lot better. A lot. It's finally reached the point where we can be confident that he will be a superstar when he finally gets his own team, and with the contracts that Philly are committed to, it might have to be outside Pennsylvania. But that's a conversation for another time.
Grade- B+
Center: Al Horford- 12 points, 6.9 rebounds, 4.1 assists, 52.6% TS
You know that you have some problems as a team when asking whether Horford is actually having a positive impact on his squad is a legitimate question.
For the entire duration of his career, Al has prided himself on being a guy who fits in like a glove wherever he has gone, but this season, it seems more like the opposite.
As a Power Forward, his main offensive role has been jump shooting, he has been required to defend along the perimeter in most of his possessions and rebounding is no longer of high importance. It's not like he's not good at any of those things, he is, but that's not him at his best.
The positive is, in his minutes at Center, he has been far better, engaging more on defense, gaining more interior confidence and running the offense through the high post as he loves to do.
Only time will tell as to whether he starts or comes off the bench come playoff time, but it doesn't seem likely that Brown will be willing to change it up, especially since he started all but 3 of his games during the season.
Horford has been a disappointment considering the money they are coughing up for him, but again, it's slightly out of his control. When you are asked to play an unnatural position alongside multiple players with a similar post-centric play style, what can you do?
It's not his fault that they overpaid, not his fault they are using him wrong, so he gets an average grade.
Grade- C
Shooting Guard: Josh Richardson- 13.8 points, 3.1 assists, 52.6% TS
J-Rich has sneakily had a really good season, going under the radar as a positive on a team that is stacked with under performers. He may not always be consistent, or particularly efficient, but he does his job as a shot-maker really well.
He's got a speed and rashness to his game, which can be both a good and bad thing, depending on the situation. His shot selection is not always on point, but he's got the shot making ability to make even the more challenging attempts he chooses.
The mid-range is his offense's main pillar, he loves to use as many floaters and quick, mechanic pull-ups as the opponent will allow. But he's also a very explosive finisher who will happily take on bigger defenders without batting an eyelid, having a wide variety of competent finishes to choose from.
He's also great on the fast break, which is imperative on any team with Ben Simmons on it, mainly due to his top-speed finishing talents.
Richardson's overall floor game is incredibly solid, and though he's not too much of a playmaker his defense makes up for it in a lot of ways. Quick, snappy and incredibly disruptive, he has a lot of energy and is always willing to hustle and grind out defensive possessions.
He understands his role well, knows what the team needs and he gets a lot of his shots off of teammates, happily running within the offense of the team even without his shot selection being premium.
Josh is good enough on both ends that it is viable for him to be a leader for a team one day in the future, but that day is not quite now, and that team is not Philadelphia.
Grade- B-
Power Forward: Tobias Harris- 19.4 points, 6.8 rebounds, 55.7% TS
After a rough adjustment to Philadelphia basketball last year, Harris has had an excellent season, overcoming his inconsistent role and out-of-position play to be a imposing scoring threat for the team.
He thrives in the two-man game with himself and Simmons, curling off of down-screens and cutting down the middle to create set jumper and floater chances and taking advantage of Simmons' playmaking.
Even though his off-ball movement is excellent, he's still at his best as a go-to scorer, and he gets the chance to be that on occasion, although not often. A fair portion of his importance to this team is that he is their main three-point threat in the starting lineup, and a lot of their spacing is relying on him.
Point is, he has a LOT of versatility as scorer, and is very proficient at it. That's about it though. He's not a bad playmaker or rebounder or defender, but he's certainly not anything special, and that's all that has really been expected of him throughout his entire career.
He's had a better season than his half-season last year in Philly, and made a big contribution for them in his time on the court, which is all you can really ask from a guy like him. Issue is, he's a secondary pure scorer being paid like a global superstar, so nothing will ever be up to expectations.
That being said, it was still a good year for him.
Grade- B
Small Forward: Matisse Thybulle- 4.7 points, 1.4 steals, 0.7 blocks, 53% TS
Pure defenders are a lost breed. Young, pure defenders, well they are something even rarer. But Thybulle here comes into the league as someone who can easily be a defensive player of the year someday, someone who is statistically already one of the league's very best defenders, and as his minutes grow, so will his potential.
While his offense is lamentable and partially a liability, he is one of the rare few players who's defense actually makes up for it. And, no, he is not a starter-level player quite yet, there are still some things that need to be shaped out, but he's getting there, and he will just keep growing on both sides of the ball.
Matisse's defense is so good because of his reflexes, his reaction time and his imposing length, which means even if he loses his man (which he does a lot) he is never out of a play.
His offense is so bad because he doesn't know where to be or what to do, is lacking confidence in whatever shot he chooses to put up and he just has a general lack of talent in the art of scoring the basketball.
There are two sides to the ball, and it's clear from Thybulle which one the NBA values more. But still, he has had a good season, and some playoff experience early in his career will be good for his understanding of the game.
Grade- B-
Shooting Guard: Alec Burks- 15.1 points, 4.4 rebounds, 2.9 assists, 54.9% TS (Full Season)
Following the most productive season of his career in a Warriors jersey, Burks was slapped with a role change the moment he set foot in Wells Fargo Center.
He was a main scorer, he had the ball in his hands constantly, and then suddenly he was an afterthought, a guy who could only take shots if he was open and was spending most of his time moving up and down the perimeter.
And that is sadly the way it's going to have to be for Burks while he's a 6er. He's great at creating shots from three and through the mid-range, but that's just going to need to be put on hold for the time being. He's part of a winning team, and sacrifices have to be made.
But, considering he came into the season as nothing more than a role player, a bench guy for a flailing dynasty, he's done incredibly well to get where he is now, challenging for a title as an important piece to his team with the shooting he provides.
Even though the Golden State basketball was meaningless, it was still an important part of his career, and it's a huge step for a guy that was bouncing around the league like a ping pong ball just last year.
Grade– B-
Small Forward: Glenn Robinson III- 11.8 points, 4.3 rebounds, 57.6% TS (Full Season)
Robinson is in almost an identical situation to Alec Burks, even coming from the same destination before reaching Philly. They both had big roles in the Bay, and they have both become largely off-ball reliant players, though Glenn in a slightly different way.
As soon as he entered Philadelphia, it became clear how valuable he can be as a rover, someone who is an expert at finding the ball wherever he may be, hustling and making good position as to consistently be a threat to score either off of an offensive rebound or a loose ball.
If you add this to his already obvious shot creating and shooting talent, you get someone who is going to be an impactful piece no matter where he is, which is largely why he earns a better grade than Burks.
The two of them are really quite similar, both good shooters who are excellent at using the dribble to enhance their shot-making.
And, sadly, both are not worth too much more than their shot creating. Which dims their overall value if ever they plan to be leading their own team, but, that doesn't seem too realistic, and teams are happy to invest in good quality scoring off the bench.
That's what the 76ers got, two players that can be shot creators when the starters are resting, and that was a problem for them. So in the end, they made the right choice.
Grade- B
Power Forward: Mike Scott- 5.7 points, 3.6 rebounds, 53.9% TS
Stretch big Mike Scott is yet another one-dimensional player for the 76ers, this time a pure shooter who provides almost nothing else outside of his ability to space the floor.
He isn't a particularly good inside scorer for his height, nor can he rebound at too high of a level, but he gives them something that they lack, so his importance should not be understated.
His defense is abysmal, his playmaking non-existent. But he can shoot. And that's the requirement for a quality role player nowadays. Shooting. Especially when they play on a team that can't shoot at all.
This season hasn't been his best, though. He's had some incredible stretches of hot shooting, and other nights where he hasn't even taken the floor he's been so cold. And sadly, the latter has been far more common, and after two straight seasons shooting over 40% from three he has broken the treble.
I want to give him a good grade, but he hasn't performed to expectations since he was acquired outside of the 27 games last year. He's getting older now, and it seems unlikely that he gets resigned after his age 32 season next year.
Grade- D+
Shooting Guard: Furkan Korkmaz- 9.7 points, 2.3 rebounds, 57.1% TS
Furk has been a beloved member of the Sixer community this season, taking a huge leap in his production from last year and earning his 'fan favourite' title.
Not only is he a excellent shooter, easily the best in the team, but he's a really creative offensive player as a whole, happily moving off the three point line to score through floaters, pull-ups and he can even create a bit off the dribble.
Brett Brown has been an admirer of his defensive improvement, constantly preaching how much he has worked to eradicate what has been a problem area for him. He still isn't quite there as a defender, but it's true that he has made a large improvement.
Again, he is not going to contribute much other than his scoring, but I cannot stress how important shooting is for this team, and he provides just that.
His 31 and 34 point performances back-to-back are exactly how good this guy can be, hitting 13 of his 20 threes and 25 of his 34 overall shots, a lot of floaters and jumpshots included in the package.
He's only 22, with a lot of career left to go, and this season represents a true breakout for him, it shows the 76ers exactly how much they can get from him in the future.
Grade- A-
Point Guard: Shake Milton- 9.5 points, 45.3% 3PT, 63.3% TS
In the final games leading up to Rudy Gobert's positive COVID-19 test, Shake Milton was in the form of his young life.
He was not far removed of a game with 39 points, had just broken the NBA record for most consecutive triples without missing, and spent the last 7 games averaging 19.4 points on a impressive 60.5(!)% from three.
All this from a guy who struggled mightily to get PT early in the season, as well as being on a minimum salary contract.
He has figured out how to use his long arms to his advantage, keeping the ball away from the defenders and finishing strongly around the rim. But that's just his inside game. The real stuff happens when he's outside the perimeter, and he's comfortable to the max shooting jumpers.
His main role on offense is to handle the ball without shyness, and shoot at will, but it's clear that he is not just limited to that. He can playmake surprisingly well, and when need be he can run the offense like a true Point Guard.
The only thing stopping him from getting an A+ is the amount of games he has played, 32 just isn't enough for him to max out his grade.
Grade- A
Point Guard: Raul Neto- 4.3 points, 1.6 assists, 56.2% TS
Although Neto is nothing special, he is a key part of this team like all the other shooters. The team has very few Point Guards, and the way he runs the offense is essential to the second unit.
He's a great shooter and consistent enough with everything else, especially playmaking. He provides a lot of the things that other Sixer's give to the team, which means that his craft is not invaluable.
Being chosen over Trey Burke as a Philadelphia's Point Guard would have been a confidence boost for him, even though some fans were not convinced it was the right decision for the team.
Whether or not it was the best choice, it was the choice they made, and Neto has had a really good season. Not only has he proven himself to be a consistent and terrific shooter, but he can be an overall scorer as well, both on the interior with his speed but through the mid-range as well.
It has not been extraordinary enough of a season to reward Neto with a higher grade than a C+, his 3 point efficiency improved but that is about it.
Grade- C+
Center: Kyle O'Quinn- 3.3 points, 3.8 rebounds, 1.3 assists, 0.8 blocks, 54.1% TS
O'Quinn, while not a big-name player, is a big-impact one when he gets on the court, and despite his complete lack of athletic tools or a consistent three point shot, he still fits the mould of a modern-day Center.
He's comfortable with the ball in his hands, is a willing and competent playmaker and will put in the work to defend most positions well. He's not particularly talented in anything, but he's very selfless and has a good understanding of how to help his team.
The last two years have been tough for him, he has been forced to accept a meagre and frankly insulting bench role for two teams (Philly and Indiana) who have performed well, but are not title contenders, and there's a chance this year that they won't even make it past the first round.
The one game that he started, he only scored 4 points, but that doesn't represent have important he truly was. He had 10 rebounds, 5 assists and 2 blocks to go along with it, and was a +18 in an 18 point loss. Truly a perfect reflection of what he brings to this team.
He has done his best to make a difference for a team that isn't willing to commit to giving him minutes, and hopefully he can find a team that can maximise his talents, for his sake.
Grade- B
Center: Norvel Pelle- 2.1 points, 3 rebounds, 1.3 blocks, 52.1% TS
Pelle may not have been the most consistent feature in this 76ers lineup, but despite his 27 year age, he has a lot of room to grow into a dangerous backup Center.
Offensively he is majorly limited, a pick and roll outlet and offensive rebound threat but that's about it, it's his defense where things really start to stand out.
He's a great rim protector and an elite shot-blocker, which in a whole is the big problem with his game. He's fallen into the category of someone who amasses huge defensive numbers, but for him to get to that next level as a defender, he will need to make a statistical sacrifice.
His rebounding is another important part of his game, with good athleticism and reading of the play allowing him to overpower players that are taller than him.
His minutes have been inconsistent, but they've been really good when he's been given more plentiful playing time. And for a guy coming in and out of the G-League late last year, this season has been a huge success.
Grade- B+