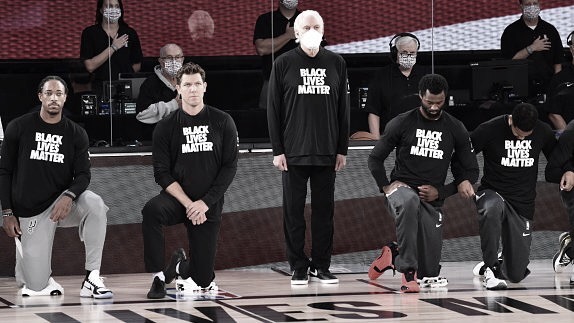 San Antonio Spurs coaches, Gregg Popovich and Becky Hammon chose to not kneel during the United States National Anthem. Both wore the Black Lives Matter shirt while the rest of the players and staff did take a knee.
Popovich, a United States Air Force Academy graduate and Coach of Team USA, has been very outspoken about systematic racism and social justice.
"Everybody has to make a personal decision. The league has been great about that. Everybody has the freedom to react any way that they want." Spurs HC said. He also praised the league's main emphasis in Orlando to keep the momentum going for Black Lives Matter & racial justice
Here's Spurs coach Gregg Popovich on why he decided to stand during the national anthem. Please don't get it twisted. He's BEEN speaking out about systemic racism & social justice for as long as I can remember: pic.twitter.com/qGMbxwp4DC

— Michael C. Wright (@mikecwright) August 1, 2020
San Antonio star, DeMar DeRozan said Popovich always "speaks out" and Hammon, has been on the front line fighting for equality.
Both 'Pop' and Hammon joined Jonathan Isaac as the only people inside 'the bubble' who have chosen to stand up during the anthem. The Magic Forward revealed ''kneeling and wearing a t-shirt don't go hand in hand with black lives.''