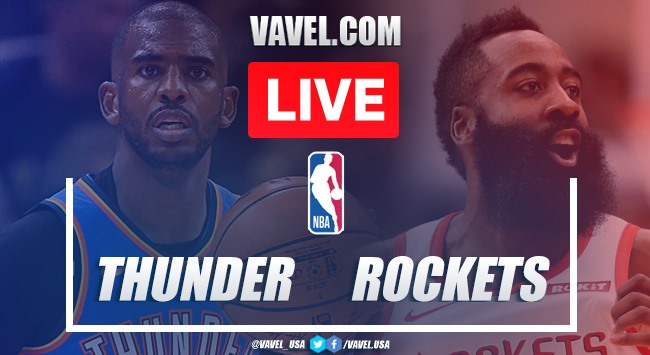 Highlights
Key Storylines
Q4 Ends
Q4 - 1:30
Q4 - 2:12
Q4 - 2:30
Q4 - 3:03
Q4 - 4:13
Houston ON TOP
Q4 - 5:04
Q4 - 6:10
Q4 - 6:34
Q4 - 7:46
Q4 - 8:24
'The Best Leader In The NBA' - Charles Barkley
Q4 - 9:31
Q4 - 10:04
Q4 - 11:48
Rejected By Noel
Q4 - 12:00
Q3 Ends
Q3 - 1:18
Q3 - 2:17
Q3 - 2:30
Q3 - 2:52
Q3 - 3:48
EG on Shai
Q3 - 6:28
Q3 - 7:11
Q3 - 10:11
Q3 - 12:00
Halftime
Q2 - 0:20
Eric Gordon In His Bag
Q2 - 1:51
Q2 - 6:21
Q2 - 7:22
Q2 - 8:25
Q2 - 9:11
Q3 - 10:21
Q2 - 10:49
Q2 - 12:00
Q1 Ends
Q1 - 0:24
Q1 - 0:56
Q1 - 1:34
AND ONE
Q1 - 2:40
Q1 - 3:57
Q1 - 4:11
Q1 - 4:32
Shai Cooking
Q1 - 5:49
Q1 - 7:30
Q1 - 7:44
Q1 - 9:44
Q1 - 10:19
Q1 - 11:28
Q1 - 12:00
Almost there
Rockets 5
Thunder 5
Support from OKC
Westbrook OUT
Houston's Drip
Lu Dort is back!
Our live coverage begins!
Getting Ready
Rockets Injury Report
Thunder Injury Report
Thoughts by Thunder Coach, Billy Donovan
The Rockets launched 52 shots from behind the arc in Game 1
MVP Candidate
RECAP: Game 1
How to watch Thunder vs Rockets Live TV and Stream
Welcome!