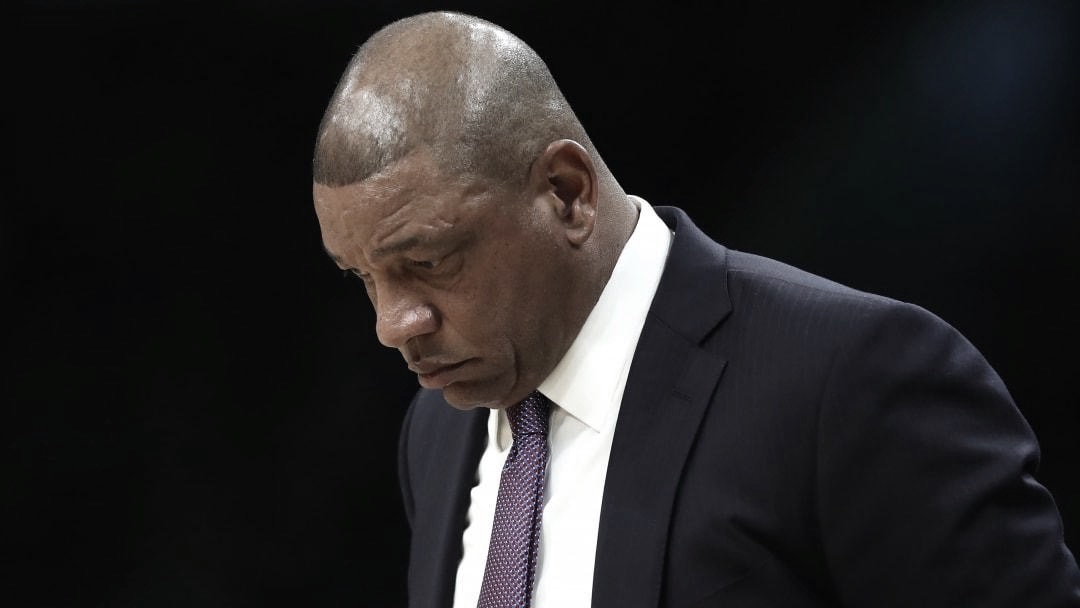 The Los Angeles Clippers coach, Doc Rivers delivered a powerful message in regards to the Jacob Blake shooting in Kenosha, Wisconsin.
The NBA family stated that during their time at the campus in Orlando, they were going to use it as a platform to speak up about the racial injustices in the United States. Rivers has done just that since his arrival to the 'bubble', and got emotional as he talked about the widely-shared video of the shooting of Jacob Blake.
"It's just so sad. You know, what stands out to me is," Rivers said, removing his mask, which read "Vote!," as he spoke, "just watching the Republican (National) Convention, and they're spewing this fear, right. Like, all you hear is Donald Trump and all of them talking about fear."
"We're the ones getting killed. We're the ones getting shot. We're the ones who are denied to live in certain communities. We've been hung. We've been shot," he continued, his voice cracking with emotion. "And all you do is keep hearing about fear. It's amazing. Why do we keep loving this country, and this country does not love us back."
Rivers went on to highlight examples of the contrast he's observed in the ways police treat Black people compared to white people in the United States.
"I should just be a coach. And it's so often reminded of my color. You know, it's just really sad. We gotta do better. But we gotta demand better. You know, it's funny, we protest and they send riot guards, right. They send people in riot outfits," Rivers said.
He also asked for empathy and justice in response to Blake's shooting, and in the case of Louisville police officers shooting and killing Breonna Taylor in her home in March.
"If you watch that (Jacob Blake) video, you don't need to be Black to be outraged. You need to be American and outraged. And how dare the Republicans talk about fear? We're the ones that need to be scared. We're the ones having to talk to every Black child. What white father has to give his son a talk about being careful if you get pulled over? It's just ridiculous," Rivers said. "And it keeps going, there's no charges. Breonna Taylor. No charges. Nothing. All we're asking is you live up to the Constitution. That's all we're asking. For everybody. For everyone."